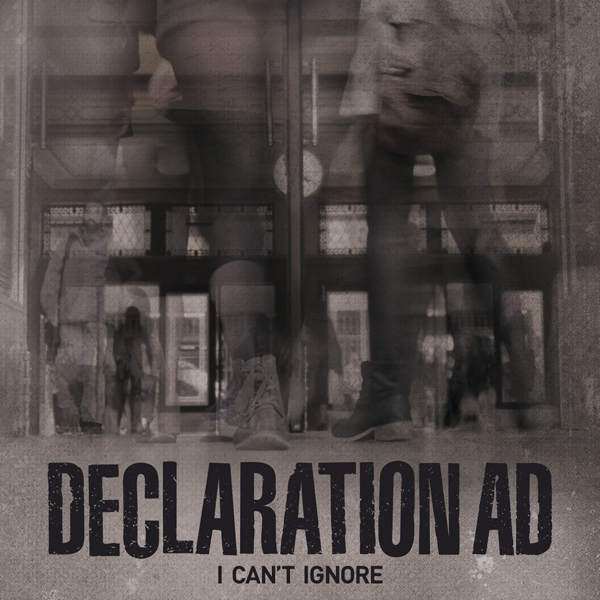 Artist: Declaration AD
Release: I Can't Ignore
Label: none
Release Date: February 2012
Reviewed By: BMer
Track Listing:
Eyes Open
Hot Coals
Halfway House
Kingdom
Deserving
HRT
These Eyes Have Seen
Foolish Things
Vengeful Generation
Declaration AD is an intense hardcore outfit hailing from New Zealand. The band's debut full-length I Can't Ignore is a 20-minute onslaught of powerful, convicting faith-based hardcore. The band takes the call from Elisabeth Nouelle-Neumann straight to heart when she said "Those who refuse to speak up on behalf of their beliefs are abstaining their way into marginalization".
I Can't Ignore opens with lyrics that will set the foundation for the 9-track album "Look out into the world, do you see what I see?" Songs touch on the darker side of humanity and the daily struggles with sin "Trying so hard for transparency but I'm hiding my sin, my shame." (Hot Coals). Other tracks, like "Vengeful Generation" speak about sexual promiscuity and the ensuing fallout, but more importantly a call to grace "We're finding grace in the midst of the lost, we're finding forgiveness that comes with no cost."
Declaration AD's sound is heavy, simple and effective in the vein of Strongarm and Advent. The pace is pretty quick and the drumming is a little rigid, absent of any modern punk influence. Most tracks feature a few gang vocals and breakdowns. Track 8 "Foolish Things" offers to most contrasting sound on I Can't Ignore with its heavy rock/grunge influence and rapid vocals, really solid feel. The standout track on the album is "HRT" which is based off of a chapter from CS Lewis's "Miracles" titled "Horrid Red Things". Lyrically you can see that Declaration AD is not spitting out cliche hardcore lines but actually presenting challenging viewpoints and clearly identifying where they stand as a band. "HRT" talks about getting caught up in the wrong details about, in this case, Christianity "But that is the center of nothing and you're dodging the issue completely. An exercise in futility to critique based solely on imagery."
OVERALL Declaration AD have put together quite a little punch to the face with I Can't Ignore. If you're looking for a hardcore record that doesn't hide behind vague ideals you will need to add this to your collection.
Go here to buy I Can't Ignore
Go here to get their 4-track EP MMX for free