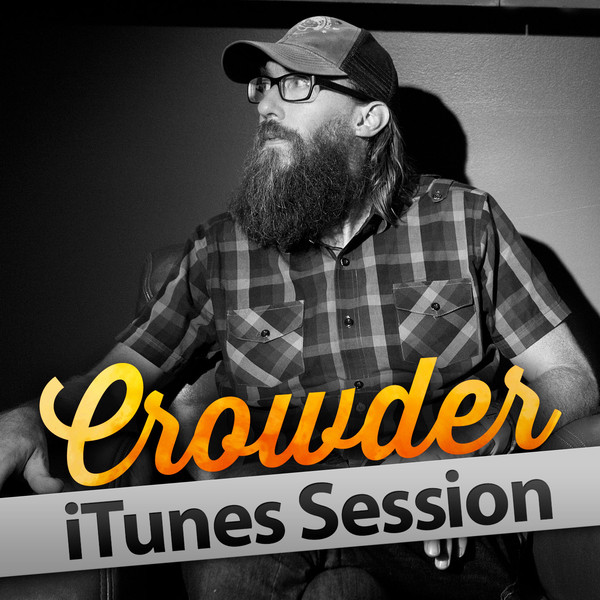 Artist: Crowder
Title: iTunes Session
Label: Sixsteps Records
Release Date: 11/13/12
Reviewer: Jonathan Andre
Tracklisting:
How He Loves
After All (Holy)
I Saw the Light
Because He Lives
O Praise Him (All This For a King)
The Old Rugged Cross
Open Skies
Let Me Feel You Shine
No One Like You
Since retiring the David Crowder*Band after their last album release Give Us Rest in January 2012, the Digital Age was formed with four members from the band, becoming successful with their Rehearsals EP and later signing to Fair Trade Services in early 2013. David Crowder on the other hand has also been continuing with music, first as a solo artist and then under the name 'Crowder' as a collective, first on tour for the Creation East and West festivals in mid-2012 as well as starting to record new material in the later months of last year. What has resulted is iTunes Session (before a potentially new album in 2013), a collection of 9 songs from a variety of David Crowder*Band albums (from A Collision, Church Music, Give Us Rest and Illuminate) redone with an acoustic and bluegrass musical atmosphere. Full of vitality and a new freshness as we hear these songs from a stripped-away perspective with acoustics and banjos; iTunes Session (similar to many other iTunes Sessions by other artists) will be a great purchase if you enjoy much of David Crowder's band material, or if you love listening to acoustic or bluegrass music. With a few hymns in the song lineup ('The Old Rugged Cross', 'I Saw the Light', 'Because He Lives'); Crowder mixes old and new to give listeners an almost flawless album full of hope and promise as worship and praise is placed at the front and centre of the album in terms of themes and underlying messages.
With 3 songs each being represented from Illuminate ('O Praise Him', 'Open Skies' and 'No One Like You') and Give Us Rest ('Let Me Feel You Shine', 'Because He Lives', 'After All (Holy)'); iTunes Sessions features a great musical diversity to present to listeners a different take on already fan favourites. 'O Praise Him' begins with shakers and a keyboard riff to create one of the most captivating renditions of the song ever made. With just David's voice crying out '…O Praise Him, He is holy…' with just the acoustic guitar and a keyboard riff is enough for the lyrics to be accentuated as we hear one of the most humble and profound worship songs written by Crowder in all of his career. The strings and a pulsating drum beat that enter in the second verse starts to place the song at an entirely new level of excellence. The acoustic strumming on 'Open Skies' is a great introduction to a song that may not be recognisable if you're not an avid DC*B fan. Nevertheless, this heavily bass guitar oriented song with a light percussion beat reminds listeners of how God's providence over His people, and a thankfulness that we bring to Him because of His faithfulness to His children. 'No One Like You' is however drastically changed from a rock anthem to a bluegrass infused song with banjos and strings. Still with the same message of praise about how '…there is no one like You, there has never ever been anyone like You…', the instrumentation may not necessarily be towards all people's liking as they hear the music primarily consisting of a southern gospel/bluegrass flavour, possibly done by Crowder to draw in more fans of the bluegrass (or even country to a stretch). Despite such a music alteration, 'No One Like You' still has a fun jovialness about it, and together with 'O Praise Him' and 'Open Skies', these are some of my favourite songs on both Illuminate as well as iTunes Session!
'Let Me Feel You Shine' and 'After All (Holy)' are the two singles from the last David Crowder*Band album in 2012, and alongside the hymn 'Because He Lives' (David Crowder has been playing this song in his solo concerts lately); these three songs seem like a great selection to be rerecorded acoustically on the album. Already recording an acoustic video, 'After All (Holy)' starts off with a reverbing keyboard as the acoustic guitar strums and David's voice soothingly sings out how he can't say the right or enough words to a King that is immeasurable and infallible. 'Holy' is the best and only response, and this song, whether acoustic or filled with electric guitars, is a great imagining of a worship song that's destined to receive a nomination for Worship Song of the Year at the Dove Awards in 2013. 'Let Me Feel You Shine' was a hit throughout 2012, and though this is a very decent acoustic rendition full of plenty of strings and acoustic plucks, the song doesn't really build musically and is unintentionally trapped in a cycle of constancy rather than the anthemic build that was originally in the studio recording. Nevertheless, this song is still a blessing like its studio counterpart. 'Because He Lives', first heard by myself personally on the Passion 2013 live stream, is a great hymn that reminds us of our salvation and redemption because of Christ's sacrifice, and more importantly, because He lives today. A song that could be sung at a variety of locations, from funerals, bars, country festivals and churches; this country-infused song filled with banjos and strings reminds us that '…fear is gone because I know He holds the future, and life is worth the living just because He lives…' An awe-inspiring fact to know that His life and death has given us encouragement and motivation to live our own lives, Crowder has given us a song that is timeless in message and impact. Well done David for such poignant songs, a great reminder of the DC*B days as well as great anticipation of what is to come.
'How He Loves' is arguably David Crowder*Band's most famous covered song (it was originally written by indie artist John Mark McMillan). Releasing on the 2009 album Church Music, iTunes Session starts off with this song of praise as Crowder declares the awesome truth that God loves us, and the simpleness yet profoundness of this message is enough for us to respond to God in reverence, awe and hope as we continuously long for the presence of the One who loves us because of who we are rather than what we do. With a bass guitar and keys to start this poetically poignant melody, Crowder has delivered a great version of a potentially classic worship song that is fit to be played for many months and years to come. Hank Williams's 'I Saw the Light', originally recorded on their 2005 album A Collision, is also on Crowder's solo album, and full of banjos and strings, this classic country-style song reminds us of the moment that someone has that converts them from death to life, from dark to light, declaring that we indeed '…saw the light…' Though the only representative from one of my favourite DC*B albums (where is 'Wholly Yours', 'Here is Our King' or 'Foreverandeverandever etc.'?); 'I Saw the Light' leads us to 'The Old Rugged Cross', another hymn that Crowder specifically recorded for this project. Remembering this song from my childhood by listening to Carman's rendition on his 1997 hymns album, Crowder presents to us a 3 minute acoustic track about one of the most important historical and spiritually significant artefacts in all time. The cross was a symbol of death and love colliding at a point where Christ came to serve His purpose on Earth. Together with the grave, the cross represents hope and freedom, with this hymn giving us an encouragement that '…I will cling to the old rugged cross and exchange it one day for a crown…' Well done Crowder for such a poetic and well recorded song of redemption and restoration.
Overall: While there were many glaring omissions from the album (songs from the 2007 album Remedy and the 2002 album Can You Hear Us? were totally ignored, 'How He Loves' was the only song from Church Music); this 9 track iTunes exclusive is a must to be purchased if you have enjoyed DC*B like I have, or if you enjoy great worship or acoustic music with an alternative edge. With David still attending Passion events (I seriously thought that after the disbanding, Crowder may not appear at any more events!), and the possible promise of new material in the future, iTunes Session is a precursor to whatever David has in store for listeners in 2013. Fans of Passion, The Digital Age or David Crowder*Band are sure to be at home with Crowder and his new collective. Well done Crowder for such an enjoyable record, and while not necessarily the most perfect song list, it is still one of my favourite iTunes Sessions albums, alongside Tenth Avenue North's iTunes Sessions released in December 2012!
RIYL: Passion, Matt Redman, David Crowder*Band, The Digital Age
Buy the Album: iTunes