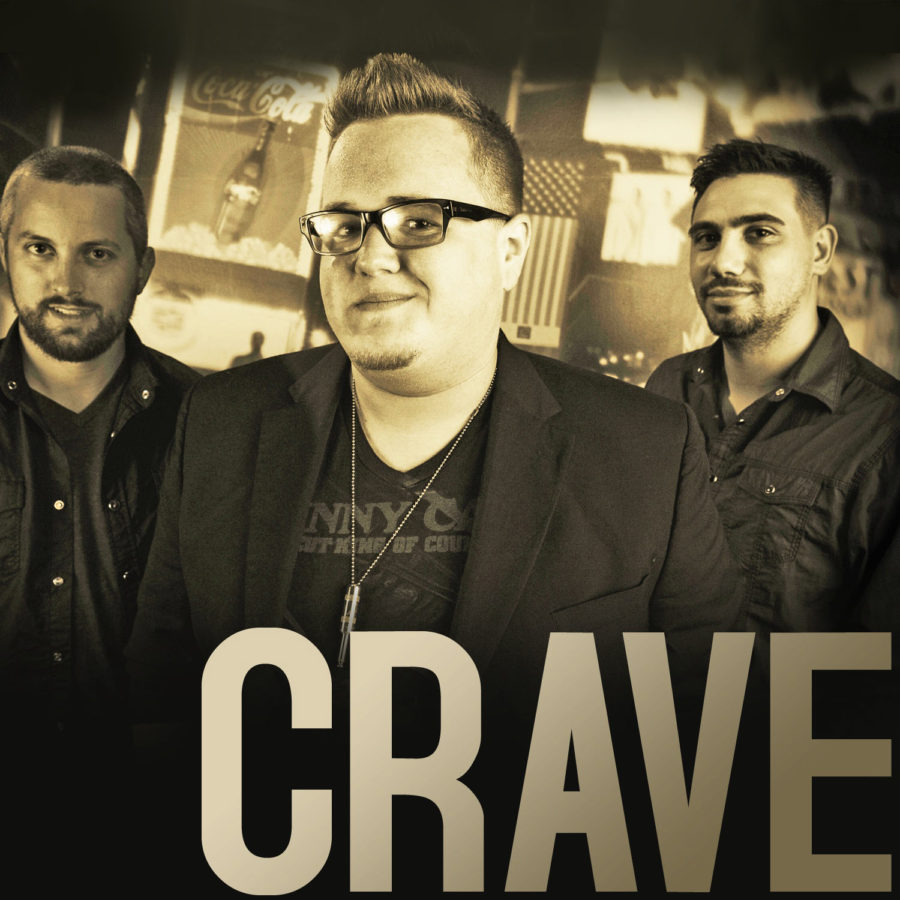 Artist: Crave
Title: Crave
Label: DREAM Records
Release Date: 8/27/13
Reviewer: Jonathan Andre
Tracklisting:
Never Be the Same
Ring the Bell
We Don't Care What They Say
Not Alone
Who You Are
Come To Me
His Love
Need
I Can't Stop
Dance
Rearrange
Desperate
I Can't Stop (Bonus Track)
The newest signings to DREAM Records, Crave is probably what you would get if you mix up JJ Weeks, MercyMe, Casting Crowns, mikeschair and Sidewalk Prophets into a blender, and see what comes out on the other end. With the band being signed to the label after their songs debuted on the inspirational 2013 film Ring the Bell, leading to the band being publicised and noticed by DREAM; this 3 piece band from New Orleans have given us a debut project that will certainly please fans of these artists above as we are provided with a mixture of reflective songs and upbeat anthems in this 13 track self titled project. With lead singer Ross Hebert founding the band with his friends Joseph Babin and Jason Williams; we are able to hear this album as it releases in perhaps the most competitive week of the year in terms of new Christian album releases. Frankly, to release an album during the same week as Stellar Kart, Mandisa, Seth Condrey, for King and Country, Love and the Outcome, Chris Sligh and Jars of Clay can certainly be ruled as 'suicide' right from the start (if they want to obtain huge sales right from the start); but as Crave present to us their anthems that they've worked on so hard to release; I am able to say that despite the competitive release week, this album will certainly thrive amongst fans of contemporary pop, or fans of DREAM Records artists in general. With four of these songs being released on the movie Ring the Bell (Ring the Bell, Not Alone, Never Be the Same, Dance), and a 5th radio single to promote the album also released in 'We Don't Care What They Say'; the band is able to weave together a theme of us continuously craving for Christ and His love as we live out each day for Him. From pop ballads to reflective melodies, Crave's self titled debut is one of my favourite albums released on DREAM Records in 2013 so far!
'We Don't Care What They Say' is the first radio single released by Crave under the label of DREAM Records, and right from the first kick drum and percussion sounds to Ross providing a 'ooooh' backing vocal, we are given a message of staying strong in our faith and fixing our eyes on the prize which is Christ. Full of passion and a sense of an anthem rising up amongst the powerful lyrics of how we ought to not worry or even care about what others say about us because we're so caught up in the love Christ gives to us to even notice; Crave invite listeners to declare alongside them (and if not, figure out why so). Is it true that us Christians ought not to care about what others say when it comes to us following Christ and the decisions we make in the process? It's a bold claim to declare, with this song hopefully leading some people to look inside themselves and see if other people's opinions matter much more to them than they realise. As Ross divulges the theme of the song, of how '…we live in a world that's filled with just so many different distractions…that are trying to pull us away from our first love…[the song] is basically a declaration just like in Philippians 3:14…putting my eyes on the prize which is God's love and God's grace…'; we are reminded of the bold and intentional moment of clarity we all ought to have when pursuing our God and Father of our dreams and destinies. With 'We Don't Care What We Say' a song that's certain to be one of my favourite songs come year end 2013; Ross and the rest of the band ought to be commended on a job well done, delivering a song that has an infectious melodic hook as well as a meaningful message of standing our ground as Christians and chasing after our Father and Saviour.
'Not Alone', 'Dance', 'Never Be the Same' and 'Ring the Bell' were all on the soundtrack for the movie Ring the Bell (which starred the band Crave, as well as Steven Curtis Chapman and Mark Hall of Casting Crowns) that released earlier in 2013. Ironic because Crave's musical backdrops in each of these songs remind myself of the music styles Casting Crowns incorporate in their radio hit songs; we are given 4 songs full of anthemic emphasis and emotion as Ross powerful uses his soulful voice to emotively project the feelings of worship, praise, adoration and empathy as we hear each of these tracks. 'Not Alone' is sung from God's perspective as we hear Ross declare that '…You're not alone, when the storm is more than you can stand, just fall back on my love…', presenting the listener with a melody not too overpowered by the instruments (in the song, we are given some acoustic guitar, keyboards and light percussion). As we understand through 'Not Alone' that God is with us always, especially and even on the days when we don't feel like He's near; Ross invites us to start to dance with a song aptly titled 'Dance'. With Crave delivering the song with a Planetshakers or Hillsong UNITED music and lyrical atmosphere; the band invite us to declare out loud that '…we dance before You, we lose ourselves cause we adore You Lord…', a song you'd sing when you truly know that Christ is with us and that we're not alone in our struggles and life in general.
'Ring the Bell' (also the same name as the movie the song was placed in) reminds us to tell our stories and be vocal about our faith, hence, a metaphorical moment of ringing the bell. Whenever someone rings a bell in the town square, it usually means that someone has something important to say and everyone ought to take notice. Ringing our own bells is telling the stories of our own lives and testifying to God's love and grace as we share His love to those whom we are close to. A declaratory song full of strong electric guitars and a bold message a la Casting Crowns's 'Until the Whole World Hears'; 'Ring the Bell' is perhaps one of my favourite songs on Crave's self titled album. The last song to appear in the inspirational film is 'Never Be the Same'; a strong message of transformation as we witness Ross proclaim with truth and certainty that '…Your love is all I could ever hope for, just one touch, and I will never be the same…' Full of electric guitars and a powerful 'woahh' backing vocal moment by Ross and the other band members, Crave invite us to consider if God has made such a difference and change in us and if so, we can also declare alongside the band that we will never be the same as well. Well done guys for these four songs that are some great highlights of Crave, as well as giving listeners a reminder of the continual craving of the Lord and His goodness we need to undertake if we want to keep our faith and decisions in check.
'Who You Are' is possibly one of my favourite tracks on the album that wasn't originally promoted on Ring the Bell, with Crave delivering a poignant message of longing and prayer. As Ross asks the Lord to be wherever He is and to be more like Him as well, we are reminded that as Christians, we all should never get enough of asking the Lord to be more like Him and to make sure that our declaratory statement of how God should '…come take this heart of mine and make it Yours, cause I want to be is who care…' is true and certain. Also continuing along the same perspective as 'Not Alone', Ross presents to us a similar themed melody in 'Come to Me'; a piano driven and cello infused melody with a slow-ish beat and a tranquil sound that sooths the soul as Ross sings from God's point of view again. Singing from Christ's point of view to declare for us to '…come to me and I will be everything you need, I'll take all your fears, dry all your tears, pick you up when you fall…'; 'Come to Me' pairs quite well with 'Not Alone' and together, these two melodies should encourage us to rely more on God as we have the peace of His steadfast love for Christians and non-Christians alike.
Also reminding us that God is everything that we need and that all the promises God has given to us will be steadfast, true and faithful in the pop ballad sung-from-God's-POV also titled 'Need'; as well as a piano prominent song reminding us that it is God's love that is the remedy to nations far and wide ('His Love'); Crave's message of hope and encouragement in each song they perform is certainly evident through the passion in Ross's voice. With them presenting to listeners that it is indeed our Lord that convicts us through the Holy Spirit to dive in and continuously pursue Him on a regular basis; the rest of the tracks from Crave give us a clear picture of how much of an impact Christ has made on the band. 'I Can't Stop' was recorded twice, once with a regular full band with guitars and percussion, and another time with just piano. In both versions, Ross becomes clear that he can't stop praising God's name and lifting Him high, nor does He want to. This melody full of vulnerability and abandonment is something we all have to consider and hopefully aspire to as we continuously become more focused on Christ and less on what others may think about us. Finishing off the album with the fast-paced yet somewhat out of place 'Rearrange', a song with Crave dabbling into the upbeat guitar driven genre with the message of wanting the Lord to rearrange us to be more with His likeness, as well as 'Desperate', a poignant song that is able to capture the entire album's theme and essence as we hear Ross declare that we as Christians ought to be desperate for the Lord throughout all circumstances; the band's first album effort is enhanced through great standout melodies like 'Not Alone' and 'We Don't Care What We Say'. Well done Ross and the rest of Crave, for both 'Desperate' and 'Rearrange', songs that hopefully cause us to be more desperate for God, as well as us being more relaxing as we ask the Lord to rearrange us to be more like Him over a daily basis of delving more into God's Word for our lives!
Overall: Crave's debut album is something to enjoy if you love most of the artists that have been born out of this relatively unique label, or if you are a fan of contemporary pop music with a motivational message. Full of emotion and vulnerability and a voice similar to Mike from Big Daddy Weave, Dave Frey from Sidewalk Prophets, and Mike Grayson from mikeschair, we are invited to hear some of the most heartfelt and emotional songs ever to be written and recorded by a DREAM Records artist in 2013 so far. With Crave getting my pick as best new artist on the label on 2013 so far (with Hannah Rose and Bread of Stone my next two choices of 2013), Ross reminds listeners of the continual need for us to long for Christ and His ways above ours. Great for reflecting upon via soaking or just sitting back to listen to these songs in the car or on long drives, the great variety of musical styles, as well as the band's famous nature since appearing in Ring the Bell is sure to gain some interest and popularity as listeners start to hear this album. Well done guys for such a powerful and poignant album, with a hopefulness that it'll stand tall amidst other albums released on that same day, from Mandisa, Jars of Clay, Seth Condrey, Stellar Kart and Love and the Outcome.
RIYL: Sidewalk Prophets, Big Daddy Weave, JJ Weeks Band, mikeschair
Buy the Album: iTunes/Amazon mp3