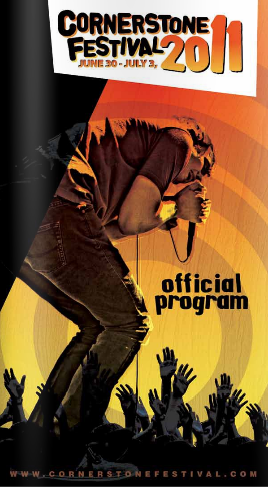 Read Part 1 (Tuesday and Wednesday) here.
Day 3 – Thursday
It was the first of the four "official" days of the festival, and in the morning we went to the big Merch tent to pre-order next year's tickets and get the annual festival T-shirt, and get the free copy of Relevant from one of the college tables. I was finally going to buy that Fanmail CD from the guy in the middle of the tent with all the used CDs, but it was gone this year. Children 18:3 had their table set up already, and I talked to them about trying to do an interview, but things didn't work out (I did have a pleasant conversation with their father, though).
We went to see part of another Listener show in the early afternoon. When Dan did his familiar "Does anyone have any questions or just anything they'd like to say?" someone called out, "If you could have any superpower what would it be?" Never one to be predictable, Dan said something like, "I wish that I could lay eggs. For my friends. Wouldn't it be great to just wake up in the morning, lay an egg, and say, Hey guys, here's breakfast!"
I went back to the Merch tent to help man Insomniac Folklore's table, and pretty soon I heard different people in the tent asking each other if they had lost power. It was a pretty hot day (mid 90's?), and apparently power had blown somewhere. Somebody said the Raging Storm tent was down as well. My wife and I took a gander by the lake to cool off, and on the way back I heard a familiar bass line coursing through the air… "Bema Seat"? Petra? It was supposed to be a night for classic acts. Petra was supposed to be the night's closer, but it sounded like they were playing a full song.
I headed up to Main Stage at what was supposed to be half an hour into Servant's set, just to check them out. They were still sound checking. "Petra took a long time to sound check," a lady next to me said. Maybe Main Stage was affected by the power outage too – they ended up getting started an hour behind schedule. So I walked to the Gallery Stage to check out Bare Branches, a band that I had heard several people recommending this week.
As the Gallery stage manager came on to introduce them, he cheerily explained that they had lost power for a couple hours, that it had been a few years since Cornerstone had had a Great Power Outage, and thank you to the previous bands that went acoustic, so we're still on schedule and here's Bare Branches! They were a young group with a mix of guys and gals playing an indie rock sound similar to Deas Vail, except the vocalist had a lower voice that occasionally reminded me of Aaron Weiss (not when he's talking fast but when he's singing drawn-out phrases like "call me outside, I'll come running down").
Later in the afternoon, I went to check out Sexually Frustrated and Lust Control at the Underground tent. Sexually Frustrated was a "purity hardcore" band that features some members of Flatfoot 56, and it turns out they were inspired by an old classic band called Lust Control. They each played about fifteen minutes of hard fast punk, although Lust Control seemed to have a tighter, catchier sound. They sang entertainingly blunt songs about things like abstinence. ("God says, You're not cold! You're not hot!
…You make me puke! You make me puke!…")
Then it was time for my second show with Insomniac Folklore. This time we had drummer Ayden, and a pretty good crowd too. We walked past Main Stage on the way back to the tent to make dinner, and they still seemed to be an hour behind. I didn't grow up with any E Band or Rez Band, but I came back to check out famous guitarist Phil Keaggy. I didn't really know any of his songs, but he looked in good shape for a "old guy," and he was still rocking his guitar riffs with his original "Glassharp" band. He played "Time," which my dad said was one of his great classic songs.
But due to the scheduling delays of the day, it was soon time to see Children 18:3's main set at the Underground. They played to a packed tent with more new songs like "Stronger." And unlike last year, when they introduced "Oh Bravo," this year the crowd knew to yell out BRAVO! at the end of the chorus. Dave and Lee Marie's energy is always entertaining, as they shout and scream and flail their guitars, and Seth's drumming never loses its fascination (Even on the parts where he doesn't need to hit as much, he just flips his sticks around between each hit to make up for it.)
They finished just in time for the delayed start of Classic Petra, the band that introduced me to music before I knew anything about music, thanks to my dad's old CD's. And the old guys were still rocking it, from Bob Hartman's guitar riffs to John Lawry's keys and synths, and everyone else. Some singers will shy away from recorded high notes when they sing songs live, especially if they're tired, but not Greg X. Volz. He would even get this look on his face before a really high phrase, like, here we go, and then belt it out. When he wasn't singing, Volz offered Sunday-School-style Biblical wisdom, encouraged by a "preach it, brother" from an old guy in the crowd.
Luckily for me, the band played from the limited part of their discography that I grew up on, and over half the songs were highlights from More Power To Ya, Not of This World, and Beat the System (1982-1984). I hope no one was expecting other segments of their 30 year career, but I was happy. Their full setlist was as follows:
Bema Seat
Angel of Light
Clean
Second Wind
Adonai
Back to the Rock
Godpleaser
Judas Kiss
It Is Finished
[encore] All Over Me
I thought "All Over Me" was an odd mellow choice for a closer, but all in all it was a good show and probably something Cornerstone will never see again. My gracious wife stayed with me through their entire set, but as soon as it was over we rushed over to the midnight show that was underway for Flatfoot 56, where this year's theme was "Superheroes, Save Your Planet."
Despite our late arrival, we didn't have trouble getting inside the tent, where we could witness both the stage and the circle pit. The band members had donned superhero eye masks, but from where we stood at least it didn't look like as many people dressed up as in last year's "Shark Week," which will probably go down as one of the all-time classic Flatfoot Cornerstone themes. This year, instead of inflatable pools filled with chum, the band passed out two giant hand-constructed globes of some sort with some other mildly gross substance inside, and (of course) told each side to defend their "planet" from the other's charge.
We heard some songs from the first night, and some others (like "Same Old Story"), and Josh came out again with his bagpipe for "Amazing Grace." Even though we didn't run in the pit this year, I was so glad that our first-time friend got to experience the unique and joyous occasion of running around in a circle with a bunch of crazy, sweaty, happy people, and I was so glad she loved it, too. It may sound weird to outsiders, but there's such joy emanating among complete strangers in that space that it truly is a glimpse of heaven.
We walked to the water spigots to get some water and cool off, and came back to the tent to witness the end of a legitimate one-in-the-morning wedding ceremony for two punk kids. It was pretty cool.
Day 4 – Friday
Friday was the hottest day of Cornerstone 2011. My weather app was forecasting 99, and there was talk across the grounds that a heat advisory had been issued. As I walked to the Anchor tent in the morning to catch some of their morning church service, there wasn't a cloud in the sky. Joshua Stump was speaking about the simplicity and complexity of God, and how he doesn't like listening to people who think they completely understand some aspect of God. He preached from Acts about Peter's interaction with Cornelius, and said when God calls you to do something you shouldn't wait until you completely understand it – or else you will never be ready to do it anyway. It was an encouraging message delivered with what I felt was a great and honest perspective – just like what I heard from him last year.
The sun rose and the heat increased. We decided this was the day to buy the $1 "Big Freeze" flavored ice treats. I spent some more time in the merch tent, and we saw the incredibly nice members of Deas Vail arrive. (I helped them set up a show in St. Louis three years ago, and they've remembered me and my family ever since.) They sat down at a table for some kind of pre-arranged Meet & Greet, but before the line started Andy and Justin saw us and walked over to meet and greet us. I also got to speak with Wes about trying to do an interview with them sometime before or after their show that evening.
The heat must have played a role in Thursday's power outage, because it happened again on Friday. We went to see Scottish band Rodent Emporium at the Raging Storm stage, and the guys explained that there was no power, and they'd like to still do an acoustic show for everyone, but they hadn't brought their acoustic instruments! I figured somebody would at least bring them an acoustic guitar, but the stage manager (I think) actually brought out a generator to save the day.
The fun-loving punk rockers played their classic songs about the Snake Patrol, hunting for the Rhode Island Sasquatch, and building model airplanes to get over a breakup. Frontman Stuart noted that Jeff the Girl from Five Iron Frenzy was there enjoying their set. One of my friends, wearing a Five Iron shirt like she always does at Cornerstone, talked to her afterwards, and I regrettably ended up with the false impression that the band was making definite plans to reunite and play some shows (Apparently not, but apparently anything is possible.)
It was hot, but the worst of it was over. I went to see some friends play at the tiny Radio Fashion "stage" at the far end of the row of generator tents. (It was basically two tent canopies strung together. I was surprised but happy that they got away with it.) Kevin Schlereth and Self-Proclaimed Narcissist played some songs, respectively, with their respective acoustic guitars.
We went to see Children 18:3 play a second set at the Texas stage. They played a strikingly similar set to the one we heard the previous evening, although we did hear the full version of "All My Balloons," and the crowd yelled the classic phrase each time it came up, much to Dave's delight ("Ten thousand!" he exclaimed, a phrase that shows up in the band's Twitter feed a lot, although I haven't figured out what it means yet.)
Dave also talked again about a new song that's about not being a hermit. He said he's a hermit in his mind sometimes but he knows he needs to reach out to people because we are a community where he needs people and people need him. ("Na na na na na, na na na na / I need friends!" goes the catchy refrain.)
For Today was playing Main Stage as evening set in – apparently the power was back up – and while I didn't set aside much time for them as we prepared dinner, they sounded polished, tight, and intense. Despite Cornerstone's reputation as being overrun with hardcore bands, I hadn't really gotten a fix of heavy music yet at the festival that year, and if I had had more time For Today probably would have done it.
We came back to Main Stage after dinner to see Brian "Head" Welch – just because. I feel like I'm pretty in touch with a lot of different scenes as far as Christian musicians go, from indie hippies to hardcore to CCM, but even though I've heard about his testimony like every else, I never hear about this guy's music outside of Cornerstone. Ever. But he sure had some excited fans in front singing along. I don't really get into his music too much, but they sounded good. Between two songs, Welch said that his daughter is going through a Blink 182 phase, and he played a brief but amusing cover of "All the Small Things". His growling voice imitation of Tom Delonge's whiny voice was just hilarious.
Next it would have been time for My Epic at the Underground, but I was told they were delayed to 10 pm instead of 9 due to the earlier power outage. So I bought their CD and new EP, and we sat down at the Chelsea Cafe for a bit and heard The Unfortunates, a folk band led by Glenn Kaiser's daughter. I was tired of waiting for sound checks instead of hearing music, so we stayed there for several songs, but went back to the Underground at ten to 10 just in case, since I was really looking forward to seeing My Epic.
It turned out My Epic was already playing and only had four songs left. I was somewhat crushed that I had missed a lot of their set and that it was my own fault, but at least I hadn't missed the incredible "Lower Still." I had only gotten into them over the past year while streaming their album online, and I didn't know how big they were, so I was glad to see a good-sized crowd, all singing along and, yes, worshipping. Between the songs the frontman bubbled forth about his earnest desire to serve God with his life. The band closed with a worshipful anthem I did not know (and didn't find on either disc), but the crowd knew it, and sang out the refrain, "My God, I am not, but you are," over and over again. It was beautiful. (Google tells me the song is called "Untitled," from an older release called I Am Undone. I just iTunes'd it.) I felt like I had caught a glimpse of heaven in my third or fourth genre already.
We made our way to back to Chelsea to see Timbre, and I caught the unmistakeable groove of "Youth of the Nation" wafting from the Main Stage. Part of me wanted to indulge in middle school memories with P.O.D., but I refrained. Timbre the harpist had a few musicians with her, but she explained that since she would have a fuller group of friends at her next set, so she was going to use this night to play more songs off her older album Winter Comes to Wake You. Timbre's music is beautiful, and I want more people to know about it, but I personally prefer her newer Little Flowers album, and we wanted to get to the Gallery early for Deas Vail anyway, so we only stayed for a few songs. (This time as we changed tents, the unmistakeable chorus of "Alive" was wafting across the grounds.)
Emily set up in a good spot to record some of Deas Vail's songs for interview footage. They have a new album coming out in September, and they played a lot of new songs. In fact, I think they only played four songs from their existing releases, including a rearrangement of "Shoreline" (I do miss that old piano part, but hey, maybe they're sick of it). During one of the new songs, Dan Smith of Listener appeared from backstage and joined Wes for the grooving bridge (see the video above). The crowd couldn't sing along to most of the songs, but the band is excited about their new songs and it seemed like their fans were, too. They've still got that great indie rock sound and maybe even made it a little more driving, and every time I hear one of the new songs I like it more. They encored with "White Lights." We chatted with some of them afterwards, and Wes went out of his way to make time to sit down for an interview (thanks again, man). You can read or watch it here.
It had been an exciting Cornerstone so far, and we still had two days to go.