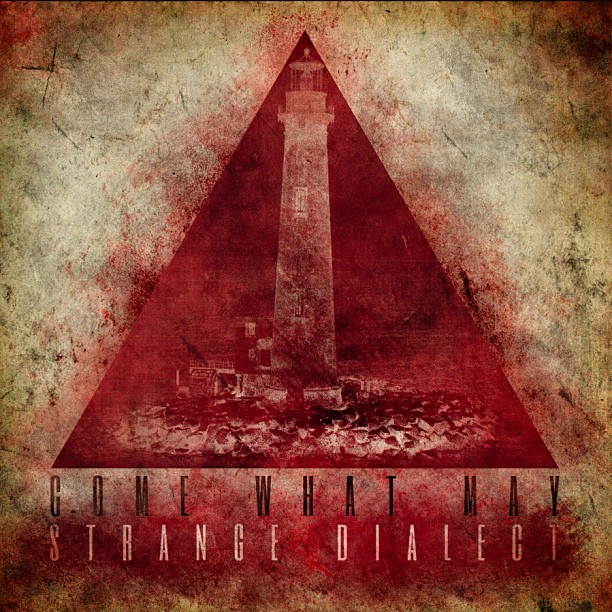 Band: Come What May
Album: Strange Dialect
Label: Unsigned (Bandcamp)
Release: 6/12/12
Reviewer: Brody B
Tracklisting:
Cold Hands
Speak Like Butchers
Ankle Deep Water
Deuteragonist
Myself in the Rearview
Dusty Hymnal
ZRG RSH
Beach Party Pantomime
The City on the Coast
Give & Take
There are some bands you just have to wonder why none of the powers that be in the record industry have picked up on. Come What May from Athens, Georgia is one of such acts. I have a filthy habit of assuming any time I am asked to review an unsigned band that the band will fail to catch my attention as much as any signed band would, but after hearing Strange Dialect, the debut full length from this talented young band, I think I will approach unsigned bands with more of an open mind.
The first thing that is apparent upon hearing the frantic opening howling of Timothy Watts and the speedy finger tapping of the guitarists in "Cold Hands" is that Come What May have some serious bite to their music. However, mere seconds later, guitarist Joey Hreha sweetly croons with a voice not too whiny and not the slightest too rough, showcasing the ability for the band to seamlessly transition between blood pumping and soothing sections. While far from an original concept, what separates Come What May from the rest of their "sing/scream" contemporaries is the amount of talent poured into perfecting the craft these youngsters create. Where most bands of the same genre are complacent to merely chug away, Come What May always provide an enamoring musical backdrop, from the Chariot-esque discords dousing "Speak Like Butchers" to the Animals as Leaders influenced intro of "ZRG RSH" (Which is soon followed by intriguing piano runs). The intricacy even carries over to the primarily acoustic track, "Dusty Hymnal", an emotional number about the loss of a mother which reaches its' climax at an interesting guitar lead layered behind gang chanting.
Not only are the instrumentals strong, but the vocals are also a cut above the rest. Watts has a raw, frantic vibe to his voice, keeping things edgy and emotional. You won't find anything over produced about it, and in fact, some might find it a bit too grating, but I thought it contrasted great with the clean vocals provided by Hreha. Hreha has an astounding voice that could easily stand on its' own, say in a pop punk band, but works great when paired with the harshness of Watts.
Really the only flaw I found from this fantastic debut from this promising, young group was my lack of finding a strong personality in some of the songs. While all the songs are obviously created with talent and care, a few of them such as "The City on the Coast" and "Beach Party Pantomime" just seemed to blend together and were soon forgotten after the record had finished.
Overall: Come What May is a young group who is taking the metalcore genre by the horns and refusing to settle for mediocrity, especially when it comes to instrumentality. While they do not reinvent the genre, I believe their talent will get them noticed into becoming an act finding a home on a label in the very near future.
RIYL: As Cities Burn, The Chariot, Underoath