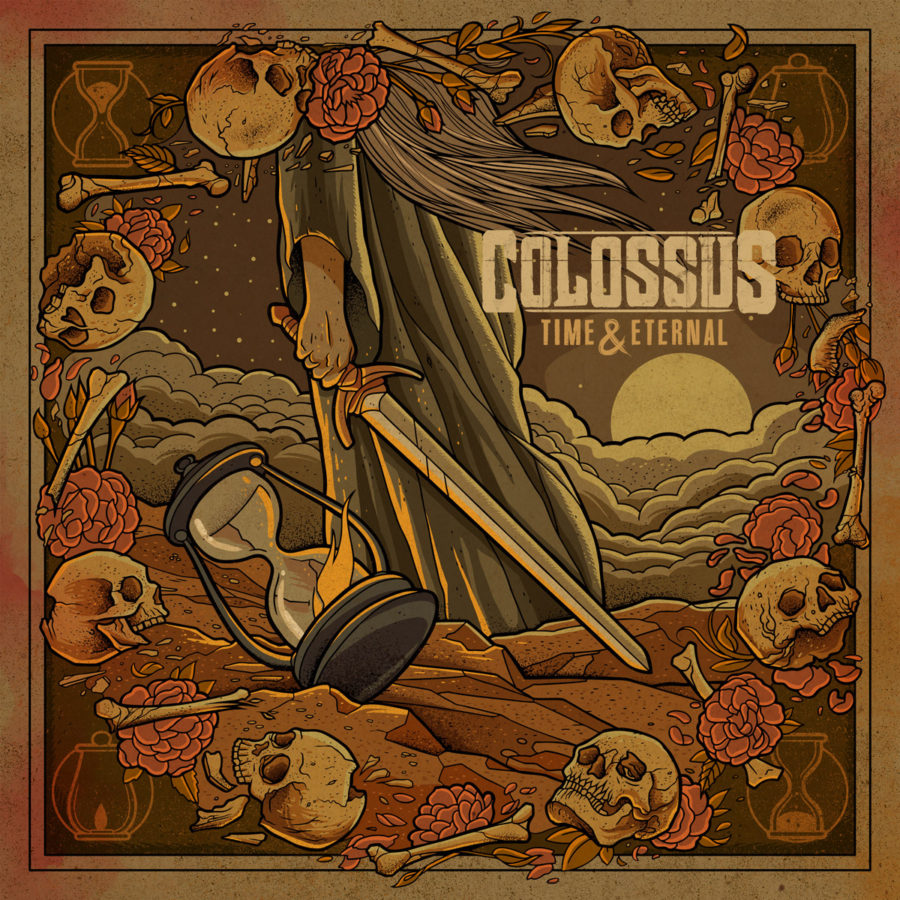 Artist: Colossus
Album: Time and Eternal
Label:  Facedown Records
Release Date:  06.11.13
Reviewer: Lee Brown
Tracklisting:
Time
Superficial Savior
Counterfeit Kingdoms
Dirge
Bereavement
Transgressor
Pentecost
Beacons
Approaching the Throne
Eternal
As I've noted before, Facedown Records is on something of a comeback/streak. Having lost several epic and legendary bands over the past year or two, there was certainly at least concern as to how the label would not only spring back, but continue to dominate the heavy music world. But Facedown is a fighting label with fighting bands ready to take charge. Enter Colossus. Just as their name implies, Colossus is a powerhouse of a heavy band.
Taking cues from bands like August Burns Red and War of Ages, Colossus brings an approachable progressive metal that is easy to get into and yet is not lacking in presenting a layered experience. While the band doesn't stray too far away from the basics of what hardcore music is all about, they've done a great job of bringing that sound in and making it their own.
Now, for the most part, you'll hear strong praise from me in this review, so I wanted to take a moment to explain the score. A "3" in IVM terms, means that the album is in line with the genre and with the artist's own discography. Being a debut release, there is not much discography to speak of, and Time and Eternal is certainly a solid enough release to teater into the "4/Above Average range."
However, like War of Ages' Return to Life before them, Colossus presents an album that is very very good, but is pretty in line with what their counterparts are doing. In fact, while driving with one of my buddies this week, he was convinced for most of the album that we were actually listening to August Burns Red. As a debut album, Time and Eternal is powerful and it certainly gives a very strong base for Colossus (one of my favorite X-men, by the way) to build on. Hardcore fans will not be disappointed. Still, there is room for growth and experimentation. With just a little push, Colossus is set to move from a really good band to something unforgettable.
Time and Eternal begins with "Time" and closes with "Eternal," which serve as bookends to the overall experience. In between those two fence posts are a nice range of heavy songs with deep spiritual underpinnings. "Time" begins with the question, "When I die, where do I go? Do I ascend up above or do I rot in this hole?" The song is brooding and heavy in all the right ways. The guitars skitter in all the right places, the vocals are heavy (and not a little unlike ABR), and the drumming is brisk.
The first standout track on the album is "Superficial Savior." In the first moments of the album I thought I was being sucked into a Nu-metal track that took many cues from These 5 Down. However, the sound quickly bleeds back into progressive metal. "Superficial Savior" is straightforward with several moments, such as the screaming "It doesn't matter. It never mattered," custom built for crowds to chant with fists raised. The theme of the song digs into a recurrent theme across the album of questioning false faith, questioning life, and dealing with sin.
This theme is carried into "Counterfeit Kingdoms." Having just spent several weeks dealing with the horrors of mother nature in Moore, OK, the intro safety alarms jarred me the first few times I listened to the track. I realized, however, that this is what they are supposed to do. The inclusion of the emergency broadcast sound draws you into a soundscape of a dangerous world in trouble… and that is exactly what this song points to. Not to be left out of the discussion is the fact that the track is really good, as well.
"Dirge," is an instru-metal track that leads into "Bereavement." "Bereavement" starts with the line "Lord, can you forgive me, if I can't forgive myself." The theme from the past few tracks carries through, but on a more personal level, speaking to being reminded of past sins, failures, and regrets.  This track features some great drumming and some more distinct guitar licks.
This personal sins angle is carried into "Transgressor," which starts by acknowledging where the singer/character was before knowing Christ. "Who can save me from this body of death," gives way to seeing oneself through the lens of Christ's salvation. My friend Grant Lilly (lead singer for the recently dissolved A Past Unknown) really digs this track, and it's not hard to see why.
Though the music video may be a little disturbing for some (as it focuses on the depths of the title character's lost-ness), it serves as a great sample of what Colossus has to offer:
https://www.youtube.com/watch?v=PC-fTb3J6_I" width="580″>
"Pentecost" serves as another instrumental track, however it is notably much lighter. This is the point in the record where the pivot happens. Having addressed the depth of one's sin and depravity in "Transgressor" the album starts to move toward a proper standing with God. As such, the flow the band uses and the story they are telling is compelling.
"Beacons" feels a little more upbeat. It openly acknowledges the failures of the past (as in the first movement of the record), but starts focusing much more on the positive. "I'm not my own," becomes the chant of this song, which will surely become a great live moment!
"Approaching the Throne" further crescendos towards the "light" side of a very heavy album. It continues the logical path from "Beacons" and begins to focus almost entirely on the glory of heaven, redemption, and undeserved grace. As before, the tempo is a little faster and more upbeat. As with "Superficial Savior," "Approaching the Throne" is a highlight track. The break in the middle, just before a big breakdown moment, is peaceful and serene and almost makes you feel like you're starting to leave the "Shadowlands" behind.
The album concludes with "Eternal." The story the band has been telling across eight tracks (and two instrumentals) crashes into "Eternal" with the line, "Finally I know the truth." Let me take a moment to address the flow/story of the album as a whole. Those who just listen to the first act will walk away depressed and downtrodden, this is intentional. This builds a proper foundation for the redemption moments of the final tracks. As a story, the band carefully saves "Eternal" for last. It is the track that finally declares "I am not a slave to death…I know there has to be more than life than what we see."
Conclusion: Time and Eternal is a classical tale of sin and redemption, brokenness and restoration, death and life set to the backdrop of some very solid progressive heavy music. Though the album does not break new ground musically or thematically for the genre, it brings a polish and sheen far beyond a debut record. Colossus has built a mighty strong foundation from which to build a promising musical career upon. 
RIYL: August Burns Red, War of Ages, Those Who Fear 
Note: If we had the ability, I would give this album a 3.5.