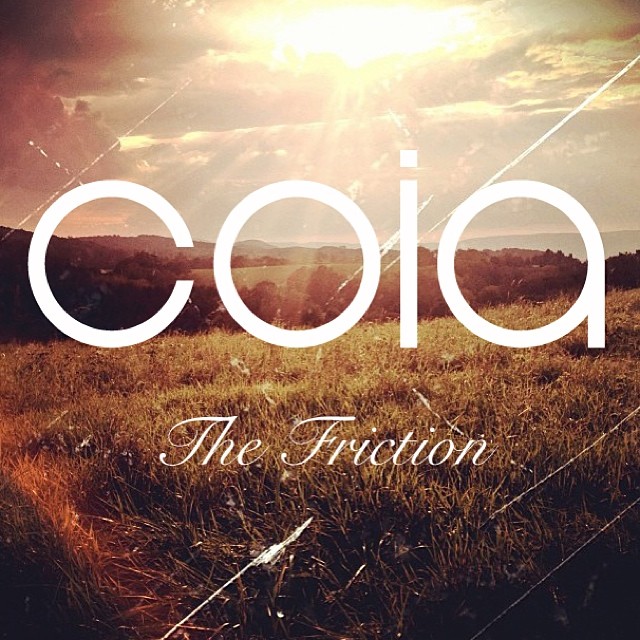 Artist: Coia
Title: The Friction
Label: independent
Release Date: 4/13/13
Reviewer: Jonathan Andre
Tracklisting:
Burn
Seas
Home
Chains
This is Our God
While there is much privilege in being signed by labels, there have also been much to celebrate in 2013 with the continual rise of independent Christian artists from all facets of genres, making their music and creating their craft for the entire world to hear and listen to. From Joanna Beasley, Hearts of Saints, Marthe De La Torre, The Sonflowerz and Ellie Holcomb, to Calling Jonah, Evan Wickham, Josh Guthrie, Skyhook, Keila Garza and Scott England; quality songs have been delivered by each of these artists, once again proving that just because someone doesn't sign to a label, doesn't mean that their music isn't to the same standard quality-wise as other well-respected and label-attached artists. And while many listeners seem to be more 'focused' on artists like TobyMac, Francesca Battistelli, Natalie Grant, Britt Nicole or MercyMe, it is sometimes the indie artists that slip on by, often writing and giving us songs that are just as poignant and just as thought-provoking. Enter in another indie artist, Mike Coia, playing under the pseudonym band titled 'Coia'. Forming in late 2012 after Mike lost his job, Coia was formed with the enthusiasm to challenge listeners and bring the alternative rock roots together with worshipful sounds and offer us a unique worship experience that isn't necessarily tied to the name 'Chris Tomlin' or someone else of that fame or popularity. As spoken by Coia himself, '…the goal of Coia is to reflect how grateful I am to be able to make music and in that hopefully motivate and encourage others in their lives. I want the music that God has given me to be bigger than the people playing it, including myself…' What has resulted are 5 songs full of heart and enthusiasm, and perfect for the church to deliver and sing each Sunday as the church continues to search for new, unique, fresh and different songs to introduce to the congregation week after week. With musical leanings towards something like Hillsong UNITED would undertake, Coia and their lyrical and musical maturity shoot this album into 3rd, on the top EPs that I hadn't heard in 2013 that was in fact made during that year (the top of my list being I Need You by Seth and Nirva, and second When Everything Fades by Lauren Hicks).
With the central theme of the album being that of trying to abide and draw near to God, Mike offers up 5 melodies of hope and encouragement, and though on the long-ish side (there's only one song, 'Burn', under 5 minutes), it doesn't seem that long when you're listening and being immersed within the worship music. 'Burn', the first track, is by far the most CCM-like out of the five tracks, with a powerful electric guitar introduction, Mike provides us with a great motivation, to '…let our hearts always praise our King…let our love pour out for truth…' Vocally reminding myself of the ethereal voices of Tim Neufeld and Charlie Hall, Mike Coia has been able to craft a song that not only can be presented to us in radio format on the airwaves, but also in our homes and churches as we lift our God high and '…burn for You, through the darkness as we yearn…for You…' 'Home' continues to be another highlight of mine as this lengthy 6 minute track envelops to become an anthem and powerful track, almost an anchor for the album in terms of poignancy and powerfulness. With an acoustic guitar introduction that sounds awfully familiar (as I heard the start of the song, I could picture a similar start in Phil Wickham's 'You're Beautiful'), Mike presents to us a heartfelt plea to God to '…give me words when there are none, to describe what You have done to breathe Your name, to give You praise…' Open and able to just pour out emotion, not just in this song, but throughout the EP in general, 'Home' does in fact echo the elements and themes of what a home represents- the safeness and security, as we witness Mike giving us a great reminder of how God love comes and circles us, '…high above the mountain peaks, down below the deepest seas, I know You're there…' Just like Dara Maclean's 'Home', Mike Coia and his acoustic guitar shows us possibly the strongest song on the album, and maybe even my favourite worship song of 2013 that I didn't hear in 2013! Well done to Mike and the rest of Coia for such encouraging and compelling melodies, and songs that'll certainly be on my iTunes playlist for months to come.
'Seas' continues with the radio friendly atmosphere left by 'Burn', and with an almost similar vocal to Charlie Hall, Mike sets out to proclaim that even if the seas fall and mountains crumble, our faith and foundation remains firm in the love of Christ. The assertion that when even if all these things happen, that '…still this heart always belongs to You…' is something that cannot be lightly said, even it is proclaimed by the most believing believers. With electric guitar riffs that create the musical backdrop of the song, Mike doesn't let a thing called 'indie' bind him- with the quality of 'Seas' in particular equal to other worship songs like 'Whom Shall I Fear' (Chris Tomlin) or 'Your Great Finds Me' (Matt Redman). 'Chains' showcases great harmonies by Mike and himself in backing echoes, and as Mike places on his 'Shane and Shane' hat, 'Chains' is a timely assurance that God is stronger than the chains that hold us back from the God given potential that has been within us throughout our lives. With the song starting slow and developing a crescendo as the song goes by, Mike's voice, together with his ability to let emotion take over and just sing to God in devotion, is something that propels this song to the most personal of the EP, and one that if you want to be convinced in buying the album with only listening to just one song- this would be it! 'This is Our God', in a similar vein to Hillsong's 'This is Our God', is one that presents a similar moment, where we fall down on our knees and proclaim God's name. As Mike proclaims from the outset '…Father of love, You hold me now, maker of love, You hold me now…', we are able to just sit back and bask in the reflectiveness and free worship that this song provides. A great way to end the EP, Mike is able to showcase both his worship skills as well as skills of realness and vulnerability in this track, ending it with as much gusto and enthusiasm as he started, as we hear the powerful words of how '…this is love that set us free, that You would come and rescue me…and this is hope that we would know, that Christ alone would die to show us home…' What a wonderful representation of love and grace personified, especially in 'Chains' and 'This is our God'!
Overall: Mike Coia, introduced to me by Brandon Jones of IndieVisionMusic (founder of IVM), is one artist to definitely look out for this coming year. Despite me being 'late to the party' in reviewing it (with the album releasing April of 2013), I am able to still be impacted and enjoy this album just as much, and knowing nothing about this artist is kind of a blessing- after listening to it, the impact of the songs and the ability of Mike continues to awe me as I place Mike Coia as the artist of 2013 that's going to go far within the indie Christian music industry. Channeling vocal and musical similarities to Hillsong, Charlie Hall and Starfield, fans of these artists aforementioned will definitely enjoy Mike and his music. Well done Mike Coia for such an awe-inspired album, and one to remember as the weeks and months progress!
RIYL: Casey Darnell, Starfield, Hillsong UNITED, Charlie Hall
Buy the Album: iTunes/Amazon mp3