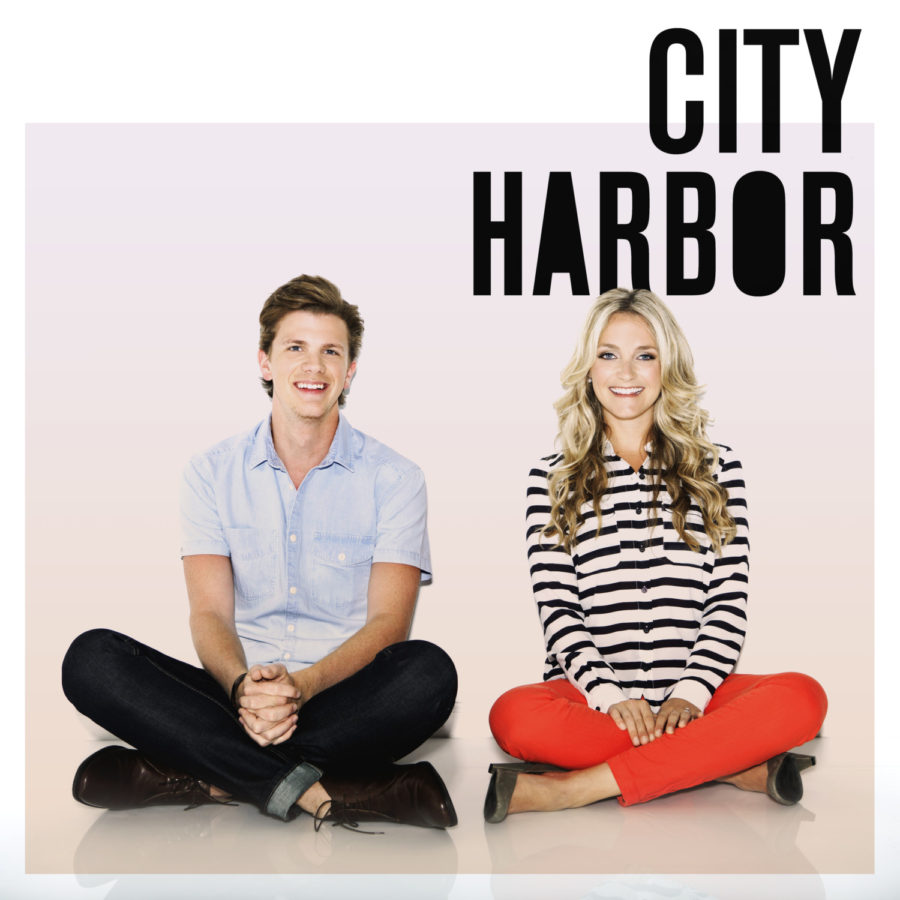 Artist: City Harbor
Title: City Harbor
Label: Sparrow Records
Release Date: 2/4/14
Reviewer: Jonathan Andre
Tracklisting:
Like I Am
Come However You Are
I Still Believe
Lift It Up
Somebody Tell Them
I Will Rest
Heartbeat
Your Love Still Wins
You're There
Leave it Here
To be honest, when I saw 'Come However You Are' on the WOW Hits 2014 list that was revealed in early August 2013, I was unsure. At the time, City Harbor was virtually unknown as a band (besides the song 'Somebody Tell Them'), and I wasn't sure if the song was even 'worthy' enough to even make it on a list that professes to be the top songs in Christian music in that given year. Nevertheless, as the weeks and months progressed, I admitted (and still admit) that my preconceived judgement was far from the truth- not only is 'Come However You Are' one of my favourite songs of 2013, but City Harbor is an artist to certainly check out if you want to discover new bands, especially if you love music by all things duo (duos seem to be in fashion these days, from Capital Kings and The Sonflowerz, to All Sons and Daughters, Love and the Outcome, Jenny and Tyler and Gungor). Enter in duo, City Harbor, to be one of the most anticipated new artists of 2014 (alongside DREAM Records pop artists Loftland). Since their signing to Sparrow Records in 2012 (and their hit single 'Somebody Tell Them'), the departure of founding member Josh Varnadore and the addition of newest member Robby Earle; lead singer and surviving member Molly Reed (wife of Mike Grayson from mikeschair) has been able to forge on, and with the release of 10 powerful and heartfelt songs on their debut album release (3 of which are on the EP released this year and reviewed here), City Harbor's future as a great Christian CCM/acoustic pop band, is very much sunny and bright. From upbeat acoustically driven 'Lift it Up' to the emotional 'I Still Believe', a moment of vulnerability on Molly to admit she suffered (and still does) from depression, Come However You Are EP was a great pre-cursor into what people are certainly going to expect on this self-titled debut- more emotion, heart and encouragement, all wrapped up in a fun bow of joy, goodness and musical lightness, in a similar vein to other artists like Rend Collective Experiment and The Sonflowerz.
'Come However You Are', 'Lift It Up' and 'Somebody Tell Them' are three great songs, and while I previously heard each of them on City Harbor's recently released EP, it is always great to listen to them again within a full-album context. Each of these melodies, though musically different, all strike a similar lyrical chord as I hear each of these songs. From coming to Jesus as we are with our faults and issues ('Come However You Are') and lifting up our burdens to the One we know can carry them ('Lift It Up'), to having a good burden on our shoulders to tell others about Christ and their hope in Him- and then even giving that 'burden' to the Lord as we trust His timing ('Somebody Tell Them'), both Molly and Robby have given each of us timely reminders of our own vulnerability, and the hope we have in just coming as ourselves and not trying to mask around as someone else. The opening lines of 'Come However You Are' invite us to be the person Jesus sees us as- not being able to make it on our own, but knowing that in Christ, we are complete. As Molly declares that '…to anyone walking down a hard road, worn out with blisters on their feet, to anyone with a heart that's shattered, doing their best to hold it together, with no prayer to pray, and no song left to sing…', we are able to hear the hope in her voice, coupled with unique acoustic guitar strums to anchor the song musically.
'Come However You Are' is one of these songs for the weary and broken (which certainly includes all of us), giving us the peace and hope that God is searching for us, as we are, rather than as we ought to be. Our surrender to Him ought to be because of His love for us, rather than out of a measure system of what we need to say or accomplish for us to be right with our Father. With hand claps, guitars and great harmonisation between Molly and Robby, 'Come However You Are' delivers a well-balanced lyrically focused, yet equally musically captivating song. 'Somebody Tell Them' speaks about the necessity for us Christians to continuously share the gospel, with the song delivering a powerful and refreshingly hopeful moment of realisation and urgency of evangelism, as the melody brings out the vulnerability, not just in Molly's voice, but also as the song progresses. As 'Lift It Up' continues along the theme of vulnerability with the theme of faithfulness of God to us and our response in lifting up everything, including our doubts and fears, to Him; Molly and Robbie and their great harmonisation (and acoustic guitar playing skills) have led each of these three songs as being the anchors to the album, and not just because I heard these songs before. Each of these three songs have given us great moments of infusion of CCM and acoustic pop, and have continued to confirm my assertion that City Harbor, if their style is continually fresh, invigorating and unique, will have a long and impacting career in their music. And even if they suddenly change it up (and maybe do country or rap…), I'm sure both Robby and Molly have great capabilities to make it work- these three songs being the proof of the quality of songwriting skills and vocal delivery from a band that'll hopefully increase their popularity and fanbase in months to come!
Produced by Ben Glover (Britt Nicole) and Matt Bronleewee (Plumb), City Harbor's self-titled debut continues to provide to us compelling songs of various tempos and musical styles, with the primary focus on what they do best- acoustic pop/CCM. 'I Still Believe' is one of my favourite songs, and from first listen, it can seem like the melody is a joyous moment of standing and declaring that we still believe in God and in the moments of hope and healing. And while it is in fact joyous and memorable to be declaring that fact, the truth is that the moments of creating the song leave us with so much depth and perspective- the fact that this song was written out of Molly's experience with depression, makes the song even more emotional and hopefully encouraging to others in similar situations. As Molly shares of how she remembers '…getting out my guitar, and when I started playing, I told God 'I'm in pain right now. I don't understand why things are looking the way they are, where my life is headed'. But what I did know is that He is faithful, He's still here, and that He was going to be with me through everything…', I am able to have some sense of how much courage it took for Molly to place all her thoughts down into a song, and a song that stands out to be hopefully a radio single in the future. A similar theme to Jeremy Camp's 'I Still Believe', City Harbor remind us of trust and faith, believing in a God who creates good situations from the bad, even if we can't see his movements in that current point in time. Starting off with a piano riff, City Harbor continue to unveil vulnerability on 'I Will Rest', a song that ought to inspire rest and reflection as we are met with the humble, true, and often discomforting lyrics as Robby unveils that '…I try so hard to keep it in when I'm falling apart, put up walls to preserve my fragile heart, but I'm tired cause I know that I'm not strong enough…' As we come face to face with some of our own realities in being the busy type- trying to do things on our own; 'I Will Rest' comforts us with these very words, as Molly invites us in the chorus to rest '…in the promises that You have given me…all Your goodness and Your mercy followed me…' With great harmonies, Robby Earle's strength of singing, especially in this song, is something that will hopefully come to full realisation as people hear this album (considering that Molly is the chief lead singer of the duo). Robbie also takes the lead on 'Your Love Still Wins', possibly my favourite ballad City Harbor have done, and arguably a melody that will be in one of my top songs of the year when the list is compiled at year's end. Presenting us with a central truth that God's love still wins even in the midst of all the heartache and struggle, Robby's vocals are presented with such emotion and passion (similar to Mike Donehey in some of his enthusiasm and emotional melodies he sings), as were are powerfully reassured through light acoustics and big powerful drum beats that '…when the days go by and I start to wonder why pain lives on, why we have to suffer, I don't need to understand it, cause I do know that You walk among us, and I hold on to the things You've promised, this world will put up a fight but You've conquered it, whatever comes in my life, Your love still wins…' A great song lyric to reflect upon, right?
'Like I Am' and 'Heartbeat' are both powerful upbeat tracks, and while both only stand at 3 minutes exactly in length, each remind us of God's unconditional love as we are loved the way we are ('Like I Am'), and the assertion that God is the heartbeat within us, influencing our thoughts and decisions as we delve deeper in relationship with Him and surrender to His will for our lives ('Heartbeat'). Sounding strikingly similar to Tim Neufeld in voice, Robby further explores his own vocal ability in co-leading 'Like I Am', presenting a message of comfort and hopefully life-altering truths for many listening, in the poignant words of how '…somewhere in my desperation, You give me this invitation, to leave this guilt I carried, to know that You'll accept me, even with my complications, Your love has no hesitation, You see the good, You see the bad, and You love me…like I am…' For someone to hear this statement, it can be pretty profound if they haven't heard it spoken over them their whole lives (I'm sure there'll at least be one person changed by listening to this album opener). 'Heartbeat' confirms 'Like I Am', with powerful guitar riffs as the centre musically, as Robby again takes the helm at steering the story of how God is the centre of our lives, '…the centre of everything, and You're moving inside of me, You are the heartbeat…You put the light inside my eyes, You make me come alive…and You always will be [the heartbeat]…' God never leaves us, even if we think for a moment that He does, and this song is a great reminder of that. Ending the album with two ballads, Molly becomes the lead singer again to give us 'You're There' and 'Leave it Here', two songs highlighting our own very need to believe that God's is near us ('You're There'), as well as giving us the freedom and confidence to leave our troubles at the foot of Jesus ('Leave it Here'). And while each of these songs are mellow and could so often lead to listeners being disengaged because of the slow nature of these tracks, these songs nevertheless need to be heard, if only for their lyrical content full of life and power.
Overall: While I may have been a little disappointed that they didn't add in 'Closer to You' as a bonus track (which was on the EP), City Harbor still tick all the right boxes for a debut project by a CCM/pop artist. While this album may not necessarily have the 'WOW' factor of a debut artist (like Capital Kings, Love and The Outcome and 1 Girl Nation last year), which is why I rated this album a three instead of a four (it's actually more closer to 3.5); both Molly and Robby still present to us an album certain to be listened to and enjoyed by listeners who love similar artists, like Amy Grant, Francesca Battistelli and Starfield. Releasing in a month full of albums like As Sure as the Sun (Ellie Holcomb), Glory (Kutless) and I Don't Want to Dance (Loftland), City Harbor's anticipated album release is well worth the wait since October, and while the duo may not be as popular as other duos right now (like Capital Kings, Copperlily, Love and the Outcome and The Sonflowerz), Molly and Robby and their music are sure to climb the charts and the popularity table, leading to hopefully more hits, fans and impacting melodies as the weeks and months ahead. Well done City Harbor for a powerful album that places us in the centre of the truth of we ought to '…take the wounds, and the weight, every layer that you wear and just leave it here…what you hold in your heart, every burden that you bear, just leave it here…' ('Leave it Here')
RIYL: Amy Grant, Francesca Battistelli, Starfield, Rend Collective Experiment, The Sonflowerz
Buy the Album: iTunes/Amazon mp3