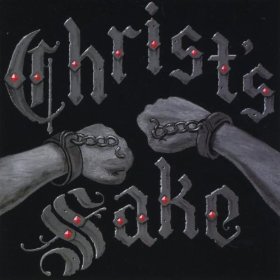 Artist: Christ's Sake
Title: Christ's Sake
Label: Thumper Punk Records
Release Date: June 25, 2013
Reviewer: Jessica Cooper
Track Listing:
Jesus Is Calling

Lift Up
23
So Fine
Reborn
I Need My Lord
I Pray
My Jesus
Footprints
Find My Way Out
Revival
Fill Me Up
Set Me Free
From the band's bio on the Thumper Punk Records website :  "The band writes about life's pains and what God has done for them and can do for you, too." It's an accurate description of the band's music, for obvious reasons when you listen to songs like "Reborn", "I Need My Lord", and "Find My Way Out". Hailing from Huntington Beach, California, Christ's Sake carries the classic sounds of Orange County, melodic punk influenced by the likes of The Clash, Social Distortion, and Black Flag. According to their Facebook page, the band's name was taken from 2 Corinthians 12:10, which says, "Therefore I take pleasure in infirmities, in reproaches, in necessities, in persecutions, in distresses for Christ's sake: for when I am weak, then am I strong."
"I will not forget you / Behold, I scribe you on the palms of my hands." – "Reborn
"I've been abused, misused, since I was young / I didn't know what, where, or who I was / So I turned to drugs and alcohol / Now I wanna get out, and give my life to You, Lord." – "I Need My Lord"
"I gotta dig deep down inside of me / Have faith in my Jesus' love / I gotta be strong and never give up / And pray for better days to come / I'm gonna find my way out / Oh, God's my way out / I'm gonna find my way out / Oh, the Lord's my way out." – "Find My Way Out"
The songs are about hope, redemption, God's faithfulness, and are really upbeat and uplifting. I really like the song "Fill Me Up" because it's one of the band's acoustic tracks, which is something I always enjoy hearing from an otherwise energetic tone. Then there's "Set Me Free", my favorite of the two. It's more geared toward my own taste as far as acoustic goes, and it weirdly reminded me of City & Colour's "Sleeping Sickness" (for your own comparison and personal enjoyment, click here).
Overall: As punk music goes, without sounding crass, I think Christ's Sake did a fine job of following the guidelines to produce something that's a classic example of old-school sound, but still managed to keep it relevant to music today. This release could quickly become a fan favorite for those born and bred in the circle pit industry that is punk rock. Christ's Sake is available for download in the Thumper Punk webstore.
RIYL: The Ramones, The Clash, Black Flag, Social Distortion.