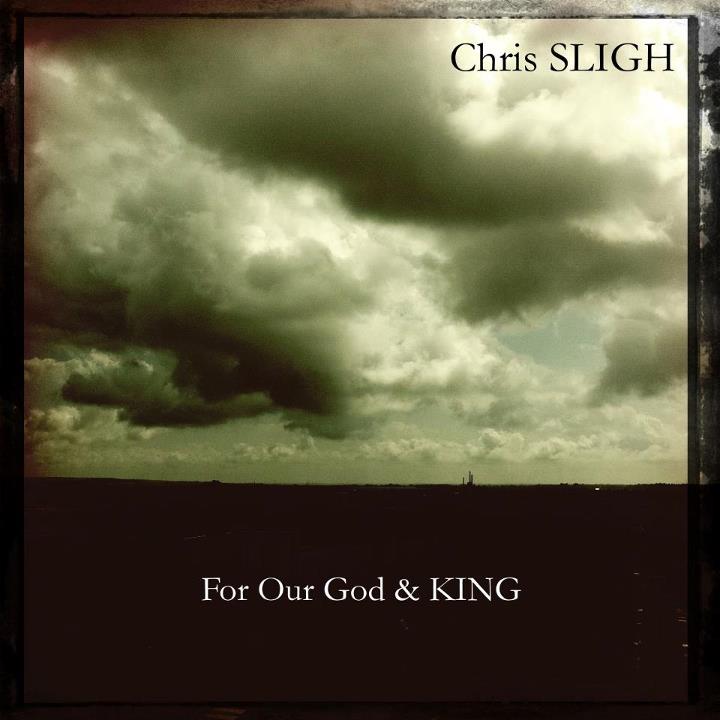 Artist: Chris Sligh
Title: For Our God And King
Label: independent
Release Date: 7/31/12
Reviewer: Jonathan Andre
Tracklisting:
The King
We Come to Worship
For Our God and King
How Marvellous (I Stand Amazed)
Give Me Rest
How Great
Communion Song
Revive Us Again
You Meet Our Needs
Teach Me, O God
Good
Come, Revive
We Know (Pride is the Enemy)
You are Holy
American Idol has had plenty of contestants that have succeeded in the music industry (both Christian and mainstream), including Dove Award winning contemporary singer Mandisa, independent artist Phil Stacey, pop singer Katharine McPhee, as well as the latest ex-American Idol contestant Colton Dixon. Enter in Chris Sligh, who entered the competition at the same time as Phil Stacey, and since his American Idol experience, has released 2 solo albums under Word Label Group (Running Back To You, Anatomy of the Broken); with much acclaim and commendation, both from critics and listeners alike. With hit singles charting the Christian radio charts like 'Arise' and 'Only You Can Save'; June 2012 marks Chris's journey into making albums independently, with For Our God and King released via Kickstarter. Having the privilege to download this album for free, these 14 heartfelt worship melodies are a mixture, some being reflective in awe and reverence, while others confrontational and stirring as we understand our role in the Kingdom of God. Known for his frank honesty (as revealed by his American Idol experience), Chris's heart for God is certainly evident as I listen to this album, with open transparency a key goal through his songs, as listeners understand the God he serves and the transformation within Chris's life because of Him. From powerful anthems like 'For Our God and King' and 'You Meet Our Needs' to the hymn 'How Marvellous', this album is a certain purchase for those who have enjoyed Chris's earlier work, or those who are looking for some worship songs with an independently produced slant.
Title track 'For Our God and King' is as honest as you can get with heartfelt worship, as Chris delivers the starting lines of '…we've been given true salvation, how could we keep it to ourselves…', a confrontational start to a worship melody full of life and vibrancy as Chris gives us a timely reminder to just '…shout your praises, voices raise, there's no one like our God…so sing out for our God and King…'. With a similar theme to Steven Curtis Chapman's 'Live Out Loud', this keyboard driven song full of musical experimentation through using glockenspiels and xylophones; this is a great title track full of motivation and passionate enthusiasm. Walking the fine line between worship songs and in-your-face confrontation of issues Christians may not want do deal with or hide from; Chris has executed this marrying of thematic elements cleverly as he tries to remind us of things that are certainly too close to the chest, but at the same time remind us of God's faithfulness during these times. 'We Come to Worship' is a humble offering of praise as we offer our everything to Christ, despite every failure or shortcoming that we may think holds us back from Him. With a light percussion undertone, this rousing anthem gives us a reason to proclaim that '…because of who You are, because of what You've done, because there is no greater love, we come to worship…because we have no greater call…', and as I reflect upon these words, I am full of wonder and exaltation for my God, understanding that even if everything else fails, God is still on the throne and is still the Lord of everything, and because of this, I will still worship! Well done Chris for these songs that are some of my favourites on For Our God and King!
At the centre of the album is Chris's love for God, and throughout every melody, from 'The King' to 'You are Holy', there is an expression of worship that is able to encapsulate a wide variety of worshipping styles, from upbeat and declaratory, to mellow, peaceful and acoustic, promoting a more reflective style of just immersion in God's presence. 'Good' is a straight-forward melody about God's goodness in our lives no matter what the circumstance, and as the acoustic guitar starts to play as Chris cries out '…we are needing, we are broken, lost in awe of who You are, life is messy, we are hurting but You are there to heal our hearts…', we are met with the reality of life being hard. However, this is not our fate, as Chris declares in the chorus that '…You are good…', a truth Christians ought to hold onto during difficult times. 'How Marvellous', also covered by Bart Millard and Chris Tomlin, is a traditional hymn from the 1800s. Rearranged by Chris to include more guitars and synths, the message has never wavered as Chris declares with His might that '…how marvellous, how wonderful is my Saviour's love for me…', through the backing vocals (the 'woahs' in the instrumental bridge) and the fast-paced tempo, creating a modern reinvention of a classic hymn. 'You Meet Our Needs' start off with a drum kick, with Chris tackling the theme of giving everything we have to Christ, because of what Christ has done for us in relation to our eternity either with our without Him. In light of the revelation, we are able to stand and proclaim that '…great love You've freely given, a just King but still forgiving, Christ of everything, You meet our needs…' through this bold anthem of our gratitude and thanks poured out to the Creator. 'Give Me Rest' is a heartfelt piano-driven song of surrendering to Christ, laying at His feet in awe and reverence as He gives us the rest we dearly need in Him. With the hauntingly refreshing and revitalising lyrical moments of '…I'm coming to You broken and weary and You will give me rest, I bring all my pain, my sorrows and burdens, for You will give me rest…', we are given permission to lay out our darkest secrets before the Father, knowing that there is no condemnation when we're in Christ! Well done Chris for these heartfelt songs of openness and transparency, with a underlying message of praise and wonder to the King who is above everything else in this world!
'How Great' starts with a mighty introduction full of strings and synths, reminding us of how great God is, with Chris declaring in the chorus '…how great You are…', and listeners around the world responding to such an honest portrayal of creation lifting up their praises to Christ! 'Teach Me O God', though more subdued than 'How Great', is equally effective in its thoughtful prayer of the heart filled with light acoustics and soft keyboard undertones, with Chris asking the Lord to reveal to him His ways, because '…I am made of flesh and bone, You are God and God alone…' As we cry out this heartfelt prayer, we are able to be transformed to see what Christ sees, with our hearts breaking for the injustices that sadden Christ too! But it is the album closer, 'You are Holy', that really sums up the motivation behind Chris's third album. Starting off with a rousing electric guitar intro reminding me of Mark Schultz's 'Love Has Come', Chris declares our destiny, that we are '…set apart for good…', reminding us of God's intentions for His creation- to bring his beloved back to Him. The chorus firms up Chris's belief of who God is, '…You are Holy, Name above all other Names, three in One our God in Heaven, You are worthy of all our praise…' and it is our decision as people living on this planet to wrestle with how we will respond to this open invitation from the creator to His creation. Well done Chris for such a Christ-focused album full of lyrical richness of who He is and who we are in light of Christ's sacrifice for us!
Overall: Chris's independent album downloaded for free on either noisetrade or ForOurGodandKing.com is one not to be missed. Though not as highly publicised as many other albums signed through labels, Chris has created 14 songs full of life and hope as we listen to his motivation, as well as God's intended purpose for each one of us. A must purchase if you enjoy contemporary worship artists like Michael W. Smith, Paul Baloche, or David Crowder*Band, For Our God and King is one of the most underrated albums of 2012! Well done Chris for such an ingenious album!
RIYL: David Crowder*Band, Leeland, Michael W. Smith, Paul Baloche
Download the Album: Noisetrade/ForourGodandKing.com