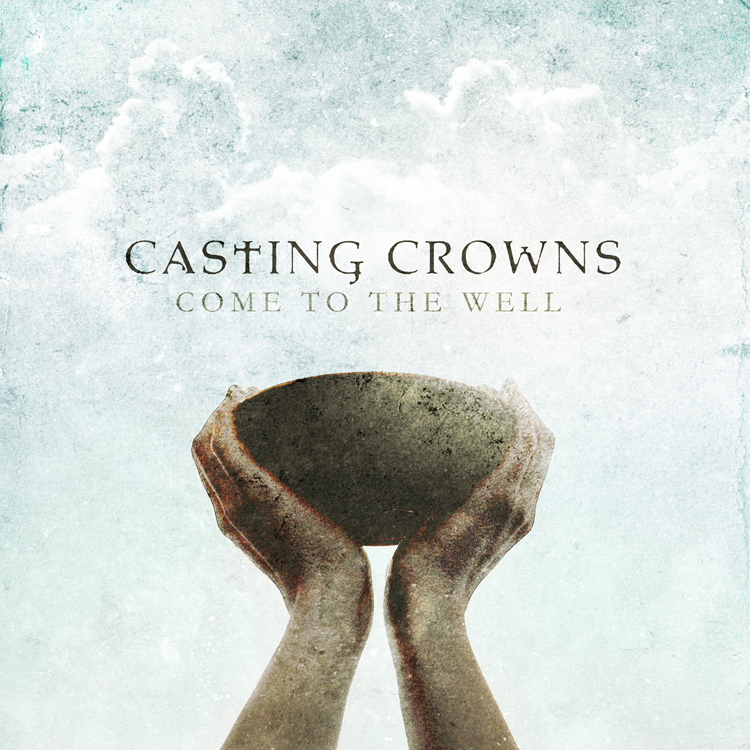 Artist: Casting Crowns
Title: Come to the Well
Label: Reunion Records
Release Date: 10/18/11
Reviewer: Jonathan Andre
Tracklisting:
Courageous
City on a Hill
Jesus, Friend of Sinners
Already There
The Well
Spirit Wind
Just Another Birthday
Wedding Day
Angel
My Own Worst Enemy
Facedown
So Far to Find You
Casting Crowns have had success throughout the past decade. Since entering Christian music in 2003 with their hit songs 'Who Am I' and 'Voice of Truth', the band have become one of the most successful to date, recording over 8 albums and receiving plenty of praise from both the Christian and mainstream music industry. Despite success with Dove and Grammy awards, Casting Crowns have never lost sight of their own ministry. Casting Crowns still travel part-time (since the band was formed by youth pastors), serving in their local church from Sunday to Wednesday; touring from Thursday through Saturday. With their latest album released last October, I was surprised about how much I enjoyed listening to it. Speaking about how Jesus is the Well in which we drink from, this is an album that minsters to the heart of the listener, urging them to stand up and be courageous for Christ.
The first single to the album, 'Courageous', was a song used for the movie of the same name, about how four fathers in law enforcement deal with a tragedy that strikes at their very hearts, acknowledging that they need to understand their roles as husbands and fathers. The movie took the audience on a journey as these characters re-evaluated their lives and their faith. Similarly in the song, singer Mark Hall explains about how we as men "…all have a desire for significance. We want to know we matter. We want to know we count for something…[therefore we need] to stand for something—or better yet, for Someone…" As Hall belts out the chorus above the guitars '…we were made to be courageous…' I am constantly reminded of 2 Timothy 1:7, where Paul proclaims that '…For the Spirit God gave us does not make us timid, but gives us power, love and self-discipline…' God's power lives inside of us; we don't have to be afraid of anything, and we can stand up courageous as God intended for us to be. This is a declaration, an anthem to be sung by fathers and also over them. Powerful guitars and drums are the musical focus for this song, fitting as their first single.
Another song that has challenged my thinking is 'City on a Hill'. The song has definitely grown on me, and speaks about division in the church. Mark Hall states that the song pictures "…two old men sitting and…[remembering] what happened to the city on the hill because it's not there anymore…they remember the warriors thought everyone was weak so they went off and started their own city. The dancers didn't think everyone had enough spirit so they went off and started their own city. It's an allegory of the factions of the modern Church, the result of predominantly like-minded people often dwelling upon non-essentials and personal taste to go their own direction…" This is a very difficult topic to introduce, in any Christian song, and I applaud the band for bringing this issue to the table of discussion. With the violin the main instrument throughout, a reflective and sombre mood is created, and quite rightly so. Hall asks the poignant question, through the lyric, that '…one by one, would we run away, with our made up minds to leave it all behind, would our light begin to fade with the city on a hill…'; encouraging us to re-evaluate our own lives and see whether we need to change ideas and beliefs that may be standing in the way of our own relationships inside the church.
Throughout the remainder of the album, Casting Crowns offers up many themes that are relevant for everyone; ranging from urging Christians to not be judgemental when speaking to people outside their 'Christian circle of friends' ('Jesus, Friend of Sinners') to bold proclamations about how Jesus is on the other side, seeing everything in our lives, and thereby, urging the listener to trust Him wholeheartedly ('Already There'). A thematic metaphor about the bride and groom on their wedding day is placed in the album, alluding to the day when Jesus comes to bring us home to heaven ('Wedding Day'), as well as a song about facing the duel within ourselves, the struggle between our sinful nature and our side that just wants to follow the will of God ('My Own Worst Enemy'). Adoption also plays a big part in the songs, the notion of us being adopted into the family of God; but also there is the theme of physical adoption. The song 'Already There' starts of with just the keys in the verses, but as the anthemic mood rises in the chorus, guitars and drums take over; with the theme changing from questions to assurances and answers. The song speaks to Hall on a personal level, when he and his family adopted a girl from China, not knowing at that time when she would come to them and join their family. The Lord was telling them not to worry, because He was already there. Adoption is also in the album closer, 'So Far to Find You'. As Hall and his family 'speak' to his baby girl in China, parallels can be seen between how the Lord is speaking to us, reminding us how far He came so that He could find us and bring us home to Him.
Casting Crowns leaves no thematic stone unturned as they tackle the issue of abandonment in the revealing song, 'Just Another Birthday'. As Hall explains in his 'Song by Song' diaries, "…I have been living this song for two decades as a youth pastor talking to girls who all too often don't have dads at home…I have watched these girls grow up and look elsewhere, trying to find the love that's missing at home. It's a sad journey that often scars them…" This song, though it doesn't speak to me personally, will certainly speak to many people around the world who don't have fathers. The strong piano driven song shows the listeners that even if someone doesn't have an earthly father, there is a heavenly Father who loves them very much. This song, by Hall's definition, should "…shake up some fathers and remind them of their true priorities…to encourage kids who don't have an involved dad here on Earth…to remind them that God is the Father to the fatherless…" This song will make you cry, no matter how many times you've heard it; and is one of the highlights on an album that is full of surprises.
Overall: Casting Crowns have recorded a solid, thought-provoking album, about how society wants the temporary fix, when Jesus is right there asking us to drink from His Well. Come to the Well is a collection of stories, each have their own thematic elements to it; but at the heart of the album is this; Jesus is the well that we must be sustained from. As Mark explains it, the premise of the song 'The Well', and the album as a whole, is that sometimes we may come to Jesus "…and we think we already have our wells that sustain us…[wells like] control or power or approval or talent or even entitlement…[we then] come to Jesus only to ask him to sprinkle blessings on our thing so [that it]…will work even better…[but Jesus] asks is that we take what we think are our wells, realize that they are nothing…and leave it all behind. He asks us to come to the one true Well…" Through listening to Come to the Well, I was able to experience a transparent journey that has led me to place this as one of my favourite albums of the year. This band has surpassed what I thought was capable and if you are like me, you will certainly be amazed about what Casting Crowns can do.
RIYL: Third Day, MercyMe, Steven Curtis Chapman, Jeremy Camp
Buy the Album: iTunes/Amazon mp3