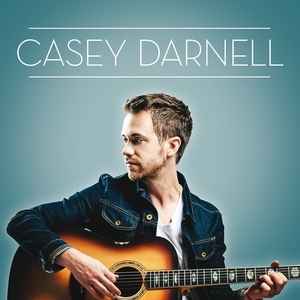 Artist: Casey Darnell
Title: Casey Darnell
Label: North Point Music
Release Date: 11/12/13
Reviewer: Jonathan Andre
Tracklisting:
Marvellous
Strong Enough
All the World
Over and Over
We Believe
When You Smile
Stand By You
Let My Soul
What Will You Do
All Things New
Never Be the Same
Casey Darnell has been part of North Point Ministries for a while, but it wasn't until 2008 when he launched his solo career, starting off with his independent album Words into Action followed by his first label album Coming Alive in 2011. An intricate part of the North Point Music Ministry team with his hit songs 'Our Great God', 'Awakening' and 'When the Waters Rise', as well has his cover versions of popular worship songs 'Everything', 'All Because of Jesus' and 'Healer' by Tim Hughes, Fee and Planetshakers respectively; Casey has been able to deliver passionate melodies and hard-hitting anthems, giving listeners great worship songs as these melodies speak into the lives of many who hear his music. On the back of releasing his first EP (as well as first remix album too) Coming Alive: The B Side Remixes in October 2012; Casey's self-titled third album is once again another powerful tool for both corporate and individual worship. Produced by Ian Eskelin (Francesca Battistelli, Sidewalk Prophets), these songs provide us with some new songs for the church, and are great songs to explore and listen to if you're fans of artists like Eddie Kirkland, Chris Tomlin or Kristian Stanfill.
'Over and Over' is the first radio single from Casey, scheduled to be released to radio in January 2014. And while I may not have chosen this song as the first pick at being a single (to me, 'Marvellous' or 'Strong Enough' would've been great singles and great ways to introduce new listeners to the music of Casey); 'Over and Over' does have a fun-feel with hand claps and a keyboard riff as the song starts off with Casey declaring that '…when I'm all out of answers, out of my comfort zone, I could swim in my own fear or let You take control…' Unveiling to listeners the thoughts we all think about, as we wonder whether when we're faced with difficult situations, will we cling to God or run deeper into the depths of our own hurt and despair; Casey sings with passion as he presents the theme of God's promises being true in our lives again and again, a hopeful encouragement to any who need it. About trust and faith in God, the song is one that can either be used in worship through both corporate and individual settings, and will be a welcomed change compared to the endless amount of songs used by either Passion, Bethel or Hillsong in Sunday services.
And while 'Over and Over' provides us with something refreshing when compared to the megachurches and their song offerings, the melody doesn't necessarily give me the 'wow' factor that something like 'Not For A Moment' by Meredith Andrews, 'For All Of Us' by Hearts of Saints, or 'Speechless' by The Sonflowerz. More subdued musically, Casey's melody gives us a new song to sing at church, yet its theme of God proving to us His trust has been sung for many years ('I Will Trust You' by Rebecca St. James, 'Lord I Give You My Heart' by ironically Hillsong). While 'Over and Over' is great, it sadly doesn't compare to some of my favourite worship songs of the year, or some of my favourite worship songs ever. Maybe it is just the reviewer in me being extra critical. Nevertheless, Casey still lays before us a great platform that is utilised to deliver some of Casey's most vulnerable songs ever, from 'Strong Enough', a song about God being strongest when we are weakest, and 'We Believe', a melody inviting us to understand and believe in a God that '…can bring our hearts to life…', to 'All Things New', the 10th track, and a moment of exaltation when we hear Casey proclaim, from God's point of view, that '…I'm with you…unafraid in everything you're going through, I'm making all things new…'
Guitars and powerful singing become the backbone of 'Strong Enough', emotive and compelling, despite its short duration of 3:13. With synth as well as hand claps, Casey delivers a poignant theme of us giving everything over to God because He is strong, and that just because we are weak, or don't have the physical strength to keep going, doesn't mean that we can continue on our own- it is in those times when '…Your grace is all I need…' and that '…You are strong enough to carry me…' With the song a great reminder to the footprints in the sand story, 'Strong Enough' is one of my favourite songs by Casey ever, and a great message to deliver to the listeners of the album, but also Casey's music in general. 'All Things New' is a light acoustic guitar mix melody that provides us with soothing music elements across a powerfully encouraging words with Casey singing from God's POV in the chorus, shown in comparison to the verses that showcase Casey's willingness to declare out that '…this will be my song, the praises of my Saviour, the glory of my God…' With similar theme to Steven Curtis Chapman's 'All Things New', Casey's unveiling of a melody that gives us comfort that whatever comes in this life, God will make new and right in heaven; is a great highlight on his self-titled album. 'We Believe', possibly the most remix-like out of the entire track list, emphasises that dance-pop-worship element of the melody as electronics and synths underscore a song that delivers boldly the themes of us believing in God's love, and that in that belief, we can boldly declare and know that '…Your love can break through hearts, hardened from defeat, and in the raging flood, a shelter for the weak…'
Casey also turns to synths, drums and gang vocals in 'All The World', a song that gives us great reminder to love one another and that the world will see Christ in us through how we love both our brothers and sisters in Christ, as well as those who are still seeking and searching for our Father, Saviour and Friend. With heavy acoustics and a fast tempo, the song is a testament to the life of Christ and His love for all men from all walks of life, and that as we continue to live like Christ, love to our fellow man has to be something that should flow out of us, rather than a duty or an obligation. Our love should be a response to the love poured out on us, and 'All The World' is a great encouragement for us to do so. And while some tracks, like 'Over and Over' seem to be lacking a 'wowness' towards it; others like 'When You Smile' and 'Stand By You' are unique, and musically challenging (in a good way) as I listen to the country-themed 'When You Smile', complete with banjos and Casey declaring his love for his wife and how '…when I see you smile, it's like a melody I've known for a while…I'm gonna love you for the rest of my life…', and 'Stand By You', a song that gives us a theme about mateship and camaraderie, with Casey either singing to his wife or friend, promising that '…I will walk with you through desert lands, I will lift you from the sinking sand, when you have no strength just hold my hand, I will stand, I will stand by you…' Complete with different musical instruments (like feet stomping and great whistles, maybe even from Casey himself), both 'When You Smile' and 'Stand By You' are standouts of mine, and while not necessarily the most suited for corporate worship, these two still nevertheless portray a great picture of God's love towards us and how we ought to love others in the worlds we live in!
First track 'Marvellous' is a typical church congregational song that declares God's marvellous nature, while album ender 'Never Be the Same' is a heartfelt moment of vulnerability from Casey, knowing that we will never know and understand the depths of God's grace to us and that as we grasp that we can never earn God's love, we can rest and bask in that freeing notion. Yet one of my favourite melodies on the album is 'What Will You Do?', a potential single from Casey that asks us the tough questions from first lyric. Starting off the melody with light piano and a confronting, yet equally compelling moment of asking us '…what will you do on the day you face what you never thought you would? What will you say when your heart is breaking and tears fall like a flood?…', Casey unveils an answer in the chorus, reminding us that in his choice, he declares that '….i will run to the arms of the one who carries me…' Christ and the comfort He gives us ought to be our first answer in times of uncertainty, with this 3 minute 22 second song giving myself at least the confidence to walk in Him. With the keyboard musically prominent, Casey's vulnerability shines through mostly in this track. Well done Casey for such a poignant melody, and hopefully life-changing, to all those who listen.
Overall: North Point Music has given listeners some great worship artists in the last few years- Eddie Kirkland, Todd Fields, Seth Condrey, even Steve Fee, Heath Balltzglier and Candi Pearson Shelton. Casey Darnell is a welcomed member to this artist list and with both his previous full-length album Coming Alive and his debut EP along with his self-titled 2013 album, is one of the most enthusiastic and passionate worshippers around currently. From songs like 'Stand By You', 'We Believe', 'Strong Enough' and 'What Will You Do?'; Casey's enthusiasm and poignancy shown through this album is certainly evident, and while his presence within the worship industry is overshadowed by others like Chris Tomlin, Bethel or Kari Jobe; Casey continues to show us that even the lesser known worship leaders can sing melodies equally as enjoyable and compelling as others sung and written by the popular ones. Well done Casey for such an enjoyable album that can be worshipped along to in both corporate and individual settings!
RIYL: Chris Tomlin, David Crowder, Fee, Eddie Kirkland, Kristian Stanfill
Buy the Album: iTunes/Amazon mp3