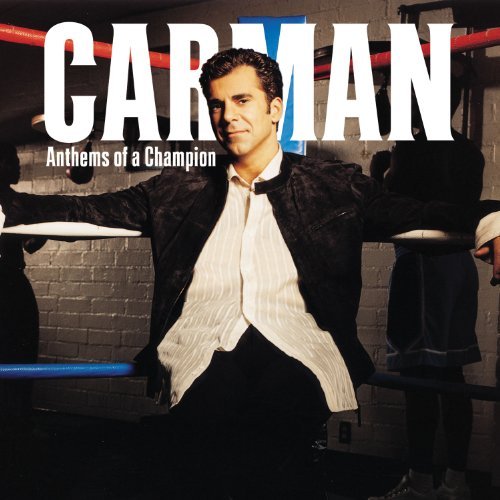 Artist: Carman
Title: Anthems of a Champion
Label: Sparrow Records
Release Date: 1/22/13
Reviewer: Jonathan Andre
Tracklisting:
Great God
Mission 3:16
Serve The Lord
Who's in the House
A Witches Invitation
No Monsters
I Feel Jesus (feat. Hope Loftis)
Radical Suite (That's My King/Radically Saved)
America Again
Sunday School Rock
Lazarus Come Forth
Addicted to Jesus
The Champion
Faith Enough
The Flag
Along with Michael W. Smith, Steven Curtis Chapman and Amy Grant, Carman has been entertaining and releasing albums since the 1980s, releasing a great number of albums during his 3 decade career that are to be considered classics in years to come, from R.I.O.T., The Champion and The Standard, to Mission 3:16 and Addicted to Jesus. Growing up with Carman and listening to his music throughout primary school and early teenage years, Carman has managed to infuse a great variety of musical genres within each of his songs, from ballads to upbeat pop melodies as well as his famous 'speech-in-song' ('Revival in the Land', 'The Third Heaven', 'Jericho: Shout of Victory', 'Lazarus Come Forth' and 'The Champion' to name a few). Releasing his last studio album Instrument of Praise under Tyscot Records in 2007, and many of Carman's albums being honoured Gold or Platinum; his musical influence on my life is possibly one of the greatest when I was younger- through his music I was introduced to a great variety of other musical styles and genres, branching out from just listening to Carman to a much more wider variety of music and artists that I listen to today. Now releasing his brand-new compilation album Anthems of a Champion with 10 hits, 4 new recordings and one brand-new song (the patriotic 'The Flag'); the anticipation for new music for Carman is indeed growing, and hopefully 6 years away from the music industry will not hamper his musical style or lyrical richness. With Anthems of a Champion releasing on Sparrow Records, the first time a Carman album was distributed on the label after Heart of a Champion in 2000, these 15 songs are sure to bring up some nostalgia about his records released in the past, and maybe some friendly arguments with family and friends about the song choices on the album. Hosting various programs on Christian channels Praise the Lord and Trinity Broadcasting Network, and even acting in 2 movies (RIOT The Movie in 1995, The Champion in 2001); Carman's presence within the music industry is still felt since his first album release, Sunday's on the Way in 1983. This is an album for die-hard Carman fans, or for those who love to listen to 80s and 90s music with similar influences to Michael W. Smith and Amy Grant.
Glancing through the 15 tracks, I was happy to see many Carman fan favourites included on this best-of collection, enough to peak the interest of newer fans of Carman, as well as remind listeners of the great melodies he has given us over the last 3 decades of him making great entertaining and uplifting music. Arguably one of the most popular albums of Carman's to date, 4 out of the 15 tracks are chosen from the Gold-certified album The Standard released in 1993. 'Great God' has been and will always be one of the greatest songs Carman has ever recorded, with him reminding listeners of God's greatness and that '…He's a great God we will proclaim, honour and glory to His name…' Featuring plenty of horns and brass instruments, coupled with a music video about the Middle Ages where a persona stands up for Christ in an historical era where religious Christianity was more favoured than the relational one; 'Great God' opens the album in indeed great fashion, leading on to highlights like 'Who's in the House' (a reggae-rap song reminding listeners of the central focus of Christ within our lives), 'Sunday School Rock' (a throwback to the 1950s and 1960s swing music that lets listeners know of Christ's love for them and their own response in light of that fact); and the patriotically charged 'America Again', a plea to all Americans (and possibly the world too) to stand up for Christ and be the change that is needed to move the ideals, morals and ethics of the country from secular back to Christ.
Also released in 1993 (December) was Addicted to Jesus, yet only one representative from the album (the title track) was added onto Anthems of A Champion, compared to the 4 chosen from The Standard, an album released in July 1993. Carman singing with now disbanded trio dc Talk is a certain highlight of Anthems for a Champion, showing listeners that he is indeed addicted to Jesus. Many listeners who may not know Carman may certainly know this track, because of the influence of dc Talk, both then around the 1990s as well as today, with each of their solo bands (TobyMac, Newsboys and Audio Adrenaline) still popular today! 'Serve the Lord' is the final track made in 1993 (from Carman's best-of collection The Absolute Best released in February 1993) that was placed on this new 2013 album, and is also one of my favourite Carman songs ever. Despite being nearly 20 years old, 'Serve the Lord' still delivers on a great message of Carman describing his own spiritual journey, and letting the listeners know that '…I have made my decision, I have staked my claim…with the world behind me and the cross before, by the grace of God, I will serve the Lord…' A great homage towards 'I Have Decided to Follow Jesus'; 'Serve the Lord' will always be one of Carman's classic songs from the 1990s. Well done Carman for these great melodies that remind us of how timeless these biblical truths really are!
I have always loved Carman's 'story-put-to-song' tracks, and added to this 15 song collection are some of his greats, from the powerful and poetic 'No Monsters', reminding us of the authority we have in Christ to declare that we '…don't want no monsters in my house tonight…', and the heartfelt 'The Champion', depicting the final battle between Jesus and Satan as a boxing match, reminding listeners that Jesus has won the battle of good and evil; to a confrontational spoken-song in 'A Witches Invitation' about a potential encounter with a warlock (a male witch) and the advice given if such a situation would occur. 'Lazarus Come Forth' is also another favourite 'story-song' of mine, and though originally recorded for his Comin' On Strong album in 1985 (with a vivid description of what could've happened between Lazarus's death and resurrection from Lazarus's point of view); this song was rerecorded especially for this album (along with 'The Champion' as well). 'I Feel Jesus' is another song that is full of lyrical richness, even though it only has a few lines repeated over and over for around 6 minutes. On this new recording, singer Hope Loftis joins Carman to sing the newly written verses, but unfortunately, I don't think the new recording is as great or as inspired as the original studio version on Passion For Praise Vol 1. Nevertheless, fans of the song 'I Feel Jesus' ought to listen to the song to make up their own mind. Needless to say, 'I Feel Jesus' is a great song, even if the verses and chorus don't really gel together on Anthems for a Champion.
'Mission 3:16', the evangelistic song in which the music video made for it pays homage to spy films like James Bond, is also one of my favourite songs to inspire me (and I'm sure many other listeners) on the journey of life and the mission and call for us Christians to shine a light for Jesus everywhere we go. Though the lone representative from the 1998 album of the same name; 'Mission 3:16' deserves its spot in the song list, and arguably the second most famous song from Carman after 'Great God'. Both 'Faith Enough' (a radio single from his best-of 2000 album Heart of A Champion) and the newly recorded 'The Flag' (a song about being proud to be Americans and to stand up and honour the forefathers who fought for freedom and the flag) round out the 15 songs to give the listeners a brief yet somewhat satisfying look at a 3 decade career that ought to place Carman as one of the most influential Christian artists in music history.
With making a 15 track best-of compilation, there are always going to be songs that miss out. With four songs from The Standard, and only 'Addicted to Jesus' present from an album released in the same year as The Standard, I was perplexed to see songs like '1955', 'Our Turn Now', 'Hunger For Holiness' and 'Come into this House' missing from the song list (arguably, all of them would have been included if the track listing would've been 30 songs or even 40!). With 'No Monsters' the only song from R.I.O.T., I thought this choice was a little dubious, considering that songs like 'God is Exalted', 'Whiter Than Snow', 'Step of Faith', 'My Story' and the title track were so much more popular (in my opinion) than 'No Monsters'. 'Let the Fire Fall', a hit song from Passion for Praise was notably omitted and maybe would've been a better choice than a re-recorded version of 'I Feel Jesus', or maybe even more 'story in song' additions- 'Jericho: Shout of Victory', 'Sunday's on the Way', 'The Third Heaven', 'This Blood' and 'The Courtroom' are all great story-in-song melodies and were all not present in Carman's supposedly 'best-of-the-best' 15 songs. From the Irish infused 'The Prayer Anthem' to the passionate live classic 'I've Been Delivered' and the Petra-collaborated song 'Our Turn Now'; this track listing is far from perfect; with virtually no songs from Carman's 2 latest albums on this 2013 compilation (except for a medley of 'That's My King' and 'Radically Saved' that isn't really that great).
Overall: This is an album that will be a great purchase for diehard fans of this great entertainer, but if you want more diversity, then a better choice would be either The Absolute Best or Heart of a Champion, both albums providing a greater snapshot of Carman's career than this 2013 album release. Nevertheless, this is a great album to introduce someone to Carman who may not have heard his music before, or who may want to listen to something new. Carman is indeed one of the pioneers of Christian music, a great honour to hold alongside many other revolutionary Christian music artists like Amy Grant, Rich Mullins, Steven Curtis Chapman, Petra, Keith Green, Larry Norman, Michael W. Smith, Newsboys and Jars of Clay. From his humble beginnings in Trenton, New Jersey, Carman has risen to become one of the most respected Christian artists over the last 2 or 3 decades, providing us with more that 200 (maybe even close to 250) songs that remind us of our identity in Christ Jesus. Hopefully Carman has some great new material in 2013, but if not, then this collection with a few new recordings is a great way to end one of Christian music's successful careers. One of the most influential artists in my own life, songs like 'Great God', 'Faith Enough', 'Serve the Lord' and 'The Champion' will be some of my all-time favourite Christian songs ever. Well done Carman for such an emotional, entertaining and uplifting album!
RIYL: Steven Curtis Chapman, Rich Mullins, Michael W. Smith, Petra, Newsboys
Buy the Album: iTunes/Amazon mp3