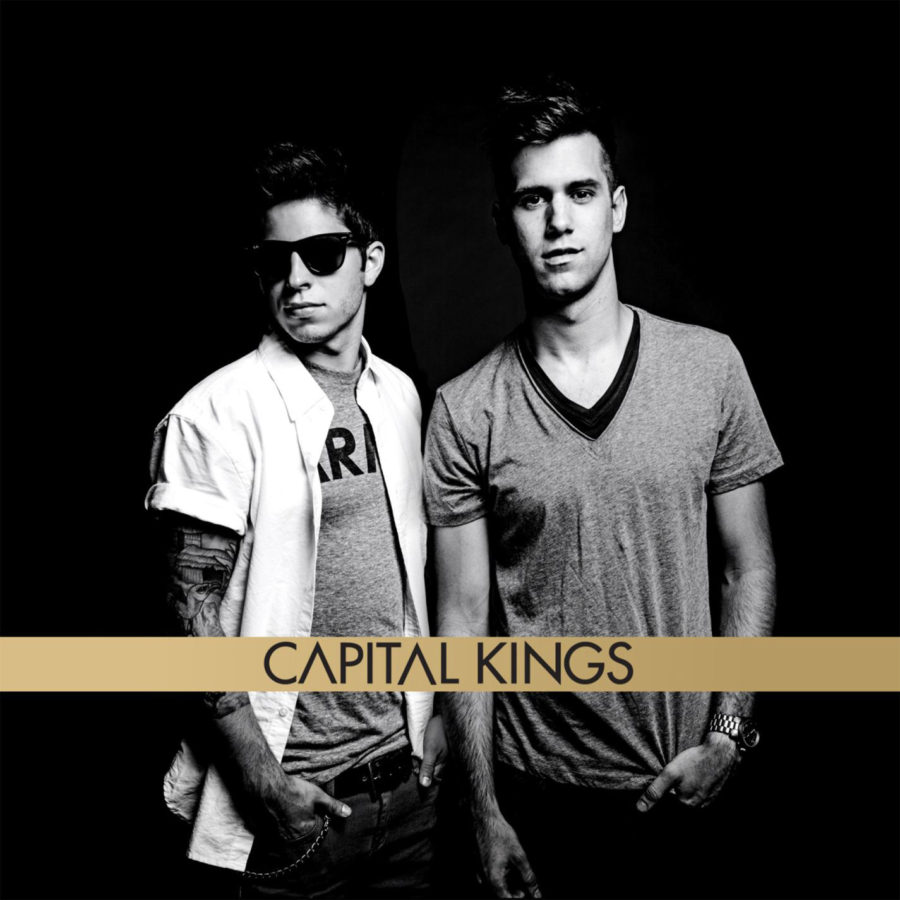 Artist: Capital Kings
Title: Capital Kings
Label: Gotee Records
Release Date: 1/8/13
Reviewer: Jonathan Andre
Tracklisting:
All the Way
We Belong As One (feat. TobyMac)
You'll Never Be Alone
Living for the Other Side (feat. Royal Tailor)
I Feel So Alive
Ready for Home
Born to Love (feat. Britt Nicole)
Be There
Tell Me
The Paradigm (feat. Soul Glow Activatur of Family Force 5)
Recently signing to Gotee Records after being introduced to the label by co-founder TobyMac (who also introduced singer-songwriter Jamie Grace to Gotee Records in 2011), Capital Kings have recently been known to remix songs by artists like TobyMac and Britt Nicole when they made their debut as a remix band in 2012, remixing songs like 'Amazing Life' (Britt Nicole), 'Me Without You' (TobyMac), 'Good Morning' (Mandisa) and 'Way Beyond Myself' (Newsboys). Now having released their debut album full of original song material, this dance-pop-remix group from Washington D.C. have been able to give the Christian music genre an album full of dance, hip hop, rap and pop as this album comes as one of the most inventive and musically unique albums of 2013 so far. Featuring a strong electronic influence in each of these songs, Jon White and Cole Walowac have both described the unique musical platform as something that will be able to spread the message of hope and encouragement through Christ, reminding listeners that '…if we can inspire somebody to live life to the fullest and we can just be a positive influence on other people, I think we're doing our job…' With a variety of guest vocalists from Britt Nicole and TobyMac, to frontman Tauren Wells from Royal Tailor and Soul Glow Activatur from Family Force 5; this is a band to discover if you enjoy music from similar artists like Britt Nicole, Group 1 Crew, Owl City, even TobyMac, the very artist that endorsed these two men to be signed by Gotee Records. Touring on WinterJam 2013 with TobyMac, RED, Jamie Grace, Chris August and Group 1 Crew; the debut album from a band that's certain to travel far in the electronic music genre is enough to peak some interest from listeners who may be itching to listen to something unique, different and new, or for anyone who loves a great beat and meaningful lyrics. From the heartfelt ballad-like 'You'll Never Be Alone' to the frantic musically busy 'Born to Love'; we are constantly reminded through these 10 songs that '…I'm the streetlights that guide you home, I'll be the GPS when you've lost your phone, I'll be the sound that's rocking on your headphones, I'll show you the signs to let you know, you'll never be alone…' ('You'll Never Be Alone').
'You'll Never Be Alone' is the first Pop/Contemporary radio single from the band, and is also one of my favourites on this self-titled debut album. The most musically 'safe' song on the album (yet this song still boasts a great beat and some great electronics in the chorus), lead singer Jon White declares from God's point of view the very reminder we so often need- that Christ will be everything to us and show us in a multitude of ways that we are not alone in life. Sometimes sounding very similar vocally to Adam Young of Owl City, the unique sounds of both Jon and Cole and the switching between Cole's great rapping ability to Jon's more poignant and poetic singing, 'You'll Never Be Alone' is becoming one of my favourite songs of this year (that's mostly similar and akin to the CCM genre), providing a great uplifting and motivational sound that can offer hope, comfort and solace to the people that may need it the most. With this song a potential hit in mainstream (with the lyrics not explicitly singing about Christ- mainstream radio and listeners of that can think Jon or Cole could be talking about family or friends), this song is a great encouragement to those who may need a bit of encouraging. Giving us a reason to place all of our trust and security in Christ, Jon's great Owl City sound-a-like attempt in this dance pop radio hit is sure to be a fan favourite and certain album highlight for anyone appreciative of music that may stretch many listeners musically, or for some listeners who are longing to listen to something more than the CCM genre provides. Almost a shoe-in as a bonus track on WOW Hits 2014, Capital Kings have developed a song that will give them great notice in both the CCM, alternative and mainstream markets. Well done guys for such a musically explosive and inventive song.
All of the songs on Capital Kings tell a great story of encouragement and motivation as each melody is full of ballad, pop, dance and electronic moments, with both Jon and Cole expressing their talents as multi-instrumentalists through the drums, electronics, keyboards, guitars and a vocal that some may distinctly cry out 'autotune', yet I think it's personally unique, interesting and refreshing to hear the dance-electronic genre promoted heavily amidst other CCM albums like Jeremy Camp's Reckless, Colton Dixon's A Messenger and Chris Tomlin's Burning Lights. With 4 out of the 10 tracks featuring guest vocalists, this album is sure to gain some interest and popularity, especially when artists like TobyMac and Britt Nicole feature on some of my favourite collaborative tracks for the year so far, alongside Chris Tomlin and Lecrae's collaborative song 'Awake My Soul'. 'We Belong as One' features one of Christian music's most popular male artist collaborating on an already great track about declaring that Christ and us belong as one- Christ living in us, the hope of glory for those we are in communion and friendship with everyday. Starting off with a looping electronic beat that could also be often found in TobyMac's previous solo work (most likely on albums like Welcome to Diverse City and Portable Sounds, we are met with a positive message as TobyMac gives us his trademark rapping skills to declare '…one king to make us whole, this time I can't be wrong, I'm feelin' strong…' 'Living For the Other Side' is a another great, powerful and energetic song that speaks about living our lives with no regret and full confidence, that as '…we know the future, we're livin' for the other side…' With a musical undertone that is able to fit in on any dance or disco floor, Royal Tailor's addition to the heartfelt anthem is enough to see the similarities between the two bands- both in vocal ability as well as musical leanings and styles. Showing listeners that there is more than just the here and now and that we are living for something beyond our fleeting lives right now, we are called to not let the moments that we have pass us by before we miss out on things we have longed to do since forever.
'Born to Love' features a lyrically poignant message about living our lives to share the love we have inside of us as we '…won't be livin' for nothin', no, I'll be livin' for something…', and with Britt Nicole on backing vocals (one of today's most popular female Christian artists right now), Capital Kings have created an anthemic-like moment where this dance anthem takes us on an inspirational journey of hope and motivational encouragement. Christ's love cannot be contained within us quietly, and this song with a captivating electronic beat is enough to give some interest to the band, especially when Britt Nicole is receiving a lot of attention in the mainstream for her hit single 'Gold'. The last contributor to this album is Family Force 5, in 'The Paradigm', the last song on the album. While it was not how I would've imagined the last song on the album to be (with plenty of electronic instruments, I felt like I had an overload musically to the point of turning it off), fans of Family Force 5 will certainly enjoy this track for its unique sound. With Soul Glow Activatur singing out that '…we are a generation, we've got a reputation, it's time to lead the way…', I am constantly reminded of how special we are, and how it every moment of our lives, we have the opportunity to share the love of Christ to everyone we meet. 10/10 for ingenuity and interestingness, 'The Paradigm' is not for everyone. Nevertheless, kudos to FF5, Britt Nicole, TobyMac and Tauren Wells for their contributions that have enhanced the marketability and reputation of Capital Kings!
Both 'Tell Me' and 'Be There' are certain to be radio singles in the near future, with each of these songs releasing on their I Feel So Alive EP released late last year. 'Tell Me' is a hopeful prayer of asking God if everything is going to be alright, with a simple looping electronic beat that shows the lighter side of electronic music; whereas 'Be There' is a lively song full of video game noises and reverbing echoes to create a sense of urgency and poignancy. As the song is told from Christ's perspective (or sung from someone to another), we are met with the ultimate friendship in that '…when the lights go down, I'm gonna be there…' Giving us reassurance that we are never alone in life, both these songs seem to go hand-in-hand- with 'Tell Me' seeming to ask the question that 'Be There' attempts to answer. 'I Feel So Alive' is the other radio single currently on the Rock/CHR charts rather than AC/Pop. Through the use of a nice rhythmic beat that any fan of dance or electro-music can listen to, a message of appreciation is given in the way that Jon cries out '…I feel so alive…I'm breaking through the haze to a brand new day, cause my heart has been revived…' Yet it is the 3 minute electric guitar and drum pulsating 'Ready for Home' that is one of my personal favourites on Capital Kings. With the song speaking about how we ought to be anticipating and getting ready for the moment when Christ returns (or when we pass away from Earth and travel to Heaven- whichever comes first), Cole delivers a number of great raps to give us a sense of realness. Each one of us may struggle with the fact that '…I wish that I could find a way to hit fast forward just to get through this maze and see that day when I'm finally headed home, forget that feeling [of] being lost and on the roam…' Sometimes we sometimes want to escape the bad things to enjoy the good things, and the suffering, discomfort and chaos of this life is certainly one of the many things many of us struggle with. Nevertheless, Capital King have assured us that no matter how bad our situations may be right now, we are not home yet, and our comfortableness and certainty shouldn't be taken for granted. Well done Jon and Cole for these thought provoking tracks that keep us focused on the eternal prize of salvation and restoration that the Lord promises, both now and into eternity.
Overall: Certain to be one of the popular standouts in January 2013, Capital Kings' debut album is certain to garner praise and acclaim amongst critics and listeners alike as they see a different and unique musical approach in the midst of the sameness that sometimes breeds from the many bands that branch out of the umbrella of CCM. From dance-ballad 'You'll Never Be Alone' to the fast-paced 'Ready for Home', Capital Kings don't hold anything back musically and lyrically as they declare, even from the first track, that '…when the sun shines down and wipes away the grey, I know I know we're gonna take it all the way…' ('All the Way'). One of the most polished and solidly written dance-electronic album since Group 1 Crew's Fearless, it would be a very tough task for Capital Kings' second album to be better than their first. Such a wholehearted effort given by Jon and Cole, the band is able to give us a good beat alongside motivational messages that can be listened to on both Christian and mainstream radio. A definite purchase if you enjoy artists like TobyMac, Group 1 Crew, Royal Tailor or Owl City, Capital Kings and their presence on the Christian music industry is certainly felt as they become frontrunners for New Artist of the Year Nominations at the 2014 Dove Awards. Well done guys for such an uplifting and enjoyable album.
RIYL: Royal Tailor, Owl City, TobyMac, Group 1 Crew
Buy the Album: iTunes/Amazon mp3