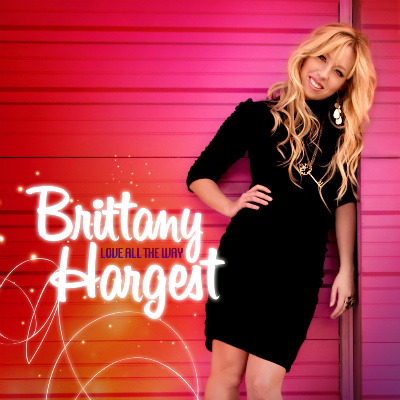 Artist: Brittany Hargest
Title: Love All the Way
Label: Soul Stride Records
Release Date: 9/27/11
Reviewer: Jonathan Andre
Tracklisting:
Critical
Love all the Way
Slow Motion
Miracle
You Met Me
I Believe in You
He Can
Like a Fire
Bring the Party
Put it all Together
Since spending most of her teen life in the CCM pop group Jump5, Brittany Hargest has released her solo project Love All the Way, distributed to stores at the end of September 2011. From ballads to pop radio tunes, to music you can just jump off your seat and dance to, this album has something for everyone. With vocals similar to Rachael Lampa, Brittany Hargest has created a 10 track collection of heartfelt songs that speak to first time listeners and Jump5 listeners alike.
The first single from the album, 'Love all the Way', is a fun and upbeat song with driving percussion and electric guitars; speaking about how God's love pierces and overcomes the hardness that may be around our hearts. As Brittany sings in the chorus, '…Your love is like a hard heart grenade, I love it how Your love can't be tamed, You rush in like a soul hurricane…'; we can see that God is relentless in His pursuit of His children. With the realisation of the second verse; '…Your love is different than the rest of the world…', we need to acknowledge that God's love is different from all the other things that claim to fill us but don't. God's love will heal us and make us whole, and is like the father running to the son who has come back from his prodigal journey. God is standing with arms open wide, longing for us to take the first step. The progressive electronic feel to the song with strings, keyboard and synths have lead this song to be one of my favourites. What a song to be the first single of the album.
'Miracle' is the second single off the album, and also a favourite. A soft piano hook and mesmerising strings brings the listener into the song and its biblical truths; we are taken on a journey that shows us that God is calling us a miracle, even when we don't truly believe it. Brittany sings with conviction and hope, knowing what the Lord God of the universe saw something in us, enough so that He sent Jesus to die to take our punishment. This is the unconditional love of God, and we need to truly believe this. Psalm 139 is a fantastic psalm to read to understand how much God loves us and understands us; '…you shaped me first inside, then out; you formed me in my mother's womb…You know me inside and out, you know every bone in my body; You know exactly how I was made, bit by bit, how I was sculpted from nothing into something…' This is the comfort we need, and 'Miracle' certainly expresses this theme to the listener.
Through the rest of the album, many themes are brought to light with each song that is sung. 'He Can' is about surrendering to God, understanding that we can't do anything without Him; that '…when you can't, He can, when you fall, He stands…' With the driving guitars and electronic sound, the song show us that surrender is not a form of weakness but knowledge that we were not made to everything, but only the things that we were made to do, and do them well. 'You Met Me' is a reflective track about the possible moment when God met Brittany personally during a difficult moment in her life. This song is her most personal yet; '…You met me right then and there, when and where I needed love but did not deserve to be loved…' With music starting off with keys with a crescendo towards strings, synths and guitars; listeners are reminded that even without the lyrics, the music in itself can minister to where we are. Through the emotive singing of Brittany, we understand that we come to the cross just as we are so that God can do His work in us that He has started.
'Like a Fire' is a dance pop arrangement with hand claps and electronic sounds that speaks about how we need the fire of God in our lives; and what we know about who God is shouldn't be contained within us. As I listen, I can't help but dance, knowing that this 'fire' within me will come out; that God will do anything that He can so that His 'fire' will spread, so that His name and renown is proclaimed over the whole Earth. The album closer, 'Put it all Together', is about how God fits every piece of our life puzzle together into a grandiose plan, a tapestry of colour and patterns, woven together to make a artistic masterpiece. As Brittany powerfully sings in the chorus, '…You can take a broken heart and a brand new start then, that seems so far but you put it all together now…' we know that God can take any impossible situation and turn it around for His glory. What a fitting song to be the album closer, for us to be reminded that anything that we do or don't do will be used by the Lord. Even the things that we may not think will matter still do, and the Lord will use the difficult and challenging things in our lives to mould us into the people that He desires us to be.
Overall: Brittany has created a 10 track album that shouldn't be overlooked as another generic pop-radio collection filled with cliché lyrics and simple melodies. What may seem on the surface as quirky and dance worthy is filled with biblical richness. These songs, especially 'You Met Me', 'Love all the Way' and 'Miracle', have touched my heart, and I'm sure they'll touch you as well. This is an album that came from left field for me; and it's a good surprise. Full of musical diversity, if you're a fan of ZOEGirl, Britt Nicole, or Jump5; then this album won't disappoint!
RIYL: Jump5, pureNRG, Britt Nicole, ZoeGirl
Buy the Album: iTunes/Amazon mp3