Album Review :
Brett Younker - Come to the Water Remix EP Single
By Jonathan Andre in Reviews | Comments closed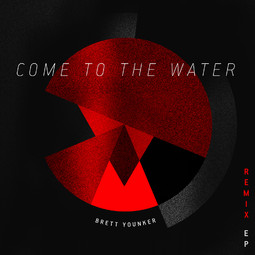 Artist: Brett Younker
Title: Come to the Water Remix EP Single
Label: independent
Release Date: 1/22/13
Reviewer: Jonathan Andre
Tracklisting:
Come to the Water (Joe Thibs Mix)
Not Ashamed (Joe Thibs Mix)
Brett Younker is a relatively new artist on the worship scene, writing for many worship artists from around the world. With both 'Come To the Water' and 'Not Ashamed' co-written with Passion Worship Leader Kristian Stanfill and both songs heavily promoted by Kristian on the Passion 2013 and Passion 2012 Annual Conferences respectively, Brett's heartfelt songwriting has resulted in some honest and poignant melodies, particularly one of my all-time favourite Passion anthems of all time, 'Not Ashamed'. With Brett featured on Passion 2013: Let the Future Begin with 'Burning in my Soul', it's almost certain that this once independent worship artist will sign to sixsteps Records sometime this year (if not then hopefully Sparrow). With his latest studio album Come to the Water being one of my favourite independent albums of 2012, his latest release (a 2-song remix EP) is destined to draw in fans of dubstep or anyone who's intrigued at remixes and how dj's alter the music to either enhance or wreck the song and its appeal to the wider audience of listeners. With such passion and enthusiasm from his voice throughout each of his studio albums, his ability to sing great worship covers is something that will draw in newer listeners. With this remix effort, it is a great attempt at doing something new, fresh and invigorating, but if you are an avid fan of the remix genre, then it would be wise to stick with the original versions of the songs. The remix songs are still good, but there are some instances where the music drastically changes, leaving the listener hearing an alteration to the song that would otherwise constitute to butchering if someone was listening to it that respected and valued songs in their original form.
With an interesting keyboard riff to start off 'Come to the Water', Brett sings passionately against all the reverb and electronic undertone loops as we are given a unique interpretation to a song that's been one of my favourite over the last year or so. The heartfelt moments of the first verse where Brett cries out '…come to the water all who are thirsty, come and be filled…' is something that can still be translated and equally poignant, even in the remix version of what could be a Brett Younker classic in the future. While remix dJ Joe Thibs changes up the bridge, adding in a few vocal distortion layers and some beats that seem like they don't necessarily fit on the track (like they were pasted on as an afterthought); the song still has the same power and emphasis as before. While many listeners may stay straight away from remixes, this is a solid rendition by Joe, as we collectively hear a different side to a worshipful melody, placing an electronic vibe against some of the most heartfelt and honest lyrics I've heard by an independent artist in 2012. 'Not Ashamed' on the other hand unfortunately paled in comparison to the first energetic track, which is ironic considering that I've enjoyed the original version countless of times, and often prefer listening to 'Not Ashamed' more than 'Come to the Water' on the whole. Nevertheless, starting off the remix with 'whoop'-like sounds and distorted percussion loops is something that would otherwise be done in a remix of a TobyMac or Group 1 Crew song rather than something sung by a worship artist. While many remix enthusiasts could've and probably would've enjoyed this song, I sadly didn't. Sounding drastically different from the original version, Joe Thibs has created a remix that is certainly not for everyone's liking. Nevertheless, while I may not have enjoyed the remix of 'Not Ashamed' compared to its original or even the remix of 'Come to the Water'; the song still has some great messages to convey, and as we hear this song, remix version or original, we can't help but declare along with Brett the certain truth, that '…I'm not ashamed of the one who saved my soul, this fire inside of me is burning for Your name, I'm not ashamed…' Well done Brett for creating such a great song, and Joe for a remix that's certain to bring in fans of the remix genre (yet may not necessarily be fans of Brett or worship music for that matter) and hopeful introduce them to great worship music!
Overall: Brett Younker's powerful music ministry through poignantly written melodies as well as well-executed worship covers are both bound to propel him into more popularity amongst listeners of modern worship music. While the remixes of both 'Not Ashamed' and 'Come to the Water' may not necessarily appeal to all lovers of worship, remix DJ Joe Thibs has done a great job in utilising various unique music techniques to draw in the listeners who love the electronic remix genre of music. One of the emerging worship artists of the 2010s (alongside The Sonflowerz), this is a great album to purchase if you are a fan of Brett and his music, or a fan of worship remix songs. With hopefully Brett signing to sixsteps Records this year or next year, this 2 song EP is sure to keep listeners enticed as he hopefully works on some new material to be released soon, with one song definitely on it being 'Burning in My Soul' (sung at the Passion 2013 conference). Well done Brett for such an enjoyable and compelling album listening experience.
RIYL: Chris Tomlin, Kari Jobe, Kristian Stanfill, The Sonflowerz, Meredith Andrews
Buy the Album: iTunes