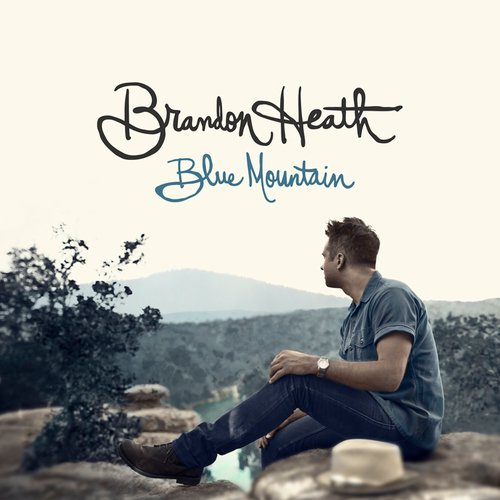 Artist: Brandon Heath
Title: Blue Mountain
Label: Reunion Records
Release Date: 10/9/12
Reviewer: Jonathan Andre
Tracklisting:
The Harvester
Jesus in Disguise
Blue Mountain
Diamond
Love Will Be Enough For Us
Love Does
Paul Brown Petty
In the Dust
Dyin' Day
Hands of the Healer
He Paid It All
'…Jesus isn't always in the obvious…but from busy city streets to the rural roads of 'Blue Mountain,' Jesus is always there to be found. You just have to know what to look for, and be willing to look for it. It's been a burden; it's still a burden for God to open my eyes, so much so that I'm still writing about it after all these years…' Brandon Heath burst on the Christian music scene with his hit radio single 'I'm Not Who I Was' from his debut album Don't Get Comfortable back in 2006, reminding listeners of his salvation story, written in the style of a letter to a friend. Now 5 years and 3 more albums later, Brandon's 4th full album release in Blue Mountain is quite a departure from the pop-rock radio friendly melodies, emphasising more on bluegrass and country for musical inspiration, as Brandon never shies away from his roots of reminding listeners that '…you were looking for a king, but you would never recognise Jesus in disguise…' ('Jesus in Disguise'). Reminding listeners of the redemption given as we search for Christ in the things that aren't necessarily that obvious to find Him in, we are able to see beauty in the routine, extraordinary in the commonplace, even hope in the desperate situations as Jesus opens our eyes to see the things we have continually missed as we've been building our own kingdoms apart from Christ. With light acoustics infused with a southern American influence, this contemporary pop album that's not necessarily typical CCM will provide a different musical angle to musical stories that even Brandon feels like he's still learning about- '…Usually I'm telling my own story.  I wanted to tell other people's stories this time, so I created a space and characters that would allow me a new canvas to paint on…' Different is good; and Blue Mountain certainly lets Brandon experiment with musical ingeniousness to create 11 melodies of purpose and hopefulness as a proclaim this album as one of the most different and unique of 2012!
'Jesus in Disguise' is Brandon's first single from the album that released in July 2012, and is a great melody to segue into the 10 remaining tracks that showcase Brandon's country music influence, yet still keeping his roots firmly grounded in Christ. Starting the track with an electric guitar intro reminiscent of many country songs and influences gone by, Brandon unveils the theme of the intricate and mysterious ways that the Lord can speak to us, through thoughts, words, encouragements and phrases that may just spring to mind, '…nothing you've heard, or something you've read…' As we are met with the proclamation that Jesus can sometimes influence our lives in disguise, never knowing He was there or even acknowledging His presence, we are able to take a glimpse into Brandon's heart, asking the Lord to continue to '…open my eyes as wide as I can, as blind as I am…', a solemn, hopeful and sometimes confrontational reminder for our own lives as we wrestle with moments that are certainly God-given but sometimes too over-focused in issues right in front of us to notice. With a great southern influence featuring big drums, twangy-sounding guitars and a soothing vocal, Brandon's somewhat different melody that's not necessarily classified in CCM is a great starter to an album that will certain stretch my musical tastes and expand my genre horizon for this year and years to come.
With every song on the album an infusion of pop and country, Brandon's approach to his music has always been with a humble spirit and grace, being able to reveal a sense of hope and longing as he cries out to Christ, especially in his previous songs 'Give Me Your Eyes' and 'Your Love'. 'The Harvester' is an encouraging reminder of how our work on Earth as Christians isn't done yet, and just like how the harvest is many but the workers are few, we are called by Christ to be His hands and feet on this Earth until He returns. Starting off with an acoustic pluck and moving into hand claps, fiddles and electric guitar strums, Brandon cries out '…throw a little water on my face, go out the door and greet the day…' a sober reminder that sometimes, moving through the day can be wearisome. Yet despite all the tiresome days and mundane routines, we are given motivation and encouragement with Brandon reminding us that '…the master is coming, we are not done yet…'- with this guitar driven southern melody of God's purposeful plan over our lives a potential catalyst for listeners to share Christ with those around them, with 'The Harvester' a trusty companion for hope, solace and a reassurance, to '…harvest this field from sunrise to sunset…'
'Diamond' is a hand-clapping swaying country song about how we have in each of us something that God can only search and dig out, a precious gift that is just waiting to be unleashed to the world as we are reminded that '…I got something down inside of me that only You can see, help me dig a little deeper now and set this diamond free…'; whilst 'Love Does' gives listeners a strong sense of hopefulness as we are met with the knowledge that love, and primarily God's love, sees every aspect of us and understands the walk that each of us travel upon, even when those close to us (like our family or friends) seem to have no clue. But it is 'In the Dust' that has spoken to me quite a bit lately, and is a confrontational song about the fragility of life as we are reminded, just like how Ecclesiastes shows us that our time on Earth, viewed from Christ's perspective, is just as short as a butterfly's life journey from birth to end showed from our viewpoint. We live and die, and leave the Earth the way we came, and through these lyrics '…from the ground we were created, to the ground we will return…', our passions and longings are shifted, from the temporary to the eternal as we see life the way Christ does. Well done Brandon for these thought-provoking melodies about making our lives count for something that can be as mundane as everyday life.
From singing about a mountain with plenty of inhabitants, each with a story to tell about their lives '…where heaven and earth meet…' as I reflect upon the metaphor Brandon places in 'Blue Mountain', reminding me of heaven when Christ comes back, to reminding listeners of a God who has saved sinners from their dying days, with the song poetically painting a picture of a man on death row and the hope he finds in Christ ('Dyin' Day'); Brandon's melodies of comfort and conviction capture a wide listening audience as he showcases many themes and many musical genres to give us an answer to the burning questions of our lives in the final two tracks, 'Hands of the Healer' and 'He Paid It All'. 'Hands of the Healer' is a quiet, reflective, electric guitar plucking song of reassuring us that we can leave everything that is eating us up into the hands of Jesus, that '…if we're gonna pray about it, there's no use in worrying…just leave it in the hands of the Father…and walk away…' Sounds like a bold and daring thing we have to do, but sometimes the hardest things can be the most freeing. 'He Paid It All' is a light song about our redemption in Jesus, full of a crescendo of drums, guitars and passionate singing as we are given a fitting song to end an album full of musical genre experimentation, stretching my musical appreciation to encompass more country than I thought possible. To end on the note, '…with all my mistakes, I still make Him proud…' is one of the realisations and understandings listeners need to grasp and run with, and through this song filled with eerie keyboards and strings, Brandon makes the moment possible of surrender for listeners, me inclusive. Well done Brandon for providing us with an experience full of hope and wonder as we celebrate the triumph of our King.
Overall: Brandon's 4th album in 2012 has come at a bit of a surprise. Just releasing his chart-topping album Leaving Eden in 2011 as well as his Acoustic EP earlier this year, his bold release of a country record is an interesting move by Brandon, yet he is able to win the doubters (me included before listening to this album!) over with reflective ballads, ingenious writing and hopeful stories of the characters providing inspiration to this album called Blue Mountain. Giving listeners a fresh and invigorating new look at his music and the same inspiration behind it that has made him proclaim to Christ to '…open my eyes as wide as I can, as blind as I am…' ('Jesus in Disguise'), Brandon's October release is one of the most different and inventive of October 2012. Well done Brandon for such a moving and poignant album!
RIYL: Audrey Assad, Andrew Peterson, Sara Groves, Carrie Underwood
Buy the Album: iTunes/Amazon mp3