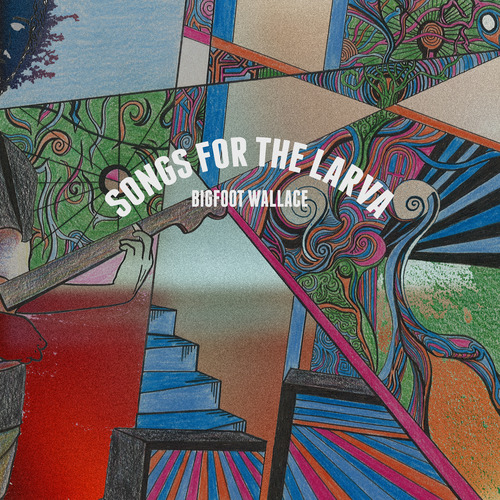 Artist: Bigfoot Wallace
Album: Songs for the Larva
Label: None
Release Date: March 5, 2013
Reviewer: Eric Pettersson
Tracklisting
Without Pay
IShallNotWant
Patient
Candle
Able
Make Me New
Among Us
Larva Song
Too Many Friends
Bigfoot Wallace left a big impression on me and many other readers of IVM with his 2011 debut, Malleable. His spacey, experimental, electronic indie rock was among the most creative albums I'd heard, and this coming from a then-20-year-old recording in his bedroom. Needless to say, I had high expectations for his follow up release, Songs for the Larva.
The careful listener will notice that Songs for the Larva is almost a concept album, revolving around the theme of new birth and transformation. Borrowing the metaphor of metamorphosis, Bigfoot Wallace expresses the ache of a broken creation longing for grace and redemption. Many of our readers (myself included) may instinctively roll their eyes at hearing one more time how the image of the caterpillar-to-butterfly resembles what it's like to be "born again," but this music is no flannel-graph. In fact, it is so far removed from that Sunday school cheesiness that the connection didn't even occur to me until I began this review. It goes to show that the mysteries of God's grace are almost always better expressed in poetry than prose. Or as the artist puts it in "Patient," "The words in my head are better sung than said."
As for how he's singing those words, this record seems a little less jazz and a little more pop than his last one. "IShallNotWant" hits a note somewhere between Fun. and Hellogoodbye. But even if it does make creative use of vocal effects, this album is nowhere near as radio-friendly as either of those acts. Those effects get even heavier on one of my favorite tracks, "Make Me New," a slower song that seems to gradually expand to cosmic proportions.
Overall:  Songs for the Larva is equal parts longing for and celebration of grace. Trudging down the narrow road, this caterpillar seems to be equally aware of the mud below and the radiant light above. Musically, it's a more focused effort for Bigfoot. He picks up a few new elements and leaves a few behind, refining the innovative style that we came to know and love on Malleable to make it a little more accessible but just as unique.