Album Review :
Big Daddy Weave - Love Come To Life: Redeemed Edition
By Jonathan Andre in Reviews | Comments closed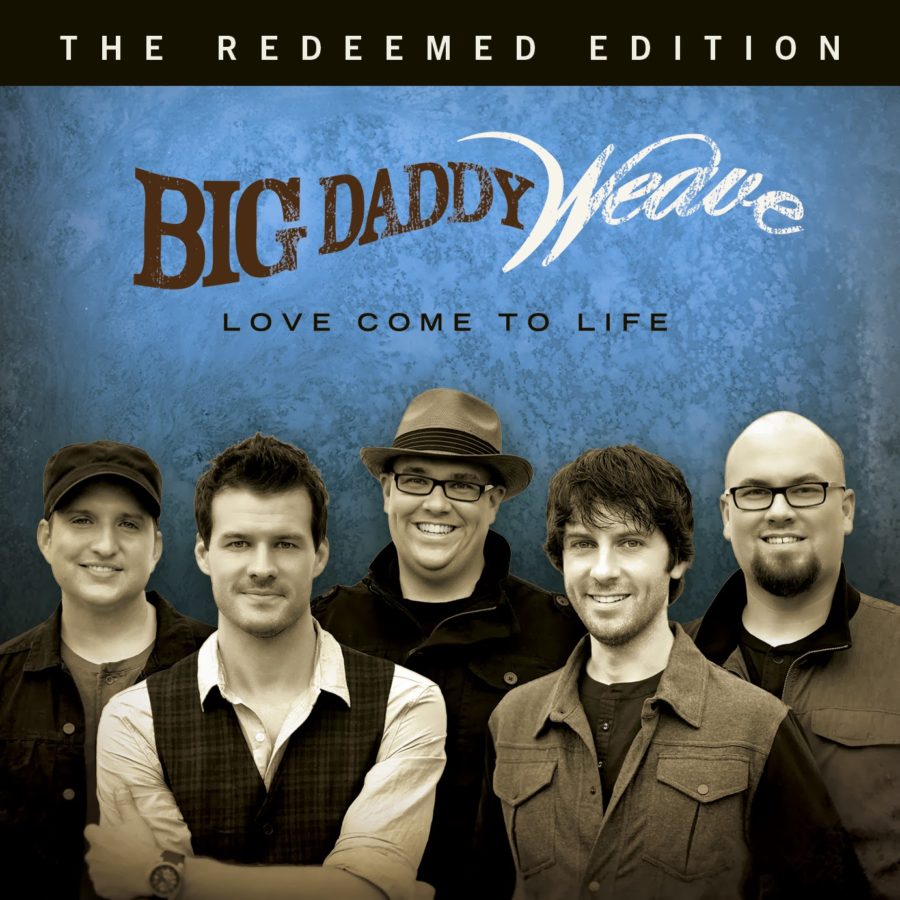 Artist: Big Daddy Weave
Title: Love Come To Life: Redeemed Edition
Label: Word Label Group
Release Date: 3/11/14
Reviewer: Jonathan Andre
Tracklisting:
Jesus Move
Magnificent God
Love Come To Life
Stay
Different Light
If You Died Tonight
Redeemed
The Only Name (Yours Will Be)
Save My Life
Maker of the Wind
Give My Life Away
Overwhelmed
Everything Beautiful
No Other Name
Redeemed (Acoustic)
The Only Name (Yours Will Be) (Live)
Redeemed (Live)
'…it's one thing to be words. Words don't mean anything unless it's backed up by life. That's the same thing with faith. Faith without works is dead. We're not saying you have to work to show that you have faith, but faith produces a work. We're just on the cusp of this. We feel like babes in the woods, but I feel like when we get a hold of this, the atmosphere shakes. When you really believe that, it begins to change the way that you act. It changes everything. It changes what's important to you. It's all wrapped up in the name and person of Jesus…' Big Daddy Weave, famous for their hit songs 'Audience of One', 'You Found Me', 'Without You' and 'What Would Life Be Like', released their 2012 album Love Come To Life, to positive acclaim which saw the success of three singles, the title track, 'Redeemed' and their current radio single, 'Yours Will Be (The Only Name)'. Love Come to Life is fresh and invigorating (when comparing the band's discography), something new that made this album stand out as one of the most emotional and heartfelt adult contemporary CCM albums of 2012. One of the most honest, mature, and lyrically provoking albums from Big Daddy Weave ever, this album has been able to move the band to new heights as people continue to appreciate their continual hunger for the Lord. Now releasing the expanded edition of the album, with 2 new songs, and some acoustic and live renditions of both 'Redeemed' and 'Yours Will Be', this is a great addition to any fan of the band, or as a present to someone who may not have heard the band's music before. With Big Daddy Weave making a global impact even more so now since when they released their powerful hit 'Audience of One' around a decade ago; Love Come To Life gives us a great mature look at the band and the songs of their hearts. With songs like the title track, 'Jesus Move', 'Overwhelmed' and 'Redeemed', fans of artists like MercyMe, JJ Weeks and Sidewalk Prophets will enjoy this new music offering by these men from Mobile, Alabama.
With the expanded edition of the album consisting of the 12 track normal album, as well as two newly recorded songs and live and acoustic versions of 'Redeemed' and 'The Only Name', Big Daddy Weave continue to assert themselves as one of the most heartfelt pop/contemporary CCM bands currently active right now. 'Love Come To Life', the title track, is one of my favourites on the album, and through the careful use of the piano and guitars, together with the rising strings and percussion, the song turns from a song into an anthem, for the comfortable Christian to become shattered and broken before the Lord. As we sing '…love come to life, bring love to life inside of me…', God responds and presents areas in our life that He wants us to work on. Other than the title track, there are many other standouts, like 'Redeemed', the second single and one of the few ballads from the album where with an acoustic atmosphere of guitars, hand-claps and percussion; Mike delivers the truth that '…I am redeemed, You set me free…'; 'Yours Will Be', the current radio single where Mike reminds the audience that Christ is the only name for us to speak and declare our allegiance to, regardless of whatever circumstance we're in; and 'Jesus Move', the song that was going to be a single before both 'Redeemed' and 'Yours Will Be', but wasn't, a song that presents an atmosphere of praise as we fall down and proclaim to the King, allowing Him to move in our lives as He points out the places inside our hearts that we need to tackle as we become more and more like Christ. The choir towards the end of the song is fitting, as we join together to give God control of our lives, allowing Him to move in us without any stone walls or pillars in the way of our hearts.
From 'Maker of the Wind', the country themed and inspired melody with banjo and percussion that brings some uniqueness to the album musically as lead singer Mike reminds us that Christ, the maker of the wind, is just as close and involved in our lives than with wind, which we can't even see, to 'If You Died Tonight', one of the most confronting songs I've ever heard from the band, as they sing about dying and death, knowing that the notion of '…if you died tonight, where would you be, where would your soul spend eternity…' seems almost taboo (to sing a song about dying and asking the question about where you are going to go, is almost unheard of, even in Christian circles), Mike Weaver and the rest of the band give us a solid tracklist when it comes to the 12 song standard edition of the album. Yet this extended edition doesn't end there- with 5 extra tracks (2 acoustic and one live melody, and 2 newly written and recorded songs), fans of Big Daddy Weave (of this album in particular) will gladly check this new edition out on Spotify and purchase individual tracks on amazon or iTunes. 'Everything Different', track 13, is a fairly typical 3 minute 17 second song- fit for radio, electric guitar driven, and while the song, when weighed up against the title track or 'Yours Will Be', seemingly pales in comparison, the song itself is nevertheless still good in its own right. Speaking about how '…wherever I look, I will always find that You make everything beautiful, You redeem the unusable, You turn dark into light, You give hope that I can tonight, You make everything beautiful…', Mike presents to us a simple yet equally powerful and effective melody, that every situation we are in brings beauty and hope as Christ works continuously in the lives of us and others who speak into us in an encouraging way. Also presenting to us 'No Other Name', a worship song full of passion and heart that encourages us to declare that Jesus is indeed above every other name, circumstance and hero we follow; it is the acoustic and live versions of 'Redeemed' and 'The Only Name (Yours Will Be)' that are the highlights of the bonus songs. Despite already being on the album, these live and acoustic cuts give us are more raw, real and heartfelt look at the songs. With these melodies, along with the title track, being the heart and soul behind the theme of the album as a whole, it's nice to have recordings of these songs in the live setting, as we imagine as close as it can be to how it would've been and felt if we were in there as well, soaking up the live atmosphere and hearing the band cry out how '…Yours will be the friendship and affection I need, to feel my Father smiling on me, the only Name that matters to me…' ('The Only Name') Well done guys for these great enhancements to the album, and a reminder to each of us of how impacting and encouraging these songs from Love Come To Life actually are.
Overall: Vastly improving on their recent 2008 album What Life Would Be Like, Big Daddy Weave has given us their best album to date. With heartfelt lyrics and creative musical arrangements, this is an album that will stand tall amongst others throughout their career. With many songs falling into a CCM genre, there are enough different styles on the album to bring in listeners of other genres. With this extended edition being a favourite amongst BDW fans, Love Come to Life, is one of my favourite albums from BDW ever, and possibly one of the albums released in 2012 that has grown on me over time (I gave the album a 3 when I reviewed it, this time, I'm giving the extended edition a 4). Fans of Sidewalk Prophets or MercyMe will definitely enjoy this latest offering by Big Daddy Weave.
RIYL: JJ Weeks Band, MercyMe, Jonny Diaz, Sidewalk Prophets
Buy the Album: iTunes/Amazon mp3