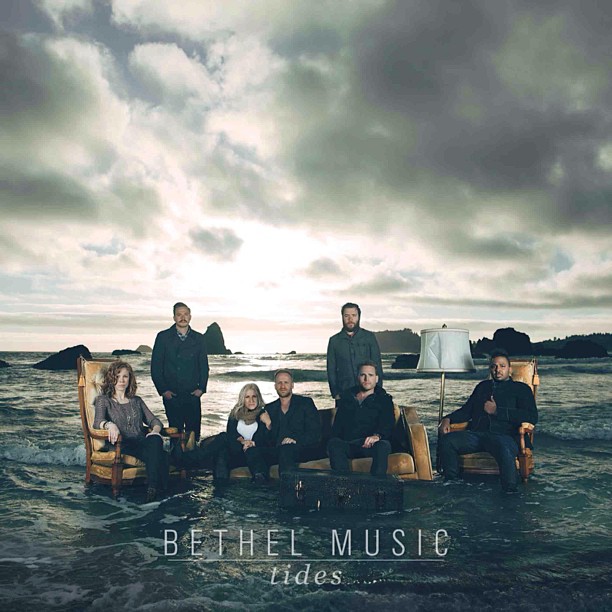 Artist: Bethel Music
Title: Tides
Label: Fuel Distribution/Tonetree Management
Release Date: 9/3/13
Reviewer: Jonathan Andre
Tracklisting:
Chasing You [Jenn Johnson]
Breaking Through [Jeremy Riddle]
Forever [Brian Johnson]
Letting Go [Steffany Frizzell Gretzinger]
Come Awaken Love [Hunter G.K. Thompson]
Strong In Us [Brian Johnson]
I Can Feel You [Jenn Johnson]
Give Me Jesus [Matt Stinton]
Be Still [Steffany Frizzell Gretzinger]
Heaven's Song [Jeremy Riddle]
Ascend [William Matthews]
Tides [Bethel Music]
For the Cross [Jenn Johnson, Brian Johnson]
With songs like 'One Thing Remains', 'Furious', 'Be Lifted High', 'God I Look to You', 'Love Came Down', 'This is Amazing Grace' and 'For the Sake of the World'; Bethel Music, residing in Redding, California; has always been able to provide listeners around the world with heartfelt melodies and poignant worship songs full of vibrancy, life and passion. With this worship movement primarily consisting of husband-and-wife duo Brian and Jenn Johnson, Jeremy Riddle, William Matthews and Steffany Frizzell Gretzinger; Bethel Church have been releasing albums under the umbrella of Bethel Music, their music ministry in the church that has been able to penetrate many churches from around the world with their powerful music able to become highlights of every worship leaders set list on both Sunday mornings and Sunday afternoons. With their latest album Tides being their first studio album recording, we are able to witness something unique, different, yet equally profound and enjoyable as we hear Jenn, Brian, Jeremy and the rest of Bethel Music remind us of the biblical truths hidden as gems in each of these songs. And while live albums can capture a worshipful atmosphere, transferring and translating some of the worshipful experience onto a CD or digital download for listeners to soak themselves into; studio album recordings give us an equally unique and enjoyable musical atmosphere as well. While many listeners may either prefer one format over the other (some may enjoy live albums, others studio), I myself found myself enjoying both live and studio recordings from Bethel, and while there's a possibility there's no live album from Bethel coming out later on this year (I think I'll probably miss it too); Tides is nevertheless a wonderful album full of poetically relevant moments that are able to be delivered to the younger generation (teenagers and young adults). Full of explosive guitars, keyboards and powerful vocals from Jenn, Jeremy, Brian and the rest of the worship movement; Bethel, along with Passion, Hillsong and Jesus Culture; have shaped worship melodies, the uniqueness of musical styles and everything else in between. From first song to last, this is an album certain to be purchased amongst other similar artists like Gateway Worship, Hillsong, New Life Worship, and Jesus Culture.
'Chasing You' is the first song on the album, as well as the first radio single. Sung by Brian Johnson's wife, Jenn (and daughter in law of the world-famous preacher Bill Johnson); we are met with electronic keyboards and unique pulsating drum beats to bring the song into a dance-like melody (where we could easily dance to, or just lift up our hands and worship just the same) that is a declaration to chase after the things of God for as long as we live and breathe. Full of electric guitars and powerful vocals from Jenn, this CCM inspired melody is a great song to start off an album that's just as much foreign to us listening as it is for them playing, with Bethel releasing Tides as their first studio recording project. One of my favourite songs on the album (and one of my favourite worship songs in the last half of the year already), this song is becoming greatly popular amongst various listeners, even garnering a respectable song cover music video from worship artist Sarah Reeves. With layers of electronics and other unique sounds that are relevant and integral in appealing (both musically and lyrically) to the younger generation of God-fearing men and women of Christ; this different and profoundly creative song encourages us to boldly make the stand, thereby declaring that '…I'm chasing You, I'm so in love, captivated; I just can't get enough, I'll spend my days running after Your heart, Your heart…' Hopefully weaving its way into being sung in churches soon, just by listening to 'Chasing You' alone, I can tell that Tides is going to be a musical and lyrical journey that I would not regret to be on.
Also sung by Jenn, 'I Can Feel You' is a 6 minute melody certain to be popular amongst listeners of reflective music as we witness something that could be heard during sessions where people are soaking or just in free worship. With this piano ballad full of moments where you can just relax and listen to Jenn's powerful vocals declare that '…through the shadows Your light appears, I've known You're with me but now it is clear, I can feel You, Jesus all around…'; the only drawback to a song that'll hopefully be a radio hit in the future is the fade out at the end. While I can understand that they still want to keep the effect of how a worship song doesn't 'end', but rather the 'volume' is turned down, the song slightly suffers because of the ending. Nevertheless, this song uses great and powerful imagery to describe the feeling that occurs when Christ is near us and His love overwhelms us in everything we do. The bridge tag that lets listeners know through Jenn's booming and declaratory voice that there's nothing that can satisfy us more than Christ, both 'I Can Feel You' and 'Chasing You' are certain to be classics from Bethel in both months and years to come. Well done Jenn for these 2 songs, and certain highlights on Tides.
With a variety of singers and musicians that deliver their own songs throughout the album, Bethel's new album stands tall as it showcases some of the most prolific and powerful vocals and song-writing skills shown in worship music today. Jeremy Riddle, famous for his hit 'Furious' and more recently 'This is Amazing Grace' (a co-write with Phil Wickham and the first radio single for Phil's upcoming album The Ascension releasing September 24th); shows his vocal skills in 2 tracks, 'Breaking Through' and 'Heaven's Song'. Starting off with an upbeat electronically based introduction complete with unique sounds and Jeremy delivering a 'whoo' backing vocal to create a sense of spontaneity in the track; 'Breaking Through' is a great reminder that Christ continues to break through the noise and clutter of our own lives in order to speak to us, showing us His great love to even consider shaking up our worlds so that we can become closer to Him. Enthusiasm is key for a track following 'Chasing You', and Jeremy comes to show us that track No. 2 can easily be just as fun, enjoyable, powerful, exciting and uplifting as the album opener. The poignancy in the chorus of how '…You're always breaking through the dark, breaking into lives and healing hearts, Your love has torn the veil, Your love can never fail, Your love is making all things new…' is evident, with the song's theme of Christ breaking through the darkness of our lives to come find us infusing into a worshipful atmosphere and everyone joining together in corporate worship an emphasis in Jeremy's other song on the album, 'Heaven's Song'. Standing at nearly 6 minutes, the cello enters the track in a subdued musical manner to convey a moment of contemplation, while as the song continues, the instruments rouse up together to create an anthem of praise, almost like the instruments themselves are also praising Jesus alongside us as well. With the song based upon the book of Revelation, about the moment when we see Jesus and fall down and praise His name, this is a great song to incorporate in both corporate and reflective worship settings, and personally one of my favourite songs from Jeremy ever (possibly alongside 'This is Amazing Grace' and 'Sweetly Broken').
With her song 'Closer' from Bethel's For the Sake of the World becoming a great commonplace in worship services at my own local church, Steffany Frizzell Gretzinger offers up two melodies in 'Letting Go' and 'Be Still'; with the former being released as a lyric video prior to the first single of 'Chasing You'. Presenting listeners with a Nintendo-style sounding instrumental backdrop as we first hear 'Letting Go'; this worship synth emphasised melody is something that Steffany excels in, and it shows with the enthusiastic passion she brings to each of the melodies she sings (but especially this one). Speaking about how we ought to let go and fall into the arms and grace of God as we trust Him to hold us no matter what; 'Letting Go' requires strength and courage from Christ if we were to follow through and embark on what the song is powerfully declaring, that '…I'm letting go, and falling into You…' 'Be Still' also centres around a compelling and certainly life-changing and identity affirming message of us being still in the midst of God's presence and not just running around in the busyness of life. Again vocally enthusiastic, the song's theme mirrors the similar 'Be Still and Know' by Steven Curtis Chapman or 'Be Still My Soul' by Kari Jobe; with the emphasis behind the reflective melody being a reminder to listeners that we need to slow down if we want to enjoy all the facets of life God welcomes us to partake in with Himself alongside us. The cello and keyboard and no other instrument give us an atmosphere of tranquillity and solace, and is a perfect fit amongst a Sunday worship set list emphasised on reflectiveness and moments of realisation and revelation. With Tides also providing us with similar themed tracks to 'Be Still', from 'Give Me Jesus' by Matt Stanton, a reimaging of the hymn that is unveiled on Tides with electronic instrumentation as well as Matt declaring out '…give me the One my soul delights in, give me the One in whom my hope is securely found…', to the Hunter Thompson led 'Come Awaken Love', a guitar and electronic instrument driven song about asking the Lord to come awake a fire of love within us to the point where we declare that '…I'm desperate just to have more of Your heart, come awaken love…', these songs that capture the heart of our desperation for the Lord are great highlights on an album that's certain to be a standout in the history of Bethel Music, and the history of modern music altogether.
Brian Johnson's contribution to Tides is also two tracks (just like Jenn, Steffany and Jeremy), and with him delivering the great melodies of 'Angels', 'You Have Won Me' and 'One Thing Remains' in the past, his two offerings of 'Forever' and 'Strong In Us', though poles apart musically, still somewhat have similarly linked themes. With 'Forever', co-written with Kari Jobe, reminding us through vividly painting a picture of Jesus's death and resurrection of the lengths Christ went through for us to be reconciled with Him, this 5 minute 27 second song brings to the foreground a confronting message of thankfulness and declaration in the chorus of how Brian proclaims out that '…forever He is glorified, forever He is lifted high, forever He is risen, He is alive, He is alive…' Presenting a riveting rock anthem in 'Strong In Us' also co-written, this time with Kristian Stanfill; this somewhat musically chaotic song shows us that because God is forever with us, and forever glorified for who He is, we can boldly assert the fact that He is strong in us as we face decisions, big and small, each and every day. Yet while not necessarily presenting any theme new that was not discussed in other songs on Tides, this song's music backdrop is certainly influenced by the British music scene, and I'm sure I could see someone like Matt Redman or Tim Hughes covering this track. Ending the album with 'For the Cross'; Brian and Jenn Johnson perform a great duet, with the song showcasing how well they work with trading vocals between choruses and verses. A song about thanking God for the cross and His sacrifice, it is the simple words of the chorus in '…Hallelujah, King forever, we thank You for the cross…' that we can find the most meaning in 'For the Cross'. A great song to finish the album with, it is through both Brian and Jenn's investment into Bethel and the songs that they deliver that makes the worship movement become a growing force in the CCM/worship industry. Well done Bethel (more specifically Brian and Jenn) for such a powerful song to end an album that'll hopefully encourage them to continue making studio albums in the future!
Overall: Bethel's 1st studio album is a great way to start off with Bethel if you haven't listened to them before (or even if you have). With such great songs that are church and worship focused, Brian, Jenn, Jeremy and the rest of the team have showcased why Bethel are still as popular as they are now as they were when they started out. While I myself would enjoy listening to Passion, Meredith Andrews, All Sons and Daughters or Paul Baloche a bit better, Bethel (and Jesus Culture) still have their place in the worship music scene, and with songs like 'Chasing You' already receiving a cover video from an artist who delivered the great radio hit 'Sweet, Sweet Sound'; then you know that Tides will be something special. From 'Chasing You' to 'For the Cross', and 'Letting Go' to 'Heaven's Song'; it's almost certain and a forgone conclusion that alongside Phil Wickham's The Ascension and Matt Redman's Your Grace Finds Me, Bethel's album will be nominated as Worship album of the year at next year's Dove Awards. Well done Bethel for such a prolific and powerful album!
RIYL: Jesus Culture, Hillsong, Passion, Kari Jobe
Buy the Album: iTunes/Amazon mp3