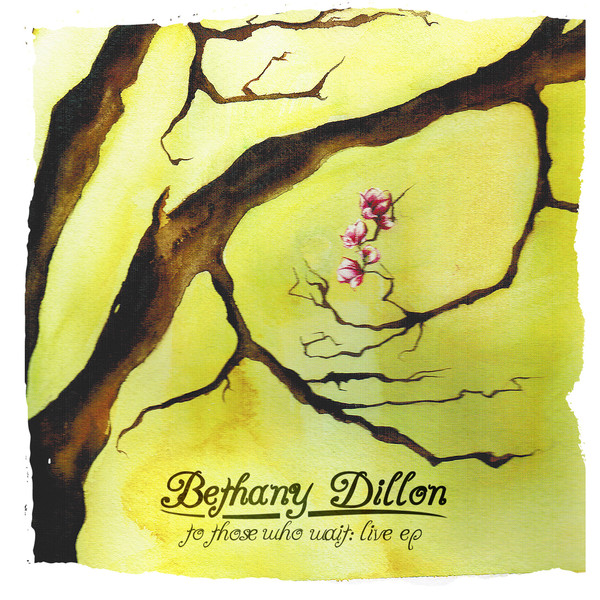 Artist: Bethany Dillon
Title: To Those Who Wait EP
Label: Catapult Records
Release Date: 3/16/12
Reviewer: Jonathan Andre
Tracklisting:
Satisfy (Tappety Intro)
Satisfy
To Those Who Wait
You're the Best Song (feat. Shane Barnard)
You Did Not Have a Home (feat. Shane Barnard)
Bethany Dillon stepped in the spotlight back in 2004 with the release of her self-titled debut that gained her several nominations (New Artist, Female Vocalist, Pop/Contemporary Album) at the 36th GMA Dove Awards. Producing several albums afterwards with singles 'When You Love Someone', 'Dreamer', 'All I Can Do' and 'Everyone to Know'; Bethany decided to take a break from music after Stop and Listen in 2009, becoming a mother at home instead. However, as I was looking through iTunes the other month, I stumbled upon this EP, and was really intrigued to hear the 'comeback-album-of-sorts' from Bethany. Featuring 4 songs in a live setting (the first title, Satisfy- Tappety Intro, is only 10 seconds long); Bethany has created a raw acoustical moment that lets the listener into the revelation that God satisfies us like no one else can.
'Satisfy' is the first song on the album full of acoustical claps and percussion, creating a country sense of an atmosphere as acoustic guitars, banjos, electric guitars and keys are employed to draw in even the uninterested of listeners. As Bethany sings out '…the human soul can be filled with regret, we never forget where we've gone wrong…' I start to realise the poignant truth that as humans, it is in our nature to hold grudges, because of the sin in this world. We become bitter to this person or stop being friends because they said this or that. We can't forget when someone has wronged us and it causes a fair amount of the hurt and pain we feel right now. However, as I listen to this song, reminding me of a recent talk Tenth Avenue North frontman Mike Donehey did; I am encouraged at how God forgets our sin that is held against us, and that as we come to Him knowing that He alone satisfies, we can become satisfied in Him and not worried about whether our worth is tied in other means.  Through the use of strong vocals, Bethany sings out '…I fix my eyes at how You satisfy my soul…' and I am able to rest assured that as we continue to immerse ourselves in Christ; we will be able to let go of our regrets and fears that consume our centre.
The rest of the album follows the same acoustical blend of music as Bethany showcases some of her strongest vocals to date in 'To Those Who Wait'. Singing about how as we wait upon the Lord, He will answer our prayers and our hearts desires, Bethany uses this reflective moment to her benefit as she is able to just strip everything back until it is just her and the Lord, worshipping as she responds to God's mercy. As she breathes out her heartfelt lyrics, declaring that '…Lord, today You know what I need to do, but You can do more in my waiting…', we are met with the notion that God always acts according to what we need, and as we are still and quiet before Him, we will be able to listen to what God has to say about the issues and places in our hearts that He knows we ought to change. 'You're the Best Song' is one of Bethany's most personal songs, sung to her baby Lucy, encouraging her to grow in the Lord as she grows older. With an acoustic undertone, together with soft keys, Bethany reveals that her baby is '…the best song I'll ever write, and I pray you'll hear Jesus in it when you're older…'; and as listeners, we are encouraged to share Christ with our family. Certainly inspired by Bethany and her love for her child, I know that when I have my own children with my future wife; I'll definitely do everything I can to show Christ's love to them! Lastly is a Rich Mullins cover, 'You Did Not Have a Home'. Singing about the life of Christ and how '…the hope of the whole world rests on the shoulders of a homeless man…' across the acoustic guitar strums, we are indeed reminded that Jesus was an everyday folk when He was on Earth, and was in fact homeless. Lowering Himself to the level of the common citizen, I am encouraged and marvelled at the length of God's pursuit of us, that Jesus would become human, lower Himself to our level, so that we can even have a thought of coming back to the Father. What an amazing song to remind us of the lengths God took for us to be united back to Him!
Overall: Bethany's return to music is assuredly welcomed. Back with a fresh perspective and an album that has been birthed out of maturity and motherhood; fans of Bethany's previous work will be excited to hear this album from an artist that is ready for a new chapter in her life. With a different sound (acoustic) than what we normally hear from Bethany, To Those Who Wait is a nice addition to any musical playlist, with an acoustic/folk genre to brighten up the day when things aren't going like we think. Well done Bethany for a memorable EP and a return to music!
RIYL: Kerrie Roberts, Rachael Lampa, Rebecca St. James, Jaci Velasquez
Buy the Album: iTunes/Amazon mp3