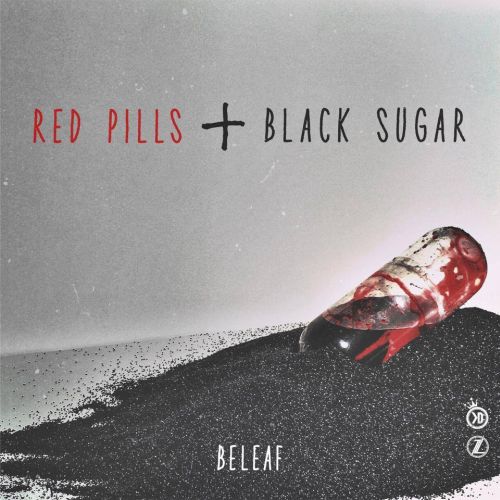 Artist: Beleaf
Title: Red Pills + Black Sugar
Label: King's Dream Entertainment
Release Date: 06/27/2014
Reviewer: Anthony Peronto
Tracklisting:
Red Pills

Black Sugar
Parallel
YouTopia
Wings ft. Torch & Kyra De'nae
InJoy ft. Ruslan & John Givez
Depressed ft. Mr. J. Medeiros, Jackie Hill, J Givens, & Marty (of Social Club)
Suicide Roll
Made For This ft. ABIV
Bigger Stronger ft. Karim Bailey
Take No Days Off
W.O.W. ft. John Givez & Kyra De'nae
Drag'em ft. Wordsplayed (Bonus Track)
Did You Know That (Bonus Track)
Get A Bar III (Studio) [Bonus Track]
Get A Bar III (Live) [Bonus Track]
As a critic, I listen to so much music that it takes more than a catchy hook, sound theology, or wordplay for it to stay in my mind long after the music stops. To me it is the creative production and it's the transparency of an artist that counts. Whether it's storytelling that people can relate to or discussing their own life experiences, an artist's honesty can grab a listener regardless of the music. Beleaf is an emcee of theBreax and Dream Junkies and has always been known as the hype-man of the former group. While you got glimpses into who he is in certain songs, it's with his debut album Red Pills + Black Sugar that we see a part of him we have not seen much before. Different than the Theo's Gift EP, which was Beleaf's Cosby Show-inspired letter to his son, this concept album is from the perspective of a person who does not know Jesus. Though somewhat biographical, this weighty (but not dark) album has a variety of topics and musical styles in a certain order that work to its advantage.
After the solemn opener of "Red Pills," the encouraging banger of "Black Sugar" (with hilarious Busta Rhymes reference), and the frustrated look at race and law enforcement of "Parallel," the album starts to shift a certain direction. Each topic gets more solemn with the production in clear contrast to the message. The satirical "YouTopia" has a lighthearted hook but is a fearless indictment at our country's financial, racial, and religious viewpoints. The beat of "Wings" is headnodding but Beleaf, who grew up in an abusive home, addresses domestic abuse in a graphic and understanding way. The entrancing saxophone banger of "InJoy" and it's references to Ren & Stimpy are distinct from Beleaf and his fellow Dream Junkies stating, "It's hard to smile with all this pain in me/ Gotta let Jesus be the king and let Him reign in me." But social satire, domestic abuse, and James 1:2 can't compare to the next two songs that become the turning point of the album.
Whether it's marijuana, pride, attention, cocaine, lies, or pornography, the cycle of temptation and regret is discussed in detail on "Depressed." With a violin and a haunting beat, each featured emcee reveal their past struggles and contribute to the hook, "I do it cause I'm depressed/ I'm depressed cause I do it/ My God will help me get through it." Jackie Hill and JGivens almost steal the track, but Beleaf ends it perfectly about the trap of pornography:
"Them Internet girls had me in a net/ The wide world is a web, spun to capture us in sex/ I know I'm buggin' out with the intellect/ But my mind was infested with images I have invested/ And became to diminish it/ I tried to terminate the termites/ Until the tug of war turned my mind into a terabyte"
A double bass and a trumpet become the simple musical backdrop to the darkest song on the record: "Suicide Roll." An account of the various thoughts that come to mind when contemplating suicide, Beleaf combines the thoughts he had growing up with the feelings of other individuals. But a last act of prayer and a second chance at life fade out to birds and an acoustic guitar in "Made For This," an audio relief that's melodic and soothing after such the sobering middle section of the album. After the reggae-influenced "Bigger Stronger" and the banger "Take No Days Off," comes the closer "WOW." Short for "walking on water" and inspired by Matthew 18:3 and 14:22-23, the melodic finale is a perfect end to this audio-journey.
Concerning the bonus tracks: "Drag'em" has nice production and reckless rhyming by Beleaf but the hook and Wordsplayed's verses make it clear it should stay a bonus track. It may be musically-obnoxious, but the love song "Did You Know That" is strangely compelling. The dope Theolonious Monk-inspired production of "Get A Bar III" is the best of the bunch, as Beleaf comments on his life, career, and beliefs.
Overall: Unafraid and honest, Red Pills + Black Sugar is a powerful concept album that shines a light on issues that aren't discussed a lot in hip hop. Like Tedashii's Below Paradise, this soul-bearing record works best when listened from start to finish. And though the concept might be loose and Beleaf's delivery is a little too chaotic sometimes, his goal shines through: Understand that people could be dealing with anything and to extend them grace and empathy in love. Now that's a prescription worth taking.
RIYL: Ruslan, John Givez, Eshon Burgundy, Blame One