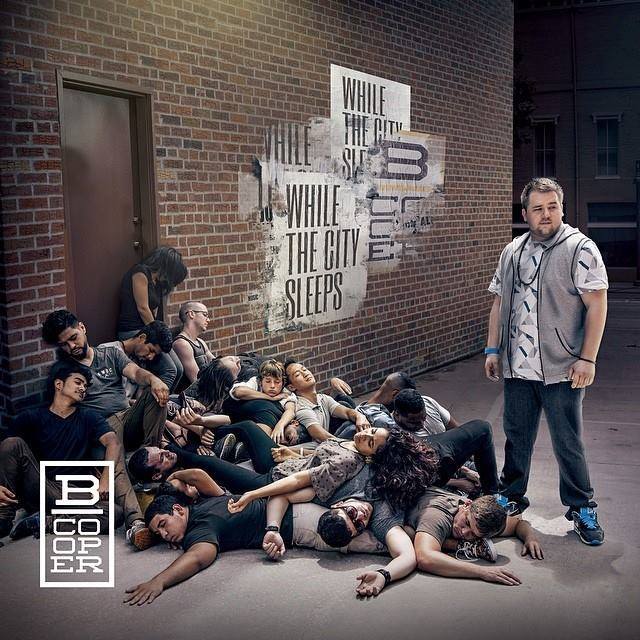 Artist: B. Cooper
Title: While The City Sleeps EP
Label: Reflection Music Group
Release Date: 07/15/2014
Reviewer: Anthony Peronto
Tracklisting:
While The City Sleeps ft. J.C.

Nightmare ft. Steve Means
1994 ft. Foure
Better Days ft. JGivens & Anthony Mareo
There You Are ft. SPZRKT
1 Love ft. Corey Paul & Steve Means
Wake ft. Deraj, Derek Minor, & Jacque Jordan
Let Go ft. Joe Gates (Bonus Track)
Middle Of Nowhere ft. Foure (Bonus Track)
Most people have a goal of landing the dream job; others have a job only to fund their dreams. For those passionate few, B. Cooper's words will resonant. "While the city sleepin' we wide awake/ Dreams takin' off." But many people give up on their dreams because of fear, disappointment, or the opinions of others. B. Cooper, a Georgia-native that's been grinding hard for over a decade, is here to encourage people to wake up and stop sleeping on their dreams with his latest EP: While The City Sleeps.
The project starts off strongly with the introspective duo of "Nightmare" and "1994," with both songs expressing the struggle of chasing dreams. Each of the three verses on "Nightmare" illustrates Cooper's thoughts when making each of his last three albums. The first verse, during the creation of Reflections Of Self, shows the aggravation of finding an identity and purpose in his college years. The second verse shows how he struggled to find a voice when making Cashier of the Month. Finally, the third verse (during Spare Change) shows how thankful B. Cooper is for the ups and downs to get where he's at. While the first song's acoustic hook and hard-hitting beats complimented the message, "1994" is the more head-nodding of the two songs. Reflecting on where he came from and what it took to get here, this throwback track is so good that it's a shame how short it is. But kudos to Foure, B. Cooper, and Dirty Rice that it leaves you wanting more.
Until the finale "Wake," the EP switches from musical testimony to hopeful encouragement. "Better Days," wants us to understand that, no matter what struggles we go through, it can get better. JGivens fits in perfectly with the instrumentation of the song, with its guitar/drumbeat/saxophone combo, which would not be out of place on his album El V. Envy. My personal favorite, "There You Are," has a great feature by SPZRKT and some great bass-heavy production by Rice. Stating that His hand is always over us in this dark world, this highlight track proves that B. Cooper doesn't only kill it on sample music. The first fully melodic track is next with "1 Love," that states that regardless of our testimony we all need the same God. Unfortunately the song's noble message can't prevent it from becoming the weakest song on the EP. Let's just say I'm not a big fan of Corey Paul's feature. It's worth pointing out but his flow is an acquired taste. However, if one feature is the only thing wrong, it's a credit to how well made the project is as a whole.
Speaking from what I've seen in the lives of those around me, one of the hardest things to do is to let go of a relationship. It's even harder when that person cannot save his or herself and brings the other partner down with them. The first bonus track, "Let Go," deals with this painful subject while "Middle Of Nowhere" is about growing distant in a relationship. While it's clear why these songs became bonus tracks, the production on the two make them well worth checking out.
Overall: Relatable and encouraging to anyone who's had a dream, While The City Sleeps easily accomplishes what it sets out to do. While the combination of Dirty Rice & B. Cooper might be strongest on the soulful sample music they're known for, the growth of the duo is undeniable. The EP is nearly flawless and proves that Cooper is an emcee you shouldn't sleep on.
RIYL: Derek Minor, Alex Faith, Dre Murray, Jay-Z