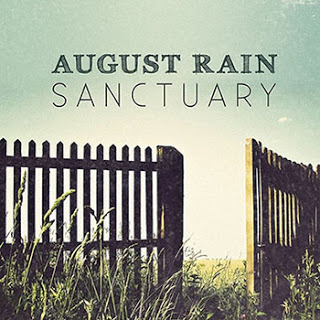 Artist: August Rain
Title: Sanctuary EP
Label: independent
Release Date: 6/29/13
Reviewer: Jonathan Andre
Tracklisting:
Kingdom
Show Me Your Light
I Love
Nothing
Hope
Sanctuary
Sharing the stage with artists like Laura Story, Aaron Shust, Lindsay McCaul, Bluetree, JJ Weeks Band and many others, Georgian band August Rain's unique musical blend of folk, pop, gospel, blues and southern Rock is what will entice and draw in listeners of both Christian and mainstream music, myself included. Reminding me sonically of artists like Jimmy Needham, newwordson and even Australians the Paul Colman Trio; we are met with 6 songs of honesty and heartfelt poignancy in their new 2013 EP, where they remind listeners of how they ought to understand how much we need Christ within us and for us in every circumstance we undertake. With their band name oddly coming together through the process of playing their first original song in the month of August, as well as reminding listeners (and themselves too) of rain, both physical and spiritual, that is needed throughout the entire world; lead singer Matthew Janzen reminds us of their motivation as a band, and that '…we looked at rain spiritually as well 'cause we all have times in our life when we have drought and need God to send us rain…' Providing a unique musical atmosphere to listeners who want something invigorating and fresh, August Rain's album releasing in June 2013 is a perfect gift for someone who loves folk-acoustic pop, rather than the traditional CCM flooding the radio currently. From lead single 'iLove' and their hit song rerecorded 'Show Me Your Light', we are invited into a musical landscape full with upbeat and ballad-like tracks, where the central message is one that shows listeners God's love regardless and in spite of our own choices and consequences. With 'Show Me Your Light' gaining K-Love radio airplay during 2012, the band seeks to speak '…to both Christian and secular audiences with a focus on hope and encouragement for today's life challenges…'
'I Love' is the first radio single from the band to be released in 2013, and while the song doesn't necessarily talk overtly about Christ (in fact, the song can be sung in a mainstream setting), we are reminded through this 4 minute poignant anthem of the love we have for Christ because of His very sacrifice many years ago. Hearing Matthew declare that '…I love, I love, I love the way, You make, you make, you make me say, I want, I want, I want to stay right here in Your love always…' is something that ought to touch listeners around the world as we witness a moment of surrender, adoration and devotion amidst hand claps, light electric guitars, and a vocal that sounds distinctly Australian (even though I know this band's origins come directly from Georgia, U.S.A). A song that's born to be a crossover hit in the music market, we are reminded that we are loved and treasured by the King through a song that hopefully will allow listeners to jump up from their seats and sway around to the motivational track. 'Show Me Your Light', a radio single from their previous album Time, is also on their 2013 album too, re-recorded to incorporate more of a keyboard infused musical atmosphere as the song deals with the issue of shining the lights we have in ourselves so the world can see the difference within us and thus see Christ when they view us in our everyday life. With a banjo and xylophone to start the song with, the instrumentation of not just this song but of the whole EP in general isn't your traditional guitar, keyboard and percussion, but rather, musical experimentation throughout all of Sanctuary EP is what makes the album unique, different and something to be inquisitive of and listen to. As we are reminded that we are a city on a hill and a light in a lamp bowl when it comes to the good news about Christ and salvation, we are encouraged to show the world the light we possess as we embark on life with Christ and our family. Well done August Rain for these two catchy and upbeat radio singles, and some of my personal favourites on Sanctuary EP.
'Kingdom' is an upbeat song reminiscent musically of Rend Collective's 'Build Your Kingdom Here' as we are invited to declare alongside the band that God's kingdom reigns and for it to come and manifest amongst believers and non-believers alike here on Earth, while 'Nothing' starts off with an electric guitar and gives the song a southern Rock musical style with Matt placing on his hat of Warren Barfield meets Bear Rinehart to remind listeners that our salvation and hope in Christ had nothing to do with us, and everything to do with Christ and His love and mercy. While not necessarily the most sophisticated lyrical lines written in the CCM industry currently, August Rain and their music have given listeners melodies and lyrics simple to understand and enjoy, as we are hooked into and enjoy the upbeat melodies of 'Nothing' and 'Kingdom' (hopefully 'Nothing' becomes the second radio single from the EP). 'Hope' follows, with a light electric guitar riff and an encouragement to listeners who may have given up hope or feel like their situation is in dire straits; as Matthew provides words of comfort through the poignantly delivered chorus- '…but hope is on the way, tomorrow's day will come, it may be later for you, but sooner for some, but it's really gonna come…' Hope is something every listener needs, and hopefully this melody can provide some kind of anticipation, comfort, relief and trust as listeners hear and declare with all their might that what is spoken about in the song is true, and to hopefully claim the prophecy of hope for themselves in their own lives. Ending the album is 'Sanctuary', another upbeat song with a riveting electric guitar solo to start off the song. Reminding ourselves that it is in God's presence that we can rest and call home, 'Sanctuary' leads listeners to ponder where in our own lives do we feel safe- with our friends, family or with our Heavenly Father? A perfect end to an album that infuses the music of needtobreathe, Warren Barfield, Jimmy Needham and newworldson; August Rain's popularity is sure to increase as listeners hear more of their music. Well done guys for 'Sanctuary', one of the best album ender songs from albums released this year (alongside 'What I See Now' by Josh Wilson and 'All The Glory' by Building 429)!
Overall: August Rain may not necessarily be a well-known band, but after listeners hear Mac Powell sing a duet on 'Show Me Your Light', I'm sure the band will be able to gain more people who would want to hear more of their music. Hearing their 2013 album for the first time when writing this review, my interest to hear more of the band has certainly increased, with both 'iLove' and 'Show Me Your Light' being standouts on the EP in my opinion. A definite purchase for fans of southern Rock bands like Third Day or needtobreathe, or even Christian/soul artists like Warren Barfield, newworldson and Jimmy Needham; Sanctuary EP is a great listening experience, regardless of your musical preference. Listening to this album has led me to declare with certainty that this band will have a great future, with the prospect of being signed in the future (hopefully by the end of the year). Well done August Rain for such a motivational and enjoyable album, and one of my favourite EP's of the last few months.
RIYL: Jimmy Needham, needtobreathe, Paul Colman Trio, Warren Barfield, Third Day
Buy the Album: iTunes/Amazon mp3