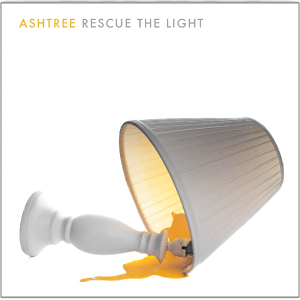 Album: Rescue the Light
Band: Ashtree (Facebook)
Label: Jackie Darling
Release: 3/6/12
Reviewer: BrodyB
January
Wide Open
I'm Sure
Backbone
Rescue the Light
Pretender
Fall Back
Hold Me Slow
You Won't Have To
Closer
While I am an avid music lover who is constantly on the prowl for upcoming artists, piano driven indie rock is seldom a genre I explore. I really am not sure why the genre escapes me. In fact, I love artists like Seabird and Deas Vail. But regardless, Ashtree has inspired me to perhaps look more into that genre more in the future.
The Denver, CO quintet starts "Rescue the Light" off on a slower note, with the dreamy and solemn track, January. The song is a great blend of piano with atmospheric, swirling guitars making for a very moody introduction. Wide Open picks up the pace from its' dreary predecessor, having a more pop influenced feel to it, complete with a catchy chorus and and more driving guitars. However, don't fret, the piano is still present. I feel that Wide Open is a song that would be a hit on the radio. I'm Sure continues the trend of extremely catchy, radio friendly tunes that will bring a smile to the listener's face and have their toes tapping the ground. The highlight of I'm Sure is vocalist Will Johnston as he provides a flawless performance, transitioning from the more laid back verses to full on belting out the chorus. Keeping the trend of solid songs going, Backbone, the primarily piano rocker provides one of the catchiest choruses I've heard in quite some time. Pretender has the potential to be a fan favorite for live shows, keeping the energy up throughout the verses and even into the chorus.
While the first six songs of "Rescue the Light" are undoubtedly some of the best indie/pop music I've heard in quite some time (besides my miniscule knowledge of the genre), the last four songs did not hold my interest in quite the same way. After Pretender concluded, I was unable to really get into the songs as much. I think it was a combination of Ashtree sticking to a predictable verse chorus formula alongside less memorable chorus' that had me slightly detached. Don't get me wrong, going back and listening to the songs on their own was still a good experience, however I felt like the last four songs on the album would not be able to stand on their own as singles like the other six songs.
Ashtree has sparked my interest in this genre that is seemingly unexplored by me, even to the point I found myself checking out artists under "indie pop" tags on last.fm (Something I would not have found myself doing a few weeks ago). Although I believe the guys in Ashtree are more than capable of crafting excellent single worthy material, I hope to see some more growth with their next release, to the point where their whole album keeps me hooked.