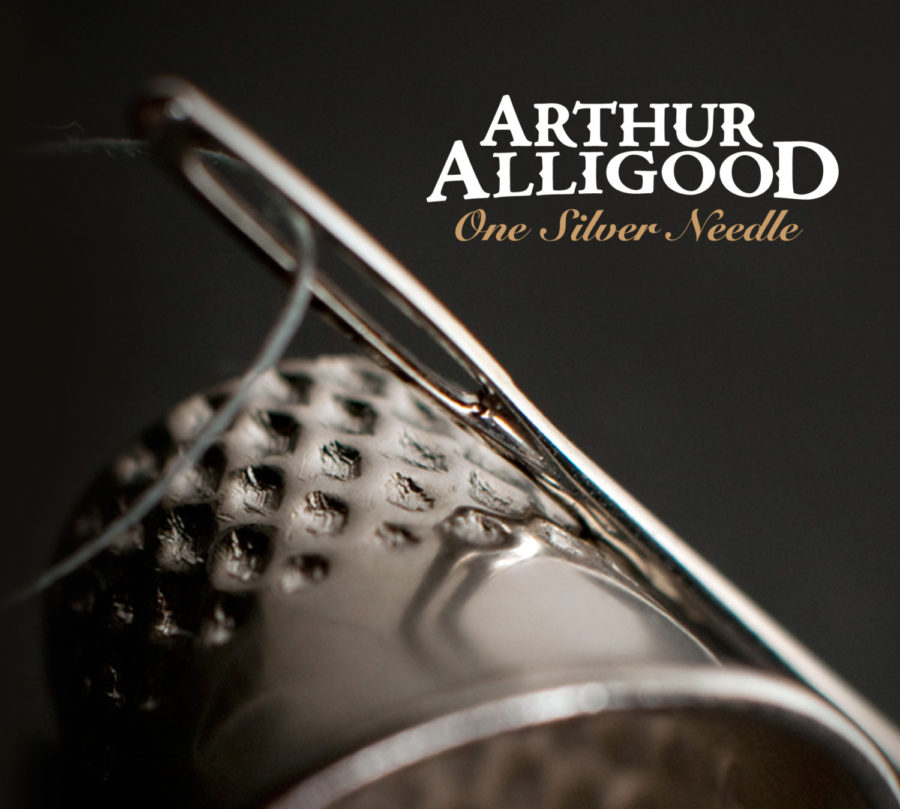 Artist: Arthur Alligood
Title: One Silver Needle
Label: New Song Recordings
Release Date: 4/25/12
Reviewer: Josh Hamm
Tracklisting:
Shouldn't Be That Hard
We Had A Mind To Run
Bring My Heart Out
One Silver Needle
Darkness to Light
Go On Back
Why'd You Let Me Go Cold
Coming for the Heart of Me
Ochlockonee
Right Time Rain
Arthur Alligood is a songwriter, pure and simple. He's been crafting wonderful Americana/folk songs under the radar for about a decade, and One Silver Needle proves that he continues to grow and mature both lyrically and musically.
While the album might not instantly perk your ears up in recognition of a masterpiece, it slowly seeps into you and builds throughout until you finish it with the realization that what you just listened to is a fantastic piece of art. It's the second half that holds the album together though, the first half feels like an opening act- it's good – but not the reason you came to hear. From "Darkness to Light" on is when the album truly begins to shine.
Musically, the instruments are virtually flawless. It is not bending the genre or very innovative, but everything is played exactly as it feels it should be. This isn't surprising, as Alligood won the 2011 Mountain Stage New Song Contest, and so was able to work with producer Mikal Blue (Revolver Recordings) and musicians including bassist Leland Sklar, drummer Jim Keltner and guitarist Michael Ward, who have some astonishing musical credits. So he's got a lot of talent on his side. The album generally makes use of drums, bass, acoustic guitar, and electric guitar, but it also sneaks in organ, piano, cello, and some other surprises throughout. His vocals are easy and laid back; they're soothing and calming, although he gets a bit of a twang every now and then.
Where the album truly shines, as is with many great artists, is in the lyrics. Arthur Alligood has always proven to be a profound and poetic storyteller, and this album is no exception. He has a an ability to form little turns of phrase which are able to speak to the listener in a very succinct way, yet still convey a complex message or story. The closing song, "Right Time Rain," is a prime example, as the first verse is: "Silence settles in/Question marks set the trap/Every period with a crooked catch, oh no/Now all you do is wonder when?" Or on "Darkness to Light," a highlight of the album, where he asks "How do we answer our children/ when they wonder what went wrong?/ Do we scratch our heads and tell them/ no one know really knows why?/ Do we go back to a garden, a perfect little world/ to two lovers who couldn't keep it right?
He's found the sweet spot of creating slightly ambiguous lyrics which are full to the brim with meaning, but take a little bit of work to decipher and truly understand what a song is about. He's not prescribing truth, he's describing it.
The only shortcoming is that sometimes the music and instrumentation can overshadow his vocals and lyrics, so that you lose track of what truly makes the songs special.
Overall: This is a very, very good album from established singer/song writer Arthur Alligood. He's combined impeccable musicianship with poetic lyrics and a personal flair. Heavily featuring the electric guitar, this isn't a typical lo-fi folk project, it's got incredibly high production value and it shows on the album.
RIYL: Orion Walsh, The Wallflowers, The Hotshot Freight Train, Besides Daniel, Cathy Crescendo