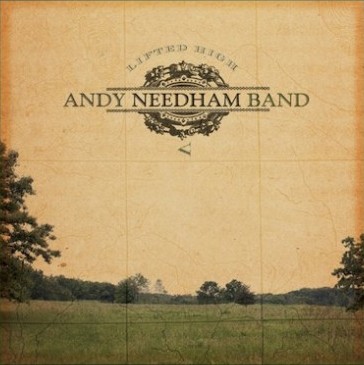 Artist: Andy Needham Band
Title: Lifted High
Label: independent
Release Date: 9/25/12
Reviewer: Jonathan Andre
Tracklisting:
No Love Song
Refuge
Awaken Me
Lifted High
Open Arms
Pilgrim
Weight of Glory
All For You
Christ Alone
Only Just Begun
'…Perhaps revival is not a gathering in our beloved baseball stadium for one night; perhaps it is rising in a million points of light scattered across the landscape transforming a region…Perhaps it is not one voice or one ministry that is going to have the monopoly on the movement. Perhaps it is leaders of all shapes, sizes, church cultures, ethnicities, and denominational nuances investing in Gospel ministry for the long haul…' Readying to release their debut album Lifted High on the 25th September, the Andy Needham band have been able to stir up their hometown in their local Boston church, reminding us that transformation of countries and cities starts in local situations, empowering and equipping individuals to continue their relationship with Christ and be able to share it with those they meet throughout everyday life. With the band's genre reminding me of an acoustic pop similar to mikeschair, Sidewalk Prophets and Pocket Full of Rocks; their worship is evident through as they cry out in their title track, '…may Your name be lifted high…' Though not necessarily going to top the release date with higher prominent releases like WOW Hits 2013 and Matthew West's Into the Light releasing the same day; Andy Needham Band have created an enjoyable album full of real moments of honest worship and surrender, all with an acoustic atmosphere as Andy reminds us of God's closeness in our lives, and His hand throughout our lives, even when we may be continually unaware of it!
'Open Arms' is the first single of the album and though only 2:49, the song is one of my album highlights as I listen to how Andy reminds us of God's loving nature, and that He's standing with arms open wide for each of us as we constantly make our way back to Him throughout our lives. The song's acoustic nature akin to either Josh Wilson or Steven Curtis Chapman reminds me of the simplicity of it musically, yet equally profound in its lyrical nature. As Andy reminds us that '…the song is a reflection on the fantastic faithfulness and grace of God, our persistent Father, who pursues us and embraces us in our brokenness…', this cheerful and optimistic melody full of light acoustical goodness, reminds us just how much Christ loves His children, enough so that we can proclaim that '…when the darkness seems so strong, You are standing by with open arms…' The title track 'Lifted High' carries on from the album's first single, and is a worshipful melody full of awe and wonder. As Andy proclaims '…majesty and glory, the words fail to describe…wonder fills this worshipper with undeserved delight…', reminding me vocally at times like Joseph Rojas from Seventh Day Slumber, Andy's somewhat repetitious lyrical line '…may Your name be lifted high…' is a certain reminder of His greatness and majesty. Through the somewhat subdued electric guitars, this song may not necessarily live up to the well-polished label albums by other worshippers like Chris Tomlin or Matt Redman, however, Andy's heart is just as evident. Well done to Andy and his band for creating these songs of passion that lead into a record that though indie, provides great promise in their future musical careers.
Not hearing the Andy Needham Band prior to listening to this album, Lifted High presents itself as a decent album full of raw and honest worship as these four men from Boston pour their hearts and souls into creating an album focused on proclaiming '…Christ is raised, Christ be praised, we will live for Christ alone…' ('Christ Alone'). Starting the song in an acoustic fashion with an acoustic guitar and light percussion, 'Christ Alone' is one of the most heartfelt and transparent songs on the album as Andy cries out poignantly in the first verse- '…let it be said of us, let it be true of us that Christ alone was our desire…' This comforting yet also confronting lyrical line reminds listeners to see if their own desires are still true to Christ, or if they're 'worshipping' something else. We all worship something, and this song is a helpful encouragement to reassess our devotion as we continually focus on the cross and resurrection of Jesus. 'Awaken Me' is a guitar driven song with a piano undertone about asking God to awaken our eyes and hearts to see the beauty and wonder of His majesty, grace and affection, reminding us that '…in spite of all I've done, sufficient is Your grace, open up my blinded eyes to see…' 'Weight of Glory' also reminds us of the matchless and unfathomable glory that abounds in Christ in this guitar driven song of awe and adoration, with Andy lifting up praises in the words '…oh the depths of your mercy, oh the breadth of your love, our hearts revived and revealing the weight of Your glory…'
In fact, each of the songs on this 10 track album remind us of how big God is, and how He is our Father, undefeated in splendour and power, ready to be lifted up as we proclaim His fame and renown over all the Earth. And though at times the feel of the album can slip back into indie (promoting connotations of cheap quality and unpolished melodies), the album does provide some unique and refreshing worship melodies in 'All For You', speaking about giving our praises to Christ in light of everything He gave to us; 'Only Just Begun', with a fancy piano intro speaking about how we've only just begun to sing of God's praises; and 'No Love Song', a rocking song about God's awesome qualities and how no love song to God will ever be enough to sing His praises as we fully grasp His never-ending love towards His creation. Each and every song by these guys has shown heart behind it, and as we are reminded by Andy that '…worship as a living reality, not a segment of a Sunday service…[it] is seeing and being awakened to God as great, glorious, and at the same time gracious and intimate. It is how we live in abundance and heartache…', we get a glimpse into the hearts behind this album of hope and honesty. As the album closes with '…my Lord and my King…we've only just begun to sing…' ('Only Just Begun'), I am able to sing along with Andy as He humbly places everything at Jesus' feet, just to cry out the humbling words of honour and devotion. Well done guys for one of my favourite tracks in the album closer!
Overall: '…This is what we see and why we are encouraged to be a part of what God is doing in New England. We want to raise that banner, to be a voice crying out that God is alive and at work …' Though not having heard of this band's existence before listening to this album, I'm glad I did, my musical tastes broadening to incorporate indie worship. Though not necessarily as fine-tuned as other 'label' songs, Andy Needham Band make up for it with passionate enthusiasm and raw honesty to craft 10 songs of worshipfulness as I sit back and remind myself of God's faithfulness and our response- nothing less than thanks, gratitude and praise. Fans of modern worship will find themselves listening to this album, and though it takes a little getting used to, it's well worth the listen to see how independent artists worship. Well done Andy Needham Band for creating an album that will certainly place you guys on the map for a possible label signing, and looking forward to album Number 2 whenever it comes.
RIYL: Chris Tomlin, Paul Baloche, Tim Hughes, Matt Redman
Buy the Album: iTunes/Amazon mp3