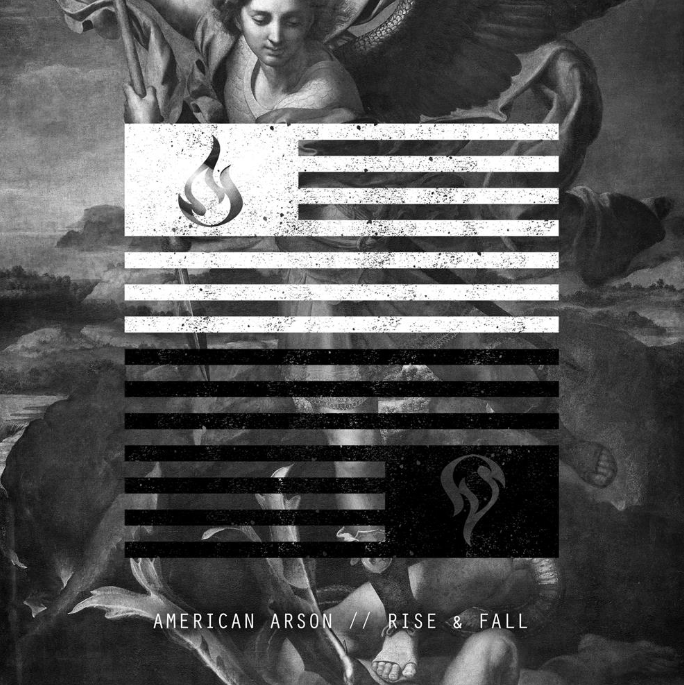 It's been a little quiet from Detroit rock duo American Arson for the great part of almost a year now; they released a cover of "No Mercy" then took a few months off while guitarist/vocalist Evan Baker got married and tended to his coaching career. They broke their hiatus toward the end of October with the release of "Rise", which would go on to become the first track off their latest EP. The band has been touring fairly aggressively recently, but apart from that, all seemed fairly still.
That was, until yesterday. Facedown Records posted a cryptic (well, not really if you recognize the band's imagery) video hinting at new music. The guesses on Facedown's post as to who the band was were fairly entertaining, ranging from MyChildren MyBride, For Today, Haste the Day, and Deathbreaker. While these guesses were hilariously off-base, they gave way to a sobering truth: five years after inception, American Arson is still unknown to many.
Fast forward to today, and all of that changed. Rise & Fall dropped and fans old and new alike have been vigilant in spreading the news. The show of support is incredible and well-deserved for a band with such catalog.
Admittedly, the music itself is a change of pace for the band, albeit it's positioned well for a label release. While American Arson has rarely stayed in one place, the music of Rise & Fall feels like a statement more than anything else. It's concise, with a runtime just shy of nine minutes, and in many ways it's the band's most accessible work to date. Baker's voice is still raw and drummer Jesse Gentry is still on point with fine-tuned drumming, but it's moments like the gang vocal woahs on "Rise" and the synth-like segments that permeate the EP that give it certain commercial gloss. That's more of an observation than a judgment as the tracks don't feel weak by any stretch, but it's certainly a noticeable stylistic change that opens to the band to wider appeal.
Nonetheless, everything that longtime fans have loved is still here: layered vocal loops, spoken word segments, ambient interludes, and unbridled passion coalesce with these new elements for a mix that sacrifices neither artistic integrity nor care for the listener.
I've spoken with Evan both on and off the record in the past about future plans and, while I don't know quite how these endeavors will play out, it's nice to see these two gentlemen finally get label support. Rise & Fall is a great entry point for new listeners and certainly hints at what may be at work, but I certainly suggest you check out the band's back catalog as well for even more audible gold.