Album Review :
Ambassadors of Shalom - Abdicate Self
By Scott Swan in Reviews | Comments closed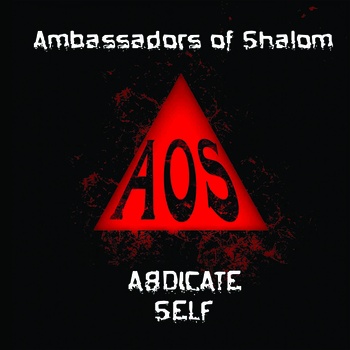 Artist: Ambassadors of Shalom
Title: Abdicate Self
Label: Thumper Punk Records
Release Date: 2/11/2014
Reviewer: Scott Swan
Tracklisting:
Astray

This Ain't Home
Jesus Said
United We Stand
Break'em Out
Opposite the Enemy
We Don't Need It
Death by Love
Blamethrower
Nothing but the Blood
Julia
Victory
It is Finished
Formed in January 2012 after playing an acoustic show at a community center, Ambassadors of Shalom came together and began pumping out what the band describes as "Evangelistic Punk Rock" music. Based out of the UK, the band signed with Thumper Punk in March of 2012, and have now released their debut record "Abdicate Self," produced by Tom Davies.  I looked up the definition of the word "abdicate," not being a word I use everyday (or probably have ever used). According to the trusty Merriam-Webster dictionary, it means "to leave the position of being a king or queen, to cast off, to relinquish." Certainly a pointed metaphor for anyone trying to live a life in Christ while putting Him and others above yourself.
The music of AOS is very straight forward and generally well executed. From the opening notes, you'll notice the brisk pacing of the songs along with a multitude of memorable guitar hooks. The production quality seems to border on sounding like a demo at times, but you sort of get the feeling that is exactly what they wanted it to sound like. It's a raw, loose sound that is what you would expect from a good punk offering. The calling card of this record's sound is most assuredly the blistering guitar licks that drive basically every song. The vocal duties are shared by Pete Field (bass) and Neil Roddy (guitar). While there are heavier and lighter moments of shouting/singing, I felt the British accented lyrics are well conveyed. Even during the times when both Field and Roddy are shouting together, they are easily understood for the most part even without a lyric sheet. Speaking of lyrics, the album is as direct as it can be from about any angle. Proclaiming the Good News of a life found in Jesus at all turns. The lyrics leave no doubt of the strong desire that these young men have to see the world changed for Christ. They use the "take action" attitude that punk seems to carry with it and apply the Gospel as it's driving force.
"This Ain't Home" speaks of keeping proper eternal perspective and realizing that our true home is in Heaven. With the chorus: We're not here to stay/Thank God He is on His way/We're not here to stay/we're not looking back."  A real standout track for the album is the rocking "Jesus Said." Firing off with a heavy melodic guitar riff and the vocals that seem to be going through Vox effects. I feel that this is one of the tightest tracks musically on the record and a pure joy to listen to. While listening to "Abdicate" you might easily find yourself singing along to many of the songs, as there are many chances to do so. There are also a few songs such as "Julia" and "Break'em Out" that deal directly with drunkenness, and then an ultimate change by releasing their life over to the Lord, presented in a testimonial way.

For me, one of the strongest tracks lyrically would have to be "Death by Love." In an almost worshipful punk moment (I guess that's possible right?) the lines belted out: "He became death by love now I'm covered by the blood/He came to this earth to show me what I'm worth/Raised me up from the dead/Paid in full the darkest debt/Set me free from captivity I once was blind/but now I see."  These words could be slipped into a lot of worship songs designed for corporate church worship with no issues what so ever, but with AOS's punk flair, it certainly adds some spice. Included is a punked up version of the classic hymn "Nothing but the Blood" which is skillfully energized in this remake.
Overall: Though some listeners could mention a few problems with this release that could be legit, (such as sound quality and the general sameness sounding of some guitar riffs for example), I still feel that it's just street punk: pure raw sound with an attitude. I think it's great for what it is, and would highly recommend this for any fans of the genre. It was just an enjoyable listen for me, and the "slap in the face" lyrics were right up my alley. I also feel this record could really set the stage for even greater offerings in the future, but for a first record this was a nice start.
RIYL: Absolved, Platoon 1107, Close Your Eyes