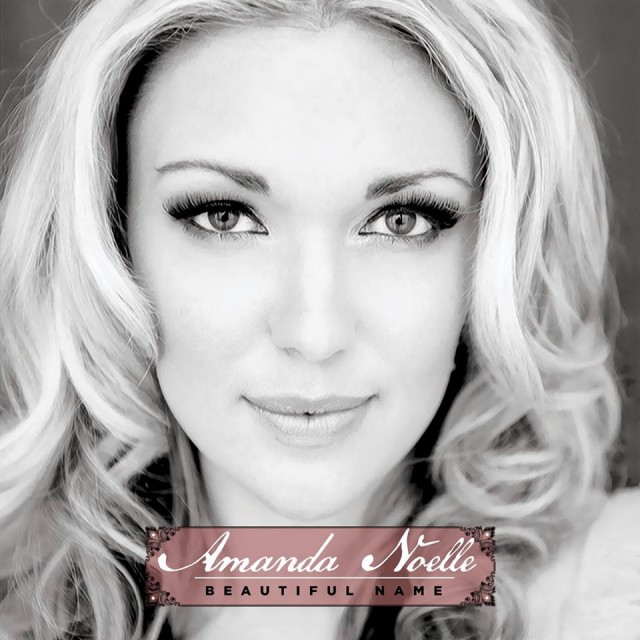 Artist: Amanda Noelle
Title: Beautiful Name EP
Label: Save The City Records
Release Date: 8/20/13
Reviewer: Jonathan Andre
Tracklisting:
Bigger Than Your Fears
Lights Out (feat. Manwell Reyes of Group 1 Crew)
Beautiful Name
All About The Glow
Limit
Love is Greater
Back to You
One third of the newly disbanded Kimber Rising, Amanda Noelle has had a whirlwind of start in the Christian music industry. As part of a trio (and as a solo artist), Amanda has opened for many prominent CCM artists, from Mandisa, Lecrae, and Natalie Grant, to being tour colleagues with Building 429, Todd Agnew and 33 Miles. With such a poignant and powerfully piercing vocal reminiscent of Mandisa, Mariah Carey or Beyonce; Amanda's first solo EP titled Beautiful Name is perhaps one of my favourite EP's of the year so far, with this album certainly increasing Amanda higher on my list of favourite artists on Save the City Records (the first favourite is Holly Starr, closely followed by Amanda, and then Je'kob). Even though Save the City Records may be a small label and not that competitive or popular compared to the big 3 (Word Label Group, Capitol Christian Distribution, Provident Label Group); Amanda's presence on the label will certainly boost the interest of listeners, both in her music as well as the label in general. Releasing her first radio single 'Beautiful Name' after her promotional radio single in 2012 ('Love is Greater'); Amanda's ability to switch between beautifully choreographed ballads and upbeat songs full of dance-pop backdrops is something that makes this EP unique. Featuring a duet of sorts with Manwell of Group 1 Crew; Amanda has delivered 7 heartfelt songs that are certain to please listeners who are fans of pop-rock uplifting music a la Jamie Grace, Britt Nicole and Beckah Shae!
'Love is Greater' was promoted and released to radio throughout 2012 as the first song recorded post Kimber Rising from Amanda. With an electric guitar riff to start the melody off, we are invited into a moment of fun-filled goodness as Amanda declares that the love that we receive from God is greater than anything else we can ever imagine or even fathom. A tad below 3 minutes, Amanda gives a recount of everything that love (especially God's love) is greater than- '…it feels like driving in a car with a top down singing, listen to the radio the day is sweet and I'm feeling good, chilling on the beach the sun is shining, hanging with my friends, we'll hit the good life and it's great I know, but His love is greater than that…'; reminding us all that whatever we can experience is nothing in comparison to the love that we can receive from Christ, through daily words of encouragement, melodies, songs, communion with Him and the like. An energising track that gives glory to God who gives everything that's good in this world; 'Love is Greater' is a message of elevating the Lord and His love above everything else, tangible or not. A track that could've easily been on a Britt Nicole or Beckah Shae style album; 'Love is Greater' paves the way for Amanda's new and current radio single 'Beautiful Name'. Released to radio in June, 'Beautiful Name' is a straight-up worship ballad where Amanda declares amidst the light electric guitars and powerful drums and keyboards that '…knowing that You're here is enough, is enough for me, every tongue will confess at the glory and strength of Your name, of Your beautiful name…', something that is able to place us listeners in the mood of emotional and uplifting worship and praise. A song that's destined to do well on AC/CHR Radio in the next few months ahead, Amanda invites the Lord to take away '…all of my hurt and pain, all of my foolish gain, all of my self-made chains…', a moment that requires great strength and vulnerability. Hopefully something that we should ought to ponder and declare if we truly believe that Christ can and long to take away everything that holds us back from experiencing life and life fully; Amanda has given us two very distinct songs musically, but both holding a similar lyrical theme- that Christ and knowing Him and His love is so much more than we'd ever know or imagine, and that in order for us to declare the words 'beautiful name', we must first surrender everything that we have to the Lord- even the darkest places of ourselves. Well done Amanda for these two tracks, with both 'Love is Greater' and 'Beautiful Name' being some of my favourite songs on the EP.
The first song from the album (and first music video, shot in Belize in March 2013), 'Bigger than Your Fears' is a powerful ballad full of light electronic keyboards and the powerful vocals of Amanda channelling some big vocally driven notes similar to how Natalie Grant or Mandisa used to do their songs and reach the high notes in that same fashion. Reminding us to always trust and lean on God and make sure that our fears don't keep us down, Amanda declares with all her heart to '…let your faith be bigger than your fears…you'll fall away but He is always near…'; something for us to ponder and remind ourselves of on a continual daily basis. Our faith will at sometimes feel like a mouse compared to the elephant of fear we may be feeling at some point, yet this song will hopefully give some comfort and possibly some resolve to believe that our faith, and God Himself is certainly much bigger than whatever we can feel or whatever Satan tries to tell us. With a light electronic keyboard musical backdrop, Amanda encourages us all, that '…His love is deep, His love is wide enough to fill the emptiness inside, He is there so cast your cares aside, you don't have to hide…' 'Back to You' is also a similarly tempo paced melody that places together inspiring lyrics to an uplifting musical beat as Amanda unveils a piece of honesty in the poignant words of how '…I've been trying hard to find my way, living day to day on my own, I get tired trying to run this race, feels just like a maze…' A moment of surrender and being free in the notion that as we come back to the Lord, all our troubles, worries, hurts and mistakes are placed with Jesus to leave a freeing feeling where we can just rest at Jesus's feet; 'Back to You' invites listeners to be ministered through the infectiously powerful voice of Amanda, as we together declare that we're giving everything back to God as a token and sense of gratitude and thanks. Also providing us with dance-pop melodies, Amanda's central theme of showing Christ's love is apparent in every song she sings. 'Limit', an electronic beat and percussion based song, gives us a call to action as we '…take it to the limit…', a saying that invokes a sense of action and doing as we utilise every single talent and gift we have to God's glory; while 'All About the Glow', an electro-pop dubstep infused song, reminds us of the love and glow we have inside of us through Christ's love, encouraging us to '…light it up and put on a show, it's all about the glow…' Amanda also has a duet with Manwell from Group 1 Crew on 'Lights Out', a dance electronic beat infused song that gives us an encouragement that what we have inside of us is bursting to come out, and all we have to do is let the light and love of God shine through us wherever we are.
Overall: With these three upbeat songs complementing the other reflective melodies like 'Back to You', 'Beautiful Name' and 'Bigger than Your Fears'; this ex-lead singer from Kimber Rising and now solo artist is certain to become more popular through her songs, and for me personally, this EP is right up there with The Sonflowerz's Love Walked In and Vertical Church Band's Vertical EP as some of my favourite songs from EPs released in 2013 so far. With Amanda a prominent artist on Save the City Records, I'm sure this EP of hers will certainly create much more buzz and interest in her music, and hopefully further increasing publicity and continual promotion of the record label (home of artists like Holly Starr, Je'kob and Stomptown Revival). From the promotional single, to the first radio single, as well as other standouts like 'Back To You' and 'Bigger than Your Fears'; Beautiful Name EP is sure to be on repeat in my iTunes playlist (and hopefully others iTunes lists) for months and years to come. Well done Amanda for such a powerful and compelling album!
RIYL: Natalie Grant, Mandisa, Jamie Grace, Beckah Shae
Buy the Album: iTunes/Amazon mp3