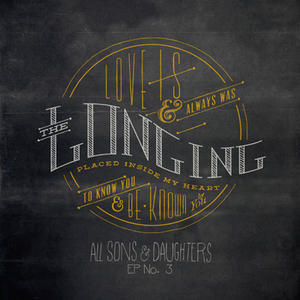 Artist: All Sons and Daughters
Title: The Longing EP
Label: Integrity Music
Release Date: 09/25/12
Reviewer: Josh Hamm
Tracklisting:
Oh How I Need You
Hear The Sound
Rising Sun
Call Me Higher
We Are Blessed
The Longing
All Sons and Daughters have a nice niche: Folk-CCM. Their music is comfort food, nothing fancy or wondrous, but music which nourishes heart and mind. I have been, well, not exactly disappointed in the past, but I've felt that they had so much more potential to live up to. The first thing I noticed in this EP is how much more mature their sound is. It's more full, complex, and all around more enjoyable to listen to.  Whenever I heard a song that I thought was going to get stale and boring by the halfway mark, it was suddenly infused to life with a new instrument or lyric or style that I didn't see coming.
While I often enjoy rough voices and production values dialed back with some folk groups, such as ElisaRay or The Collection, I can't deny the irresistible pull of All Sons and Daughters' smooth melodious vocals and the slick production on this EP.
The lyrics lend themselves towards a theme of pursuing God in the midst of our trials and doubts, in a very psalm like manner. The opening track, "Oh How I Need You," stands out as the greatest song, opening with a simple a cappella duet "Lord I find You in the seeking /Lord I find You in the doubt /And to know You is to love /And to know so little else." Piano and acoustic guitar trickle in over the chorus, and then a delightfully joyful strumming pattern picks up, following by an upbeat clap based percussion, and before you realize it you're tapping your foot along, completely enthralled. Gang vocals near the end send chills down my spine. But what really get me are the lyrics "Lord I find You in the morning /Lord I seek You every day /And let my life be for Your glory /Woven in Your threads of grace," which remind me of G.K Chesterton's quote: "You say grace before meals. All right. But I say grace before the concert and the opera, and grace before the play and pantomime, and grace before I open a book, and grace before sketching, painting, swimming, fencing, boxing, walking, playing, dancing and grace before I dip the pen in the ink." There's something intrinsically wonderful in the idea of seeking and praising God in every possible aspect of our waking lives.
The other tracks are almost as good as the first. "Hear the Sound" again starts in classic ballad fashion and builds up throughout the track, with generic albeit true lyrics, but doesn't reach the same musical pinnacle as the opener. The formula seems to work for them, as it continues again with "Rising Sun," which pulls off the "ballad-build up" method perfectly, with a simple reprise, "Our great redeemer, Glorious Savior /Your name is higher than the rising sun /Light of the morning, You shine forever/Your name is higher than the rising sun," but ends on great gang vocals in the background while Leslie Jordan and David Leonard fervently cry "hallelujah." This middle section of the EP is good, but it really picks up again with the final two songs, which help take it to the next level stylistically and lyrically.
"We Are Blessed" features some of my favourite lyrics on the whole album, "We are loved at the end of our rope /When we're less there is more of the Lord /In the fight for our souls we must learn to let go /And abandon who we are," as well as the great chorus "We're blessed, we're loved /Our hearts our souls /We now rejoice, rejoice." It also has some of the best vocal work, and a more dynamic song structure than the rest of the album.  Finally, "The Longing" allows Leslie Jordan to shine at the forefront, in the one true ballad of the album, and lyrically it expresses that ultimate desire: "Love is and always was /The longing placed inside my heart /To know You and be known by You." What truly makes these songs resonate though is how honest they are. Even in their simplicity, it's an astoundingly true and meaningful simplicity.
Overall: The Longing EP has everything you've come to expect of All Sons and Daughters: beautiful, breathtaking harmonies, lush folk sounds, and prayerful Christ-centred lyrics. But it's even better than before.
RIYL: Gungor, John Mark McMillan, Mumford and Sons, ElisaRay, Jon Foreman, The Civil Wars, Over the Rhine