Album Review :
Alex Faith & Dre Murray - Southern Lights: Overexposed (Album / Visual Album)
By Anthony Peronto in Reviews | Comments closed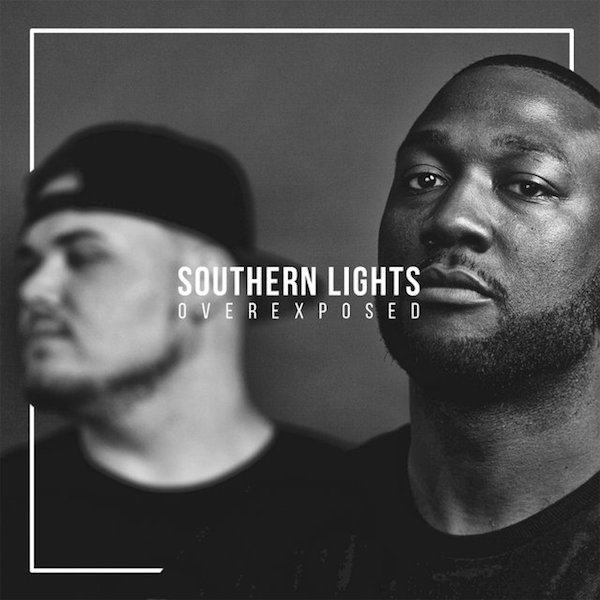 Artist: Alex Faith & Dre Murray
Title: Southern Lights: Overexposed
Label: Collision Records
Release Date: 04/28/2015
Reviewer: Anthony Peronto
Tracklisting:
Overexposed ft. Sean C. Johnson
All Around The World ft. Tragic Hero
Wake Up Music ft. Swoope
I-285 (Interlude)
Money ft. Reconcile
City Of Nightmares II ft. Ada-L
I-610 (Interlude)
Decatur Street Blues ft. Corey Paul
Forever
Takin' Time ft. Young Noah
The Album (4/5):
When you hear the word "overexposed" a few negative thoughts come to mind. It could mean giving too much attention to a celebrity or public figure. And in photography, it occurs when exposing film to too much light. But for Alex Faith & Dre Murray, members of Collision Records' WLAK, the word has an entirely different meaning. As two emcees that have built their careers on transparency and honesty, they seek to shine their light into a culture that many do not experience firsthand. Deeply rooted in the South, Faith & Murray discuss topics ranging from success, racism, and money using their own experiences and storytelling craft. But does Collision Records' first album of the year burn out or shine bright in a potentially great year for music?
With Gold Rush: Maybe One Day and both Hell's Paradise mixtapes under his belt, Murray may be the more accomplished artist of the two, with opening verses like "My brother told me that skin is my sin." And on "City Of Nightmares II," Dre's verses over Wit's production sound like a song straight off of Hell's Paradise. However, Alex Faith is the biggest surprise on the album. From his rapid cadence and flow, especially on "Overexposed" and "Wake Up Music," you can sense how much Faith has improved as an artist since his far-from-perfect debut album.
As they toured together and struggled to find bookings, both Alex and Dre felt compelled to set the record straight about their goals, doubts, and approach to hip hop. In the vein of WLAK's "Welcome To My Life," they address fans and haters alike on the bangin' "All Around The World", the contemplative "Forever", and the closer "Takin' Time." They may not be perfect tracks, but one standout is Young Noah's feature on the closer. Delivered like a confession with hushed and pleading tones, Noah forgoes his usual flow and helps bring the album to a satisfying end. But the most powerful song on the album is less about hip hop and more of a spiritual cousin to Lecrae's "Welcome To America." Filled with rousing horns, "Wake Up Music" discusses racism and ties Selma and MLK with recent events like the deaths of Mike Brown and Eric Garner.
Faith & Murray's connection to hip hop culture and racism could contain an album's worth of material. The "I-285" and "I-610" interludes may give us background information on the duo but their knack for storytelling is not wasted. From the Bone Thugs-n-Harmony inspired "City Of Nightmares II" to the infectious "Money," Faith & Murray take on first-person narratives about their upbringing in the South. Where the downbeat "Decatur Street Blues" may be surprisingly disappointing, "Money" is the standout storytelling track. The duo's chemistry shines through as they both deliver verses that are equally impressive.
The Visual Album (3/5):
The visual album is not a new concept, even in hip hop (ex. Kanye West's Runaway). But unlike Beyonce's 2013 self-titled album/visual album, Alex Faith & Dre Murray have helped craft a film that has a linear story alongside the music. The visual album follows "the story of a young man, Eric Young, whose world is shattered when he is unable to prevent the murder of his older brother." The plot may sound simple, but in reality it's hard to follow. Except for the "All Around The World" credit sequence and the "I-285" and "I-610" interludes, each section needs to tell visual stories while also making time for the rapping emcees. This makes it difficult to identify and connect with the characters of the film. For example, there is a slight parallel when the undercover cop and the killer both show regret with a 6-pack of the Miller beer and gun to their own heads. It may be an effective image but it's still clichéd shorthand for a character's thoughts.
As a cinephile, it may seem that I am being too critical of the visual album. It may be "first of its kind" in CHH but Faith, Murray, & the cast and crew have still set the bar pretty high. With good cinematography, solid acting, and appropriate ending the film is solid overall. But does the music complement or detract from Eric Young's story? Surprisingly, it's an almost 50-50 divide. The biggest detractor is "Wake Up Music," where the subject matter combined with the cop's lamenting doesn't work compared to Faith & Murray's separate music video. That video had a better framing and visual device, with each emcee (in color) and the younger version of themselves (in black and white) confronting racial issues. But the most complementary section of the film is "City Of Nightmares II," which is nearly identical to the music video. But as Eric Young sleeps, the dreamlike effects, superimposing images, and flashbacks all come together to convey the character's state of mind.
Overall: This album's target audience is not the attendees of youth conferences and TobyMac concerts. But that doesn't mean there isn't universal appeal in Southern Lights: Overxposed. Alex Faith & Dre Murray communicate about the world that surrounds them, but also provide the lyricism, production, and features that make up any high-quality hip hop album. It may not be perfect, but the album shines a light on the need to acquire the knowledge of other cultures and the hope that can save anyone. As for the visual album, it contains many elements of a good film but is brought down by too many issues. Maybe the filmmakers should have spent more time on the script instead of dropping so many cans of orange soda. I guess it must hard to correctly drop a soda can, as there is even a listing in the credits for Soda Dropper. Sounds like a sweet gig to me.
RIYL: Any Collision Records Artists, Bizzle, Thi'sl, Dee-1, Reconcile