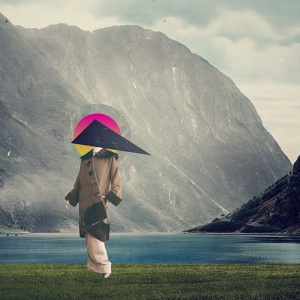 Artist: Air Review (iTunes) (Bandcamp) (Spotify)
Title: Low Wishes
Label: Velvet Blue Music/Spune
Release Date: 01/29/13
Reviewer: Carter Fraser
Tracklisting:
Rebel
Young
America's Son
H
Waiting Lessons
Low Wishes
My Automatic
Fin
Animal
Like the comparable Arcade Fire, Air Review have sought to present themselves as symbols, but there's a key difference: Arcade Fire were already symbols, and The Suburbs was a commentary on their "people", if you will. Low Wishes is more of a suggestion of representation than a commentary. Air Review, somewhat miraculously, manage to pull off their label debut with such poise that there's not even a hint of arrogance or pretension to be found however. Take the meditative chorus of "America's Son", probably the album's highlight, as an example: "I am America's son / and I'm not the only one / I am America's son / and I'm so inclined to run". There's a universality to Low Wishes that also manifests itself in their musical style to a certain extent. Low Wishes generally sounds like your stereotypical, 2010's indie rock record, but they manage to pull it off so confidently that it's not worth criticizing them for it.
Air Review take a slightly more subdued approach than the aforementioned indie poster children. A preference for subtlety is evident and permeates nearly every songwriting and production decision. There's hardly a dull moment on Low Wishes, if not maybe one too many whoa-oa-oah's. The guitars are frequently used to promote the album's misty atmosphere, seen most dramatically in the simply gorgeous "My Automatic". The vocals then are given the lead in carrying the songs along, and Douglas Hale is more than capable of bearing that responsibility. The thumping rhythm of the title track is perhaps as grand as these Dallas-natives get. They smartly keep Hale singing his tenor fairly close up to the end of the song before resorting to whoa-oa-oah's to finish things out.
The Christian lyrical content is most obvious in "Waiting Lessons", another notable song. This piano-centric track could almost be seen as a worship song, although it hardly comes off as one immediately. It would be easy to call it an ambiguous prayer, referencing oceans, flowers, and other pretty nature-y things. However, further study reveals that in some ways it does sound as if it were influenced by traditional hymns, especially in the opening verse. This mood appears briefly at other points on Low Wishes and provides a gentle air of wisdom that disguises this five-piece's youth.
Overall: Low Wishes is easily one of this young year's best indie rock records. It lacks the pompousness sometimes seen today and finds it's strength in humble genuineness. Fans of today's accessible indie rock certainly will be won over by its confident, ethereal familiarity.
RILY: Arcade Fire, Future of Forestry, (recent) Bon Iver, Broken Social Scene, Hey Rosetta!