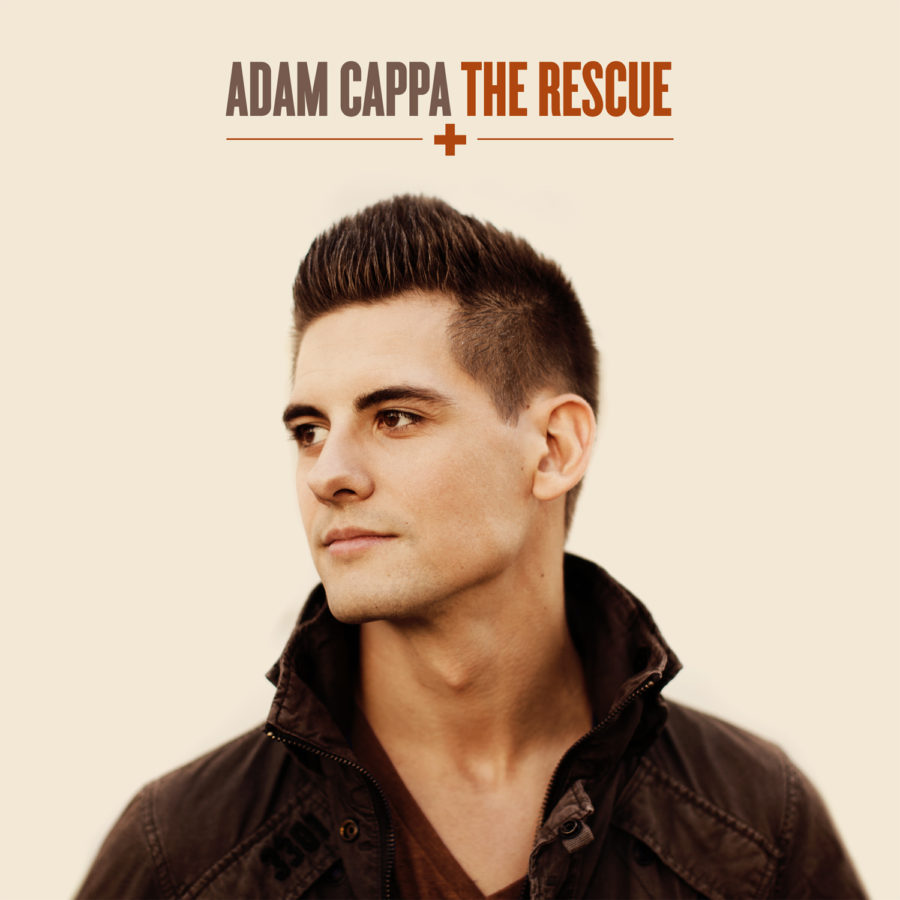 Artist: Adam Cappa
Title: The Rescue
Label: BEC Recordings
Release Date: 3/13/12
Reviewed by: Jonathan Andre
Tracklisting:
The Rescue
All I Really Want
Washed Over Me
The Only One
Sail Away
Perfect
Only a Glimpse
From the Inside
What's at Stake
How Worthy
Newcomer to BEC Recordings, Adam Cappa, has released his debut project, The Rescue, after his introduction into the CCM scene in November 2011 with his The Rescue 3 song EP. Being introducing to him through worship pop artist Jeremy Camp, I listened to Adam's mesmerising vocals (similar to Matthew West and Brandon Heath) and was drawn to the lyrical content. The hit radio single, 'The Rescue', was successful; commercially and personally, and through this simple song of surrender, I wanted to see if the rest could measure up to this honest and vulnerable track. I was pleasantly surprised that it did, and with the impact this album made on me, I noticed a central theme throughout the album; of coming closer to God in all of our troubles, knowing that He is our rescue and will always be with us; that He is the only one that will satisfy the longings of our hearts. From soaring ballads to radio-friendly pop tunes, Adam's debut is one to savour and not to be overlooked.
'The Rescue', the first radio single and one of my favourites on the album; starts with a guitar riff, leading into Adam singing the lyrics '…have you ever lost your way, getting by with no direction; living always so afraid of the fear that fills your mind…' Everyone can testify with the moment of loss, confusion, and a general need of direction. This song aims to show us that God is always with us in those moments, that '…you don't have to be alone…' As Adam puts it in a newreleasetuesday.com interview, his motivation behind the song was when Peter took his eyes off Jesus when he was walking towards Him on the water; before he started to sink- '…It made me think of those moments in my life when I've taken my eyes off Christ…people focus on Peter's lack of faith…but I also think about the great faith it inspired…he understood only Jesus could save him…'This song reminds us that though we fall, our greatest achievement is to ask the Lord to help us in the moments when we need Him, to acknowledge that He can save us, and that we even want to be saved. A guitar-driven song to play loudly wherever you are, this is one of the album highlights.
'Perfect' starts off with gang vocals in a similar vein to Lincoln Brewster's 'Today is the Day', and with electronic keyboards, this song is another highlights. As Adam sings in the chorus '…no matter what you say, no matter how it seems, I want you to know you're perfect to me…', we understand that no matter what people in this world say or don't say about us, we as Christians believe that God sees us as holy and blameless because we are in Christ. 'Washed Over Me' is another radio single. While having its cliché moments, nonetheless the song is a great reminder that '…I've been washed, I've been cleansed, I have been set free…' With percussion and guitar hooks together with soaring keyboards in the chorus, I was able to worship with Adam, praising the God who washed my sin away. As Adam sings 'Sail Away' and 'The Only One', I am amazed at how similar he is to how Matthew West sings. 'Sail Away' speaks about how we should sail away from all the negative thoughts that are plaguing us everyday; that we should '…sail away…don't let the world bring you down…you can rest in him…' 'The Only One' shows that God is '…the only one I can run to, when I put up the walls, you break through…you're the only one I can trust in when everything around me is falling…' With background vocals on this song similar to Matthew West's 'Survivors', this song has captured my attention, musically and lyrically. With amazing truths laid across strong guitars; this is my favourite along with 'The Rescue'. God is the Only One for us, and no matter what state we're in, we can always come to Him knowing that He is our Father.
The rest of the album highlights many different themes; 'Only a Glimpse' showing listeners that the love that we see God display for us is '…just a glimpse of your love…', that what He feels for us is so much more than we can ever fathom. The love that we have received is '…only a glimpse of what's waiting to come…', and with the driving guitars, piano and percussion, I am drawn into the truth that God loves us more than we can fully understand. 'From the Inside' invites us Christians to be vulnerable and honest, showing our scars from the deepest parts of us. Once we are in Christ and realise that there is no condemnation in Christ Jesus, we can change from the inside and let others in knowing that there is no judgement and accusations from others who are just as broken as we are.
As many people know, many artists place the strong songs are at the front, and the weaker songs are at the end. But this is certainly not the case with 'How Worthy', the last song from the album. With just the piano, Adam's honest lyrics are brought to the fore when he proclaims '…how wonderful powerful is our God, how loving forgiving is the Son, how worthy is He…' As Adam sings, the impact of his lyrics is heartfelt. As many people listen to this song, some will be reminded about things that they have known for years. But some that listen may only know for the first time that God is indeed worthy of our praise and adoration; because of who He is and what He has done that we can celebrate our freedom in Him. This song of reflection is both for the Christian who is reminded of the Lord's work in their life, but also for the person who doesn't know Christ, and as the lyrics soak their heart; the Lord comes in to minister to the parts in their lives that need healing and restoration.
Overall: With every song co-written with Jeremy Camp, I can see Adam Cappa in the Christian music industry for a long time. His honest portrayal of brokenness and healing in Christ has me standing and applauding his mature writing beyond his 25 years. As shown through the lyrics of 'All I Really Want'; '…all I really want is You; nothing better I can find…' I can see the central theme of this album: that everything that we do is for God, to God, and through God. We are everything to Him, and as Christians, God is everything to us too. We are all on a search and journey to find the missing piece to the puzzle, the answer to all the questions stirring inside of us. As I listen to this collection of 10 emotive songs, I am convinced that Jesus is the answer. This is an album of clichés and other out-of-left-field moments, and will be an album to savour for the months and years to come.
RIYL: Matthew West, Brandon Heath, Jeremy Camp, Bebo Norman
Buy the Album: iTunes/Amazon mp3