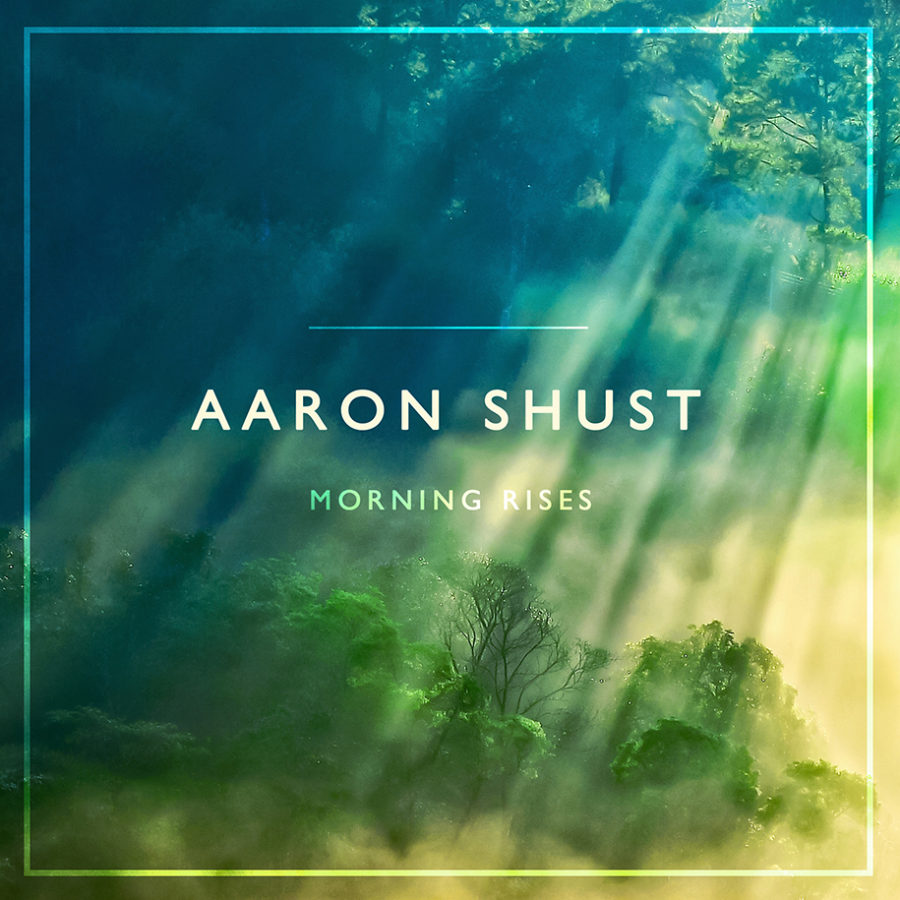 Artist: Aaron Shust
Title: Morning Rises
Label: Centricity Music
Release Date: 7/16/13
Reviewer: Jonathan Andre
Tracklisting:
Morning Rises (Intro)
God of Brilliant Lights
Cornerstone
Rushing Waters
God is For Us
Great in the Chorus
No One Higher
Deliver Me
The One
Mighty Fortress
Satisfy
Firm Foundation
Ever since his radio hit 'My Saviour My God' in 2006, Centricity Music artist Aaron Shust has matured in both his lyrical depth and musical ingenious to become one of today's most respected and revered contemporary worship artists, being housed in an artist roster full of other esteemed and talented contemporaries like Andrew Peterson, Unspoken, Sixteen Cities and Remedy Drive. Fusing light acoustics with his distinct vocals, Aaron's heart for worship is brought to the fore in his latest album Morning Rises, one of the most anticipated albums across all Christian music critics in July 2013, alongside debut artists Shine Bright Baby's album Dreamers and Word Records' new artist Everfound's self-titled debut. A native from Pennsylvania, Aaron's rise to fame and popularity came with the success of the prayerful melody that led 'My Saviour My God' to win Song of the Year at the 2007 Doves. With his latest album reminding us that Christ is our solid foundation in which we anchor every part of our lives, it is in the heartfelt and poignant melodies of 'Rushing Waters', 'God of Brilliant Lights' and 'Mighty Fortress' that has led me to declare this album a perfect fit for anyone who loves contemporary worship a la Chris Tomlin, Kristian Stanfill or Big Daddy Weave. While still not the most popularised or even publicised artist currently (even though his radio hit 'My Saviour My God' is perhaps one of the most popular CCM songs of the 2000-2010 decade); Aaron's perseverance and hope to continue to inspire and motivate listeners to become vessels of God's praise is something that leads this album to be much of an improvement upon his previous album, This is What We Believe. Possessing more of a worshipful sound compared to the contemporary pop he has done in the past, Morning Rises offers us a remedy of hope beyond the long night, and a great addition to the collection of Aaron Shust albums by any of his fans.
'God of Brilliant Lights', released as a lyric video in March 2013, is one of my favourite tracks on Morning Rises, and with the music and lyrical style geared to a contemporary-pop worship sound, Aaron's heartfelt moment of reminding us of how Christ shines over us and our lives like how the lights shine in a city or how the stars shine in the sky is a great asset to the song and the album in general. With an acoustic guitar riff starting the song after 'Morning Rises (Intro)', a 30 second clip of Aaron repeating the phrase '…God of brilliant lights…' amidst reverbing keyboard and electronic vocal distortion; 'God of Brilliant Lights' is a great encouragement to many as we hear the message of the gospel in song, with Aaron declaring praise to '…the God who has come to cure every broken heart…' A moment of reverent praise as we listen to the contemporary worship melody, we hear Aaron's music change from a pop radio sound to more of a praise orientated emphasis. Pop/contemporary songs normally have much more success than worshipful songs at radio level, yet 'God of Brilliant Lights' seems to defy the trend, with great response from many listeners of radio as the song continues to minister the theme of declaring God to shine over every area of our own lives as we continually dig deeper in relationship with Him. With ever present hope and the assuring words that God shines down on us even in our weakest moments, this 3 minute 32 second track is one of my favourite contemporary worship melodies released over these past few months, and sets the groundwork and anticipation for the rest of the album. Well done Aaron for such a well-crafted and enjoyable radio single!
Covering Hillsong's recent hit 'Cornerstone', Chris Cauley's (from the Voice) 'God is For Us', worship leader Dustin Smith's 'Rushing Waters', and the Steve Fee famous North Point anthem 'No One Higher'; worship continues to remain front and centre on Morning Rises. With Aaron's recording of the famous Hillsong melody staying true to its originality aside from a minor musical tweak of a riveting keyboard riff undertone added to Aaron's version, 'Cornerstone' fits right at home amongst the rest of the melodies on this more worship prominent album. The passion in Aaron's voice is undeniable, and is certainly shown to the full on the bridge of the modern hymn, with Aaron declaring with all his might that '…when He shall come with trumpet sound, oh then I may in Him be found…' Basing this song upon the older hymn 'The Solid Rock' has certainly given the lyrics and words some sort of revival in terms of attention and popularity, as we are met with timeless lyrical lines set to contemporary music, something that has fit right at home amongst many other worshipful melodies from one of the most underrated contemporary-worship artists currently still active in the Christian music industry. 'Rushing Waters', originally recorded by worship leader Dustin Smith, is equally as enjoyable if not more so than the original live recording, with Aaron's vocal ability allowing the track to become one of my favourite from the album. As we are invited to lay down everything that inhibits us from praise and just dwell in the Lord's presence, we can't help but sing along to proclaim that '…with the sound like rushing waters, we sing blessing honour and praise, with one voice that rolls like thunder, every tongue will now proclaim, our God reigns…' The 5 minute song is a blessing for me to listen to, and is certain to become a radio hit on Morning Rises, and if it isn't the second single from the record, then I'll be pleasantly surprised. The keyboard prominent song is one of the most honest, poetic and enjoyable songs, and regardless of radio success, it'll be one of my favourite songs from Aaron's new CD.
'God is For Us' starts off with an electric guitar riff that'll hopefully do a good job at peaking interest in the song as the recently recorded song from North Point's No One Higher has a studio recording makeover. Focusing on declaring God's favour and kindness on His creation, that '…sin is powerless, our God is for us…', this rock anthem is sure to win over a few rock-worship enthusiasts a la Kutless or Sanctus Real with a moment of praise destined to be charting the CHR charts by the end of the year. Reminding myself of some musically similar tracks on Jeremy Camp's Speaking Louder than Before, Aaron has given us a formidable and comparable version to the song written by North Point worship leader Casey Darnell. 'No One Higher' is a Steve Fee famous song, and while I'm only familiar with the chorus, it seems like the song I've heard from Aaron has been known to me for quite some time, even if that is not true and I've only heard the song in its entirety during when I listened to Aaron sing it. With such familiarity about it, I am able to just rest back and hear the keyboards playing in the background and sing along with Aaron, declaring God to be higher and greater than any other on the Earth. A song about exalting God above everything that's deemed 'important' in this life, we are met with a moment of humility and clarity in Aaron's singing, through the anthemic choruses and poetic moments of declaration as the bridge becomes the anchor for the song, with Aaron proclaiming that '…there is no one higher, no one greater, no one like our God…'
'Great is the Chorus' is a potential radio single from Aaron which speaks about how everyone in earth and heaven will one day sing around His throne, declaring the name of Jesus, while the Richie Fike co-written melody 'Deliver Me' is a cry of desperation for the Lord to break our chains and deliver us from even the strongholds upon us that we may not even be aware of. Yet for me personally, it is the last song on the album 'Firm Foundation' as well as 'Mighty Fortress' that speak out to me alongside 'God of Brilliant Lights', and remind myself of God's truth and promises located in His Word. 'Firm Foundation' is an upbeat electric guitar infused track that places emphasis on a country-style atmosphere as the last song on the album relays the simple yet equally life changing and profound theme of how we ought to place our feet on the firm foundation of Christ, and while it can feel different in terms of the musical mood of last songs on albums (the usual trend is to place a ballad as a last track), 'Firm Foundation' encourages us to look at our own lives and see if our foundation in Christ is secure or if it needs continual and persistent work. With Aaron also delivering a similarly themed song 'Mighty Fortress' co-written with worship leader Paul Baloche to also convey the message of God's closeness in the words of how '…He won't abandon, He won't deceive, He won't desert us, He won't ever leave, He'll never forsake us, He won't ever run, He'll never reject us, the faithful one, Your love will remain…', as the light acoustics and a mesmerising electric guitar riff run through the song as a musical backbone to it; we are met with a crucial message to understand as we stand firm and declare Christ to be our own mighty fortress, our help in times of trouble and despair. With both 'Firm Foundation' and 'Mighty Fortress' a comfort to listeners who may need some uplifting and guidance; Aaron ought to be commended for such a poignant and powerful performance, not only of both these two songs, but for the album in general.
Overall: Aaron's music has always been a great mix of pop, contemporary and worship, and while I haven't really listened to Aaron before besides bits of the album Take Over and This is What We Believe (and of course 'My Saviour, My God'); Morning Rises is great for any listener who loves Aaron and his music, or if they enjoy contemporary worship that can be sung during worship services or just reflected upon in a home setting. With the central theme of the album being the faithfulness of God, Aaron shows that '…this is an album about how God is faithful. God is steadfast. God is the same. Whenever our life goes crazy we can say, 'God is faithful.' If you believe the verses that we memorized as kids or in our early Christian lives; that He has a plan for us, that He's never going to leave us, that He's never going to forsake us; then that rings true. You need those truths in the dark hours…' Full of hope and moments of praise and adoration, Morning Rises stands tall and formidable amidst other releases in July 2013 (Everfound by Everfound and Dreamers by Shine Bright Baby), Aaron has delivered some of his best work in his career. While sadly the album doesn't reach my top 25 (there's just so many good albums this year), there is great hope that the album could climb up the ranks and be just as comparable to other worship albums released this year from Martin Smith, Meredith Andrews, Christine D'Clario and Chris Tomlin. Boasting one of my favourite songs of the year 'God of Brilliant Lights'; Aaron's album ought to be placed on any wish list of fans of CCM/worship music. Well done Aaron for such an enjoyable and inspired album!
RIYL: Kristian Stanfill, Chris Tomlin, Paul Baloche, Christy Nockels
Buy the Album: iTunes/Amazon mp3