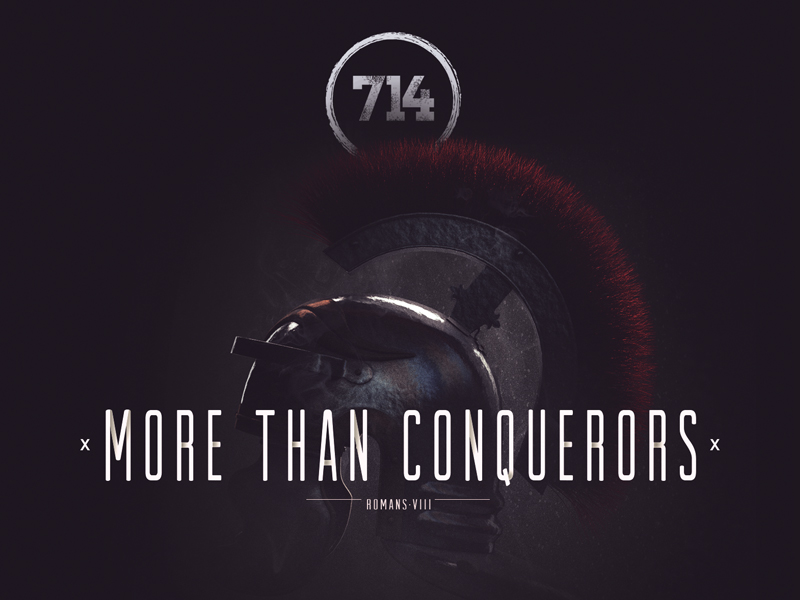 Artist: 714
Title: More Than Conquerors
Label: 714
Release Date: 12/4/12
Reviewer: Jonathan Andre
Tracklisting:
No Condemnation
Sons Not Slaves
We Wait
Spirit Song
More than Conquerors
'…we have an identity crisis – as a generation, as a nation, and sadly enough as the Church. Unfortunately, through the culture of celebrity, the chaos of social media, and the demands of our world, we've let our mediocre "just get through today" mentality become the new norm. We've forgotten that we are meant to live for more…and not stand idly by while our world suffers…' Releasing their brand new album from National Community Church in Washington D.C., the 714 Worship Team have released five songs based upon the notion of trying to wrestle with our own identity, as both band members and listeners struggle with the understanding that there is no condemnation in Christ, and that if we are in Christ, we are heirs and co-heirs with Christ, able to inherit the kingdom of God as we see heaven invade Earth. With this worship movement reminding me of similar rock-praise bands like Kutless, Fee, Worth Dying For and Jeremy Camp; worship leader Kurtis Parks and the rest of the band have given listeners this collection of songs that offer us hope in knowing that we are more than conquerors in Christ Jesus, that '…we are free from sin, the curse of sin is broken, the life that You have spoken…' ('No Condemnation').
Starting off the EP with 'No Condemnation', we are given a song about just that. With a guitar riff added with a reverb and distortion, we are met with some of the most profound lyrics on the record, that '…there is no condemnation for those who live in Jesus, the chains of guilt's oppression have been destroyed…' Once we truly understand, comprehend, and embrace and believe into the truth that what we do or don't do won't make Christ love us even less or more, and that He has already taken off our chains because of His death and resurrection and all we have to do is just believe; it is only then that we can live freely with confidence that we have in Christ. Full of strong guitar work and intense enthusiasm, 714 launches into anthem mode with this starting melody, providing a great message of freedom and hope with a song that is destined to move out from the radio to the churches within the near future. 'More than Conquerors', the title track, is the last song on the album, and just as poignant as the first, is a great fit to be the last song on the record. Starting with a gang vocal with an acoustic-keyboard riff undertone, we are reminded of who we are in Christ, understanding that '…He makes all things work for the good of His kingdom, [and that] with God on our side, who could ever rise against us?…' Indeed we are more than conquerors because of Christ within us, and this melody makes the truth extra clear for us who seem to be struggling accepting and living out this fact. Full of worshipful praises collided with guitar-driven rock goodness, 'More than Conquerors' places a rock-style beat together with lyrics that touch the soul with clarity, direction and motivation as we continue to rely on God through our everyday lives. Well done 714 for these two book-ended songs.
Throughout the rest of the album, National Community Church gives us a great musical summation encapsulating Romans 8, and its description of how we are adopted into the kingdom of God and that nothing we do or is done to us can separate us from Christ's love. 'Sons Not Slaves' celebrates this fact with the lead singer places on his 'Dave Frey (of Sidewalk Prophets) meets Mike Grayson (of mikeschair)' voice to remind us that '…we are not slaves, we are sons and daughters, adopted children of God the Father…heirs of the kingdom we stand in glory…' There is nothing better in knowing our identity in Christ, and through this guitar driven song full of electric guitar solos and instrumental reflective moments, we are given a chance to hear how there's '…nothing to fear…nothing to hide, we run to our Daddy with arms open wide…' 'We Wait' is a looping percussion acoustic track full of moments of realisation and relaxation as the topic of waiting and resting in Christ is presented. Waiting, for God to show up in our lives or for other circumstances, can seem like forever and we as humans can be an impatient bunch, but sometimes waiting is necessary- we can choose to settle for something that is just second best to what God has in store and planned for us. A great reminder of needing to ask the Lord to help us with our struggle of waiting and patience, the real gem out of the five songs comes in the spoken song 'Spirit Song'. With this song '…more of a soundtrack to prayer, with our campus pastors actually praying throughout the song and Joel Buckner singing in the Spirit throughout the tune, referencing Romans 8:26-27…' The song clearly highlights God's sacrifice and our response through thanking Him through prayer, and reminds myself personally of the free worship and spontaneous praise moments in church when someone comes out to the front and speaks out a prophetic or declaratory word over the church or exalts God publicly. A great musical mix between music and poetic prayer, well done National Community Church for this heartfelt song of hope and salvation, and one of my favourite spoken songs of recent years, as well as Sarah Reeves's 'Psalm 139'.
Overall: All these 5 songs are based upon Romans 8, so imagine the quality of the songs if they were based upon the whole Bible! Such great songs that should be able to minister to listeners from all walks of life, 714 ministries have given listeners music along a similar vein of rock-worship, akin to Kutless, Worth Dying For and Jeremy Camp. Fans of any modern worship will certainly enjoy this album full of lyrical motifs and treasures just waiting to be listened, processed and dwelt upon as we remind ourselves that Christ is for us and standing by us throughout our lives- even in the moments when we may think He's far away. With a great variety of musical genres incorporated within these 5 tracks, this is an EP that you don't want to miss if you love an alternative worship edge. Well done guys for a compelling and satisfying album!
RIYL: Worth Dying For, Kutless, Jeremy Camp, Chris Tomlin
Buy the Album: iTunes/Amazon mp3