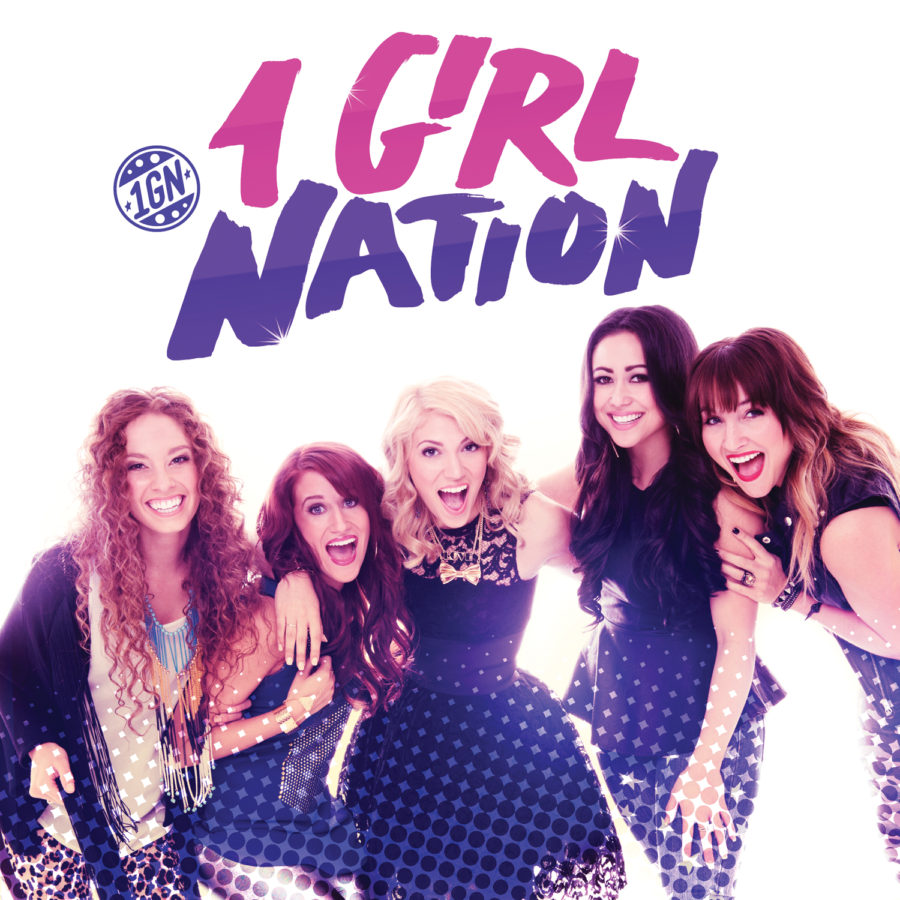 Artist: 1 Girl Nation
Title: 1 Girl Nation
Label: Reunion Records
Release Date: 8/20/13
Reviewer: Jonathan Andre
Tracklisting:
While We're Young
Vertical
Live For You
In The Eyes
Count Your Rainbows
Love Like Crazy (feat. Royal Tailor)
Turn Around
Invade
Daddy's Girl
1 Girl Nation
The newest signings to Reunion Records, home of artists like Steven Curtis Chapman, Casting Crowns, Brandon Heath and Tenth Avenue North; 1 Girl Nation is perhaps one of the most anticipated and enjoyable albums from a debut artist in 2013, rivalling both Everfound and Finding Favour to take the top spot of my favourite album from a new artist since Heather Williams's This Time Around in 2011. With the band forming via audition rather than the traditional way of a few friends getting together in their garage one day to jam to some tunes; the formation of this power pop group with similar musical leanings and styles to Zoegirl, Britt Nicole, Jump5, Rachael Lampa and Stacie Orrico has shown to be a great step and direction for these 5 young women of God, with each of these 10 songs showcasing a different side of the band, from pop ballads to dance melodies and vocal harmonies that'll entice listeners to declare alongside them the truths shown through the 10 track album. With each member of the band pursuing their own musical careers and other interests before the formation of this all-girl group; we are met with a story of God-proportions as each of the members of 1 Girl Nation describe how much of an unexpected event the band was in each of their lives, but also, one of the most enjoyable and life-defining moments that could ever occur.
Co-writing more than 5 out of the 10 tracks, and collaborating with other songwriters like Jason Ingram and Tony Wood; band member Kelsey Sowards reminds listeners of the theme of the album as a whole, and that '…we feel like it's our job with the platform we've been given to inspire girls and give them the courage to stand up…we want to make it cool to be the good girl because it is cool and we want to let them know…' While the album is primary directed to teenage girls and young women, I myself, a 23 year old male, also enjoyed this album too, with 1 Girl Nation certainly up there as one of my standout albums throughout these last few months. From the album's first single 'While We're Young', an encouragement to young people to pursue and run after the Lord in our youth and discover the great things He has for us, to the motivational 'In Your Eyes' and the buoyant title track, this is an album certain to please fans of dance-pop. Despite having an unconventional band formation, all these members are great friends with each other currently, and as we hear the friendship personified through these pop melodic songs full of powerful harmonies and distinct passionate vocals, we can't help but declare along with them the poignant words of how '…we're gonna risk it all for one thing, and live for Jesus while we're young…' ('While We're Young').
One of my favourite songs on the album (and also of the year so far), 'While We're Young' is the first radio single on the self-titled album, and while the song title choice can seem just like any other mainstream track that speaks about living life wild and 'free' because we only live once; the lyrics suggest something totally opposite and different. Starting off the track with light electric guitar riffs and an electronic drum beat, each of these 5 girls trade vocals and have a bit of time in front of the mic. Musically pop in nature, the song is as uplifting as they come, with the message of living for Christ when we're young is a complete divergence to what the world declares. Instead of just living it up with fast cars, drugs and sex; 1 Girl Nation encourage girls around the world (as well as boys) to prioritise values and figure out whether the things we live for are transient or permanent. As Kayli Robinson points out, '…there are a lot of songs on the radio today that say, 'Let's live while we're young, just do whatever and take it day by day. You only live once'. It's fun, but it's only fun for a short amount of time…' Trying to place the transient aside and focus on the eternal can be challenging for many young people out in society, and hopefully this track gives listeners to the music encouragement to find out what they believe, and figure out what they are living for. With each of these 5 young women declaring out in unison that they would love to live for Christ is an awe-inspiring moment, especially in the bridge when we are met with the identity declaring moment of how '…we know who we are, a chosen generation, we know who we are, this is our declaration, cos we don't wanna miss even one of these days…', thereby spurring us on as we honestly see if we ourselves are going through each day missing out on the full potential God has in store for us. The first all-girl pop group since ZoeGirl (BarlowGirl was more geared towards fans of rock music); 'While We're Young' is a perfect album opener and almost a shoe-in to be slotted inside the top 10 of my favourite songs in 2013 so far!
From pop to rock and ballads and other reflective melodies; Lindsey, Kayli, Kelsey, Carmen and Lauryn Taylor each deliver powerful songs to help encourage and motivate both their key target demographic of young women and teenagers, as well as listeners outside of that demographic (myself included) to press on and delve more into Christ, keeping the relationship a two-way street as we see the crucial meaning of surrendering everything at Jesus's feet. Kayli leads the second song on the album, 'Vertical', a dance worship melody complete with electronic beats and a 'woah' backing vocal propelling this song to be what I'm sure 'Ready or Not' or 'Amazing Life' was on Britt Nicole's Gold– a hard-hitting and powerful song that's ready to let listeners know that '…we're going vertical, praying for miracles, wanna see heaven come to Earth…' Something so simple lyrically can have such a powerful and profound effect, which is what 'Vertical' reminds everyone of- the power that comes when we're continuously diving into His Word and that as we go 'vertical' and allow the Lord to work in our hearts and the hearts of others, real and transforming change will be evident. 'Live For You' is a very fun and energetic song shared between Lauryn Taylor and Lindsey that declares our intentions as Christians to live for Christ, and even though there's plenty of somewhat cheesy 'la, la, la, la' moments in the chorus, the song still gives us something to think about as we wonder where our own allegiances lie. Similar in lyrical style to Rachael Lampa's 'Live For You'; 1 Girl Nation's third song will certainly be a hit amongst the teenage (and possibly even younger) age bracket.
While the majority of the album is primarily upbeat, 1 Girl Nation does have a few reflective ballads to appeal to the contemporary radio folk who enjoy an inspirational song or two. 'Turn Around', the group's first AC/Inspirational Single on the radio charts, is possibly one of my favourite songs on the album, with singer Carmen Justice taking the reins as lead vocalist on the encouraging and motivational track. With light electric guitars and a keyboard focus, 'Turn Around' reminds us the easiness in coming to Christ, and that '…you're never too far from a brand new start, you can turn around…cos where you have been isn't who you are…' A message that we can never hear enough of, Carmen pours out her heart to deliver poignantly emotional lyrics with a call-to-action focus. We are never too far from the ever-encapsulating grace of Jesus, the God of second chances and redeeming love. A standout anthem in an album with engaging and uplifting tracks that listeners of all ages and genders can enjoy; 'Turn Around' also brings with it two other reflective ballads in 'Daddy's Girl' and 'In the Eyes'.
With just piano and vocalist Lindsey Ciresi singing about her relationship with her father (and possibly all the girls relationships with their own fathers), we are reminded of how special the bond is between a father and his daughter. A song to encourage female listeners to continue to deepen and pursue their father-daughter bond and be reminded that even if they don't have an earthly father present in their lives, God still comes to be their heavenly dad; 'Daddy's Girl', alongside 'Turn Around', is perhaps one of the most emotional tracks 1 Girl Nation has ever recorded. Also emotional and possibly life-changing for many young girls is 'In the Eyes', a song about self-esteem and what Christ sees when all young girls see is ugliness, imperfection and all choices of wrong. Sung by Kelsey, 'In the Eyes' directs listeners to the words spoken over them; that they are beautiful, treasured, worth more than we could ever dream of knowing. Self-image is something crucial for today's generation, and as Kelsey explains, '…I know that for each one of us, we've all been there. We've all experienced those feelings. We've all looked at those magazines. We've all wanted to be that girl in that picture…' A song that could potential be a game changer for listeners struggling with identity issues, 'In the Eyes' is poised to hopefully be a standout in both a fan and critic sense. With a light electronic keyboard undertone and Kelsey's passionate, emotional and soaring lyrical moments; 'In the Eyes' is a song that's destined to take 1 Girl Nation far throughout 2013/14. Well done girls for such a vulnerable and hopeful song full of healing and restoration.
From a collaboration with Christian pop/R&B group Royal Tailor on 'Love's Like Crazy', a fun, energetic and gang vocal orientated song about how we have to be the spark through the love we share to others so as to light up a generation on fire for God, to the similarly themed 'Invade', written with electronic band Capital Kings and delving into the decision and statement that every one of us ought to declare if we are followers of Christ, that we'll '…invade this world for You, spark a generation with the truth…'; 1 Girl Nation seek to bring the gospel towards the front and centre into the songs they declare and sing out throughout this debut album. And while each of the songs show listeners their uplifting and somewhat 'serious' side, there are a few fun-filled tracks full of balls of energy, including the enjoyable and uplifting 'Count Your Rainbows', and the title track and last song on the album, '1 Girl Nation'. Led by Lauryn Taylor Bach (famous within the band for having a unique ability to rap), 'Count Your Rainbows' is an encouragement to all that '…beauty begins right after the pain, so count your rainbows…'; reminding us that Christ continues to work through our lives towards something good, and that when things aren't going like they should, something we should do is count our blessings (or rainbows in this case), the times and moments where we know Christ's hand upon such situations, and therefore using these memories and promises as fuel to keep going. Very pop orientated and upbeat, 'Count Your Rainbows' energy (and it's quite energetic) pales in comparison to the most energised song on the album, '1 Girl Nation'. Written as an anthem to be pitched to teen girls around the world, we are able to witness a jovial and upbeat melody; that encourages girls to '…come together as a 1 girl nation, shout it to all creation, Jesus is our foundation…' A song about unity in Christ and standing as one to declare it to anyone that listens, the percussion heavy and gang vocal prominent track is enough to hopefully gain some great followers of the song, album and artist amongst the pre-teen and teenage girl groups. A great way to end the album, '1 Girl Nation', both the song, album and artist, encourages listeners everywhere to shine a light for Jesus. Well done Carmen, Kelsey, Kayli, Lauryn Taylor and Lindsey for such a fun and bold statement of faith!
Overall: 1 Girl Nation is perhaps one of my favourite new artists of 2013, alongside other standouts like Love and The Outcome, Everfound, Finding Favour and Tim Timmons. Full of fun energy, pop melodies with a worshipful edge, and plenty of dance music undertones to keep the dance-pop music fans intrigued and interested; these 5 young women of God who formed the band via audition are the female answer to many guy-fronted Christian bands, from Royal Tailor to Anthem Lights, even Plus One back in the day. With 'While We're Young' currently climbing the Christian Radio charts, we are able to witness possibly one of the most popular new bands since Jamie Grace and Dara Maclean in 2011 (my own personal opinion), with the band delivering pop songs like the title track, reflective melodies like 'Turn Around', and songs that include rap sections like 'Count the Rainbows'.  From hand actions to pop anthems, 1 Girl Nation, while directed to teen girls, is a band that has really delivered musically and lyrically, with their debut album becoming one of my favourite albums I've been listening to lately, and certainly when the year of 2013 finishes, it'll be on my list of top album of 2013! Well done Kelsey, Kayli, Lauryn Taylor, Lindsey and Carmen for such a poignant, encouraging and fun-filled album!
RIYL: ZoeGirl, Britt Nicole, Anthem Lights, Royal Tailor, Jump 5
Buy the Album: iTunes/Amazon mp3