Album Review :
Jenny & Tyler: Songs For Freedom: A Covers EP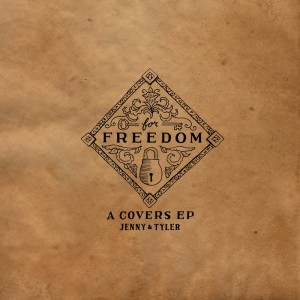 Artist: Jenny & Tyler
Title: Songs For Freedom: A Covers EP
Label: Independant
Release Date: 11/12/13
Reviewer: Ian Zandi
Tracklisting:
Tonight, Tonight (Originally by The Smashing Pumpkins), Feat Levi Weaver

The Scientist (Originally by Coldplay)
Dreams (Originally by The Cranberries), Feat. JJ Heller
We Will Become Silhouettes (Originally by The Postal Service)
The Sound of Silence (Originally by Simon & Garfunkel)
What A Wonderful World (Originally by Louis Armstrong)
I Still Haven't Found What I'm Looking For (Originally by U2), Feat. Sara Groves
"I am the Lorax, I speak for the trees. Unless someone like you cares a whole awful lot, nothing is going to get better. It's not." –Dr. Seuss, The Lorax
Fads come and they go. Right now, one of the biggest fads in the music industry seems to be husband/wife folksy projects. While many of these groups are "meh", a few duos exist that rise above the rest with their distinctive sound and lyrics. One of greatest acts of this nature in the Christian relm would be Jenny & Tyler. The duo (or trio if you consider the unborn baby that was present during the production of this record) has consistently put forth quality albums over the years about the topics of romance, hope, and praise. Now Jenny & Tyler bring us a unique project that I wish more artists would consider doing.
Songs For Freedom: A Covers EP
As Christians, we are often content staying put in our steeples and "going through the motions". We choose to see the world through rose-tinted vision. It's merely an illusion. We live in a broken world that begs for a Savior that it doesn't know. It needs help and we constantly divert our eyes. This EP is a call to arms and inspire a movement to enhance freedom worldwide.
This is a collection of songs that were specifically chosen by Jenny & Tyler. The original sources of these songs are surprisingly mainstream. However, I don't think that I would want it any other way. Not only were these songs picked to promote freedom, but they were also sought out of nostalgia. The EP begins with a cover of the classic "Tonight, Tonight", originally performed by The Smashing Pumpkins (for those of you keeping track, this is the 2nd Smashing Pumpkins in recent months under IVM coverage. The Civil Wars covered "Disarm" on their self-titled release).
To help reach the true vocal limits of these songs, Jenny & Tyler enlisted the help of 3 singer-songwriters known as Levi Weaver, Sara Groves, and JJ Heller. Weaver lends his voice to "Tonight Tonight", Groves assists on the U2 cover "I Sill Havent Found What Ive Been Searching For", while Heller channels a sweeter version of The Cranberries vocals on "Dreams".
In my opinion, the best cover songs are created when an artist takes an original song, meshes it with their signature sound, and then churns it out with the same loyal feeling of the original. Jenny & Tyler seem to do this on nearly every track.  Utilizing the harmonies founded by Simon & Garfunkel, J&T build upon the classic by stacking layers of instrumentation. Epic is the one and only word to describe such a feeling that this transpires.  Though "What a Wonderful World" does not carry the same weight of Louis' untouchable masterpiece, it was transformed into a pensive tune that really brings the lyrics to beautiful place.
Obviously, Jenny & Tyler did not write the lyrics to these songs. Whether or not you allow yourself to listen to "mainstream lyrics" is your own conviction, but there is nothing to fear here. From the very first lines "Time is never time at all/You can never ever leave without leaving a piece of youth/And our lives are forever changed/We will never be the same/The more you change the less you feel/Believe, believe in me, believe"  we can see that this is clearly album strives to conjure up hope and change. I believe that the biggest highlight of this album is the couple's cover of Simon and Garfunkel's "Sound of Silence". I still get goosebumps on repeated listens as I listen to the poetic lyrics:
"'Fools' said I, 'You do not know
Silence like a cancer grow
Hear my words that I might teach you
Take my arms that I might reach you'
But my words like silent raindrops fell
And echoed in the wells of silence"
It should also be noted that both "The Sound of Silence" and "We Will Become Silhouettes" were both previously covered by Jenny & Tyler for various projects. The versions that are on this EP are "remastered" cuts and are much cleaner. However, to the average listener, there is not much difference in the remastered editions.
Overall: The highlight of this EP is clearly "The Sound of Silence". However, Jenny & Tyler did put their creative spin on each and every track here. Though it is not perfect ("The Scientist" is a bit of a drag), this EP is definitely a high contender for one of my favorite releases of 2013. If anything else, I believe that the moral ambition behind this EP is enough to justify a listen or two.
RIYL: The Swell Season, Copperlily, Of Monsters and Men, JJ Heller, Simon & Garfunkel, She & Him
Added Bonus: "I Still Haven't Found What I'm Looking For" is available for free on Noisetrade.