Album Review :
Even the Dogs - They'll Never See It Coming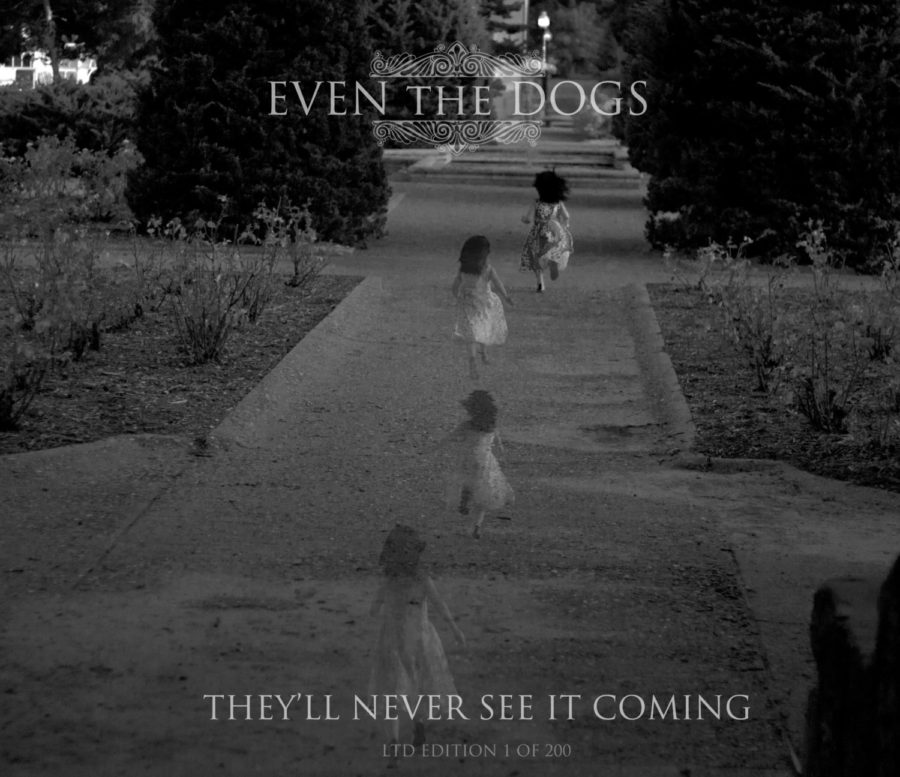 Artist: Even the Dogs
Album: They'll Never See it Coming
Label: Independent
Release Date: 08.03.13
Reviewer: Lee Brown
Track Listing: 
At the Feet of Giants

Tears Ripped from the Emotionless Pride
We Chase These Thrills
Personal Hell
Down in Flames
During my high school years I was a big fan of rapcore, and since that was the flavor of the times many bands were producing rapcore albums to keep me satiated. Then I started noticing many of these same bands changing styles, seemingly all at once. When I brought this fact up to my friend Rob, he simply said, "Yeah, rapcore is dead." Fast forward more than a decade and the world sits on the cusp of a similar precipice. Metalcore, which long hit its apex with bands such as Underoath, For Today, and August Burns Red, is (to take a term from Relient K when Five Iron Frenzy retired years ago) either dead or dying. You wouldn't know it if you simply examined what is popular right now, but the change is already being felt in the winds.
In my recent review of Righteous Vendetta's The Fire Inside I made note that just as genre heavyweights August Burns Red have thrown down a gauntlet to all of metalcore to either evolve or die, some bands have already felt this change on the wind and gotten out ahead of it. Enter Even the Dogs. Like Righteous Vendetta and Iron Sharpens Iron before them, Even the Dogs are helping to create a new genre born out of metalcore (and therefore bearing its characteristics), yet also wholly different from "pure" metalcore at the same time. Just as a son can strikingly resemble his father and yet be his own person (with hints of his father's influence here and there), this new breed of music carries some of the tropes and patterns (such as gutturals, breakdowns, heavy riffs, and cleans) and combines it with something different entirely.
Even the Dogs certainly brings these elements to the table, but they skillfully mix them in with an equal dose of power metal and even a little 90's rock flair. The ensuing mixture (which I'm going to try to coin here…rather shamelessly) could easily be called power/metal/core, and sounds quite a bit like what you would get if Bon Jovi, Stryper, and Underoath started jamming together at a Bible study.
So, in this new concoction (power/metal/core) you have the guttural intensity and chugging born from it's parent sound, but find pure/clean vocals mixed with 90's rock and even some 80's power/hair metal with all the riffing guitars that go along with it. But here's the secret, this new mix feels fresh. What's old is new again and throughout the musical landscape we're already starting to see more 80's stylings coming to roost back in the very genres they serve as great grandparents to.
In terms of content, ETD brings some heavy themes to their brief-but-impactful five track album/EP. In very short order the band deals with the many vices we often give our hurts to in order to try and make them go away. "Tears Ripped from Emotionless Pride" deals with alcoholism, "We Chase These Thrills" deals with seeking cheap thrills over the love that is always there searching for us, and "Personal Hell" deals with some extreme violence/abuse that creates a cage around the abuser and leaves him empty. Just to name a few.
However, this experience is not all doom and gloom. As is often common in the distinctly Christian flavors of metalcore, the entire experience is underscored by a deep and abiding faith and hope that is not afraid to enter into the brokenness of this world and offer a deeper and more complete hope in Jesus's power, love, and sacrifice. "Down in Flames" and the clincher to "Personal Hell" resound most strongly with this message, but each track points the listener in this hope-filled direction.
The album begins with "At the Feet of Giants," which is one of the more infectious tracks on the album. From the opening chords you begin to feel the interplay of the very solid guttural vocals, chugging guitars/pounding drums with power metal infused vocals and quick riffing. The lyrics, "close your eyes, take your place tonight, at the feet of giants. We stand on your shoulders tonight, at the feet of giants," though a little confusing on one point (are we on the shoulders or at the feet?) are very catchy and interplay well with the message of looking ahead and continuing the race set before us (something the Apostle Paul would certainly approve of). However, it is at the point where the traditional breakdown would sit that the listener fully realizes that they are experiencing something that is both "classic" and new at the same time. Rather than a chorus of brutality set to prove it can obliterate more than the rest, a more classically rock moment is found with more somber and mellow vocals typical of the aforementioned Bon Jovi/Stryper eras of rock.
"Tears Ripped…" begins more true to its parent genre with chugging guitars and dominant guttural vocals leading into heavier cleans. Of the five tracks presented here, "Tears Ripped…" is the most clearly metalcore of the bunch. As mentioned before, the song deals with alcoholism, loss of emotional health, and the resounding question of whether or not "the world will ever see what's real inside of me" due to being "shattered and broken." As before, the lyrics and musicianship are solid.
"We Chase these Thrills" begins with a little light-industrial chiming that once again leads straight into some heavier brutality. However, it is the chorus that leads the song clearly into the "old is new" territory as the song starts to move into more upbeat rock with a little power metal flair. "We Chase these Thrills" continues on as another solid song both musically and in the message. As with "At the Feet of Giants" it is incredibly catchy and easy to get into. On a personal note, this was the song I found myself coming back to the most, followed very closely by the next.
"Personal Hell," as several outlets have attested to, is perhaps the standout track on the album. While I found myself personally drawn to the previous track more often, I simply could not leave any sitting with this album before going back to "Personal Hell." I think, at its core, the song is purely relatable. While I hope we are not all womanizers/ready to fight anyone, the desperation that the song presents in the main character is so utterly relatable as he describes his sinful actions creating a cage of despondency and fading hope creeping up like a noose around the neck.
It is all too popular in Christ-centered music to want to create such a character and make them relatable before the inevitable redemption moment, but few bands pull it off the way Even the Dogs do here. The song is sung with such passion and conviction… such gravitas… that by the time we hear, "who is this God you're talking to, can He help a monster like me?" its believable.
"Personal Hell," by the way, is the most independent track on the album. Gone are any metalcore influences at all. Instead, we find an engaging hard rock sound that, while present as an element in other songs, is given its own moment to shine away from any power metal or metalcore influences. It should be noted here (of the album as a whole) that ETD manages to make this work without the listener coming away feeling as if they're simply sampling a variety of sounds to see what works. Each track blends the various soundscapes together (save for the one at hand) in such a way that this new sound is created as a self sufficient entity.
The album closes out with "Down in Flames," a more somber self examination of overcoming faith. Immediately the chugging and gutturals come back to the forefront which lead back (as before) into a more heavy power ballad feel. As a closing song, "Down in Flames" is the obvious choice. Simply put, it is the summation of all the pain of the previous tracks set against a solid challenge to keep fighting and hold onto the faith. "If I go down in flame, I will burn so bright the world will see Your face." It is also the most blatantly in-your-face about the band's deep and abiding faith, which is certainly the right note to end on.
Musicianship: Even the Dogs blends the respective influences of their parent genres into a tight and cohesive core. Though my ear for this element is admittedly not as precise as some, I didn't hear anywhere where the music cut against the tone/message/vocals of each containing track. If I were to summarize this into a word, I'd simply say "solid."
Lyrics/Spiritual Content: In the area that I do apply a more discerning ear, ETD brings very honest lyrics that create stories that are both self contained and pointing to the overarching themes of the work. Spiritually, the band does not beat you over the head with their message, but allows it to simmer in the background until it boils to the surface towards the end of "Personal Hell" and throughout "Down in Flames." It should be noted that even the name of the band, taken from Jesus' conversation with the Samaritan woman and her faith-filled responses to His banter, blends perfectly back into the imagery at hand… or vice-versa.
Lasting Value: As I've stated above, Even the Dogs has done well to place themselves early (though certainly not earliest) on in the shift away from what metalcore has been and into what it is becoming. As argued above, I would say that this new sound, as more artists begin to engage and incorporate 80's power metal and 90's rock, is risking becoming a genre of its own. Along with Iron Sharpens Iron and Righteous Vendetta, I would label this new blend of sounds power/metal/core.
That said, since the band is ahead of the curve and is blending fresh elements in, They'll Never See it Coming's lasting value is increased exponentially. Add to that a few memorable and at least one extremely memorable track/s and fans will certainly have something to sink their teeth into for some time.
Overall: Fellow Okies (they're from Tulsa) Even the Dogs bring a fresh, though brief, experience to the table that mixes in just the right amount of the vestiges of metalcore with power metal and rock. This new sound is engaging and is highlighted by the impassioned singing and skillful lyrical storytelling, slightly brutal, and catchy all at the same time. I'm excited to hear a full length offering. If the band can build on this solid foundation, they may certainly be one to watch out for in the coming years. But, don't just take my word for it, check them out, below.
RIYL: Iron Sharpens Iron, Righteous Vendetta, Blessed by a Broken Heart