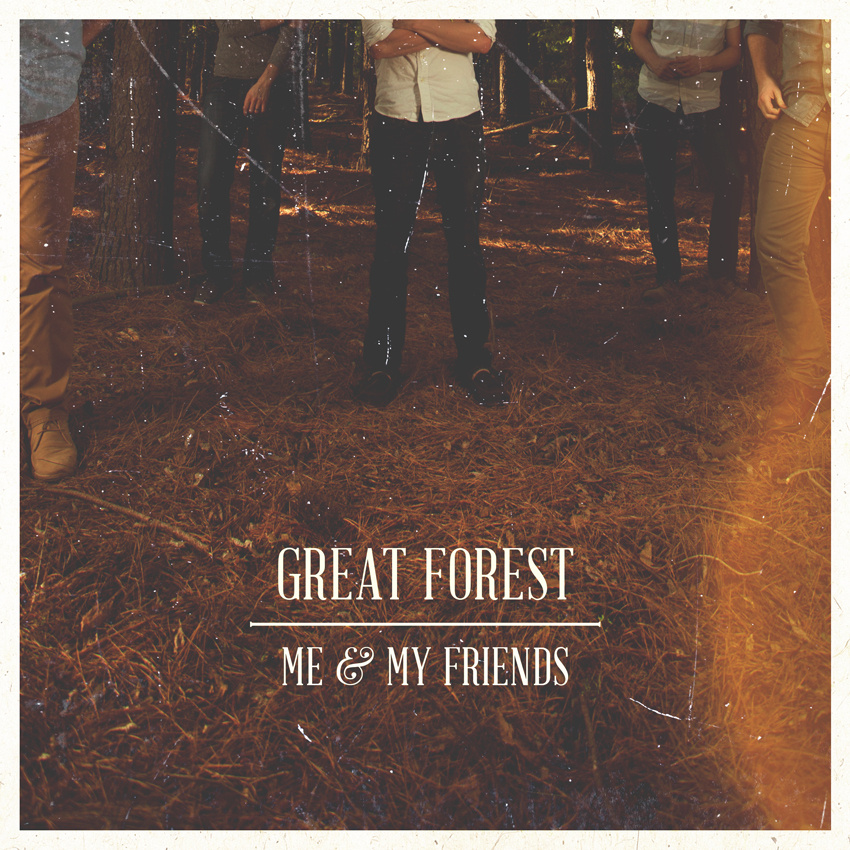 Artist: Great Forest
Title: Me & My Friends
Label: None
Release Date: 07/18/13
Reviewer: Josh Hamm
Tracklisting:
Careful, Body
Me & My Friends
Open Pt. II
Heavy Breath
Huntington's
I enjoy discovering new artists, and with only one other EP under their belt, Great Forest is definitely new to the game.  Ultimately, though they've produced a nice alternative rock sound that isn't a carbon copy of anything else in the market right now (as in alternative/indie rock that does not try to sound either like Manchester Orchestra or Thrice), the songs are still somewhat forgettable and blur together. Not to say they are without merit, far from it, but they aren't as strong as I wish they could be.
"Careful, Body" opens with a strong electric guitar reminiscent of Edison Glass, along with interesting off set vocals on the verse which set it apart. As the song continues there is passion in the vocals and a full bodied sound behind the music, but the lyrics are hard to make out as the music is almost overpowering, and as a result the message of the song is lost in the sound.
The next song, "Me & My Friends" has some good lyrics: "I don't know at all/ Cause if I knew it all, I'd be God…/teach me how to walk in love/ show me when to speak/ and when to listen." It's got a fantastic message about the limits of knowledge and the hubris we'd have to have if we thought we "knew it all." But here the music doesn't quite do justice to the themes that are expounded throughout. "Open Pt. II" is off to a slow start, with light male/female harmonies, building on a soft guitar refrain, before building to a climax as they sing "if only we could see" and ends on wordless vocals that may be the most moving part of the song.
The last two songs are my favourite though, I feel as though the album gets progressively better as it goes on. "Heavy Breath" is a strong song, both musically and lyrically. It's not slow or quiet, but rather ponderous at first, and addresses the notion of God finding us in our graves, Him finding us when "I thought I was seeking You." I particularly enjoyed the lyric "You know, my friend, that I am dust, put a heavy breath inside my lungs." Great Forest has a keen knack for subtly sneaking in Biblical references here and there; this one being to Genesis, when God breathes life into clay form of mankind.
The closer, "Huntington's," is probably my favourite on the album.  It's a fairly generic song at the beginning, delivering a narrative of slumber in a sinful state, trying to find out how to live right, but missing the mark. Then however, around the 1:30 mark, more wordless vocals emerge, as all you hear are "Ohh,ohh,ohh,ohh," which express the longing of the soul beautifully, before ending the song off with an extended a cappella of the final lyrics: "I was sitting in the lion's den/ and I saw that death was surely closing in/ it's when you came that you brought me to my knees/ it's when you touched my eyes that I could see/ that it's when I died/ I came to life."
Overall: Great Forest undeniably has musical ability – these are some solid tunes here. Unfortunately the EP isn't quite memorable enough – you'll dig the music while you're listening, but then forget the melody when you walk away. Still, you won't regret listening to any of the songs here, and you should keep an eye out for them in the future.
RIYL: The Rocketboys, From Indian Lakes, Future of Forestry, Edison Glass, Blood and Water
Buy the album: Noisetrade/iTunes/Bandcamp