Album Review :
Not One is Upright - Beauty is a Fleeting Thing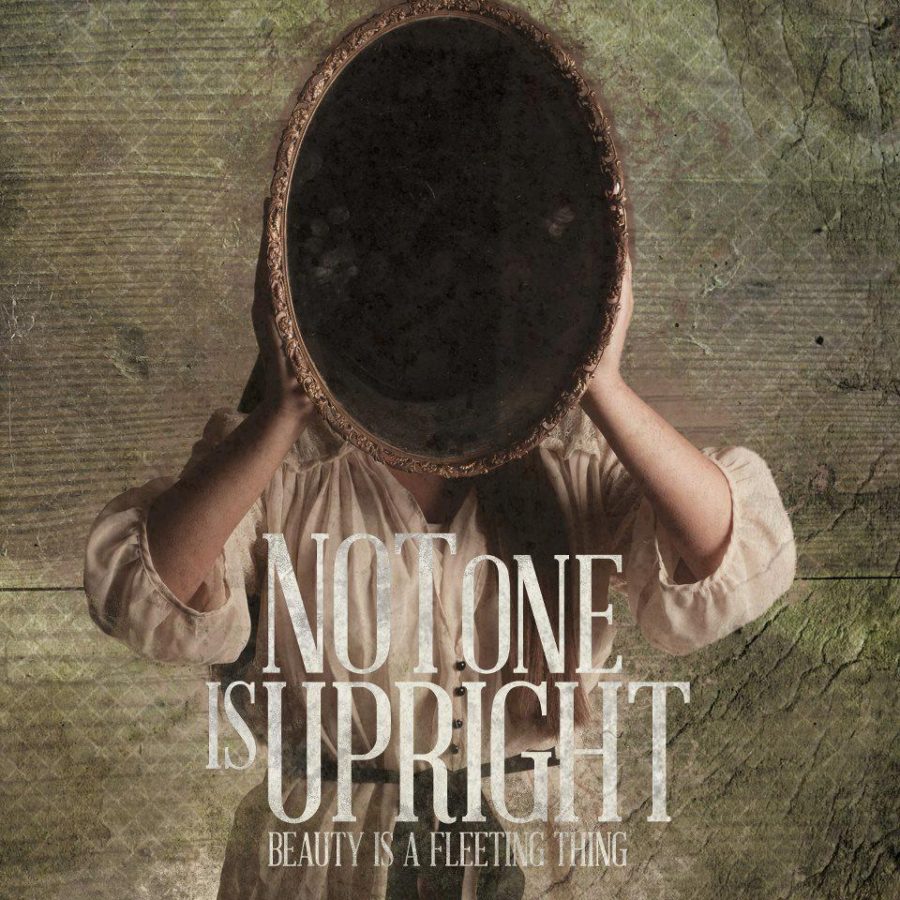 Band: Not One is Upright
Album: Beauty is a Fleeting Thing
Label: Unsigned
Release: 11/26/12
Reviewer: Brody B
Tracklisting:
 Image Dirt
 Subtle Movement
 Putting Want To Rest
 The League of Extraordinarily Wealthy Gentlemen
 Words
 Skew
 Minus Glory
 A Half Full-Scale Identity Crisis
 Infinite Stutter
Have you started to grow a little tired of One Wing yet? Yeah, me either, but the truth is, for as good as that record is, I have been feeling the urge to find something else in that genre to listen to lately. Quite frankly, this year no one in that genre has been able to even compare with my love of The Chariot 's newest opus.
I've tried every other band that has come to my attention that garners the same genre label as The Chariot, hoping to give the well loved band a bit of well deserved rest from my iPod and find another that so passionately pours out their emotions in musical form. While honestly, Not One is Upright have not quite reached the plateau I have placed The Chariot on, they have come fairly close with their newest independent effort "Beauty is a Fleeting Thing" . From the opening Image:Dirt, the band had my full attention once I heard the blood curdling shrieks of front man Erik Riley screaming out the album title to a backdrop of feedback sharp enough to cut steel.
"Beauty is a Fleeting Thing" was recorded entirely organically. All the instruments were tracked in a room together with no click tracks, no headphones, no nonsense, and this technique is instantly heard as feedback runs rampant throughout the album. This recording process is something that is risky seeing as depending on the band, it can make or break the record. In the case of Not One is Upright, I feel it entirely makes the record. Not only because the raw tone suits the chaos created by the instruments, but also because it showcases the passion and sheet aggression of the band. After the record was finished playing I practically felt like it had just finished being jostled around by a massive crowd of sweat drenched show-goers. And truth be told; I loved it.
Save for a few brief moments on Subtle Movement, Infinite Stutter, and a growling bass-led outro on Putting Want To Rest, "Beauty is a Fleeting Thing" is a pedal to the floor adrenaline junkie's fantasy from cover to cover. Just take a listen to Words as the prime example of the sheer carnage that takes place over this 34 minute marvel. Just listening to this track makes me feel like I should be sweating from the sheer intensity and speed brought to the table.
While it is hard to just pick a few moments to put the spotlight on, I would say the middle-late chunk stands out the most to me. Skew is smothered in southern swagger that would make John Wayne look like a city slicker, while keeping the chaos in the forefront. Minus Glory sits awful close to what I would consider an "epic" as it weaves in and out of tempo changes with tactful precision and purpose, switching things up at the right moments, just as certain parts would become arduous and dull.  The track reaches its' climax shortly after an impressive drum riff at about the two and a half minute mark as gang vocals and soaring tremolo guitars ensue. A Half Full-Scale Identity Crisis seems to be an ode to the late Norma Jean, chock full of toe tapping riffs, discords, and even an unexpected blast beat section that brought a smile to my face as it instantly reminded me of one of the aforementioned band's great tracks.
With all that being said, these guys are great at what they do. The only glaring flaw that I stubbled across was the simple fact that I think they could stand to experiment some more. While it's perfectly fine to be a band that specializes in chaotic music and does nothing more, I felt a bit like I was being teased at the brief moments of experimentation found in tracks like Subtle Movement, A Half Full-Scale Identity Crisis, and Infinite Stutter.
Overall: While at first, Not One is Upright seemed like nothing more than a conglomerate of Norma Jean and The Chariot that would momentarily satisfy my chaotic hardcore needs, after a few listens the band's personality really shines through with some of the finest, most passionate hardcore music I have heard this year. Not One Is Upright is a band that is on my list of ones to watch, and they should be on yours too.
RIYL:The Chariot, Norma Jean, Shook Like Dead Men